Commerce Commission prosecutes 'reprehensible' loan shark who charged interest rates as high as 1,738% to vulnerable consumers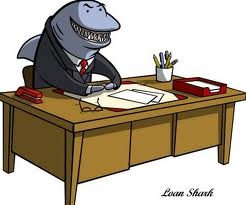 A loan shark who charged interest rates of up to 1,738% on loans made when he was an undischarged bankrupt, has been prosecuted by the Commerce Commission and ordered to pay a combined fine and court costs of just under NZ$20,000.
Barry Hunt was prosecuted by the Commerce Commission over 15 loan contracts he entered into between September 2006 and August 2007 with 11 different debtors that breached the Credit Contracts and Consumer Finance Act. Judge Saunders of the Christchurch District Court fined Hart NZ$18,532 and ordered him to pay NZ$1,461.79 in court costs. The starting point for the fines was NZ$50,000 with this reduced because of Hunt's limited ability to pay.
Hunt's breaches of the Credit Contracts and Consumer Finance Act included:
- His contracts failed to disclose the full name and address of the lender, with Hunt using a range of business names, none of which were legal entities. He was also an undischarged bankrupt at the time.
- The contracts failed to specify the annual interest rates borrowers would pay. The loans either stated an interest rate significantly lower than was actually applicable, or referenced a weekly or fortnightly interest rate. The actual interest rates charged ranged from 29.5% to 1,738%.
-The contracts misled consumers about the method of calculating the interest rate.
Commerce Commission Competition Manager, Stuart Wallace, said third tier lenders, such as Hunt, deal with the most vulnerable consumers in people who have been declined credit with first and second tier lenders. This means their circumstances can result in them accepting otherwise unacceptable terms and conditions.
"It is reprehensible that such lenders will take advantage of these consumers in the way Mr Hunt did," said Wallace.
"Consumers need to be able to accurately assess the total cost of credit so that they can make comparisons with other credit options and make informed decisions," Wallace added.
"It has taken a long time to bring this case to fruition. The Commission would much prefer to see third tier lenders come into line with the Credit Contracts and Consumer Finance Act than have to take lengthy and costly court proceedings. However where conduct such as this is so blatant, we can and will prosecute to send a deterrent message to others in the sector."
Meanwhile, the New Zealand Bankers' Association (NZBA) issued a statement applauding Hunt's prosecution. NZBA chief executive Kirk Hope said at last year's Financial Summit the banking industry had agreed with regulators and consumer groups that robust enforcement of existing consumer protection law was crucial to cracking down on rogue lenders who prey on vulnerable people.
"Banks are responsible lenders and we're keen to see all lenders held to the same standards we already observe," Hope said. "It's about fairness to consumers and applying existing regulations evenly across all lenders."
Also see Amanda Morrall's story on the principles of responsible lending that looks at how to protect yourself from unscrupulous high interest lenders.