First of a kind retirement expenditure study reveals what older New Zealanders are spending on and how much. "It's not pretty," says Workplace Savings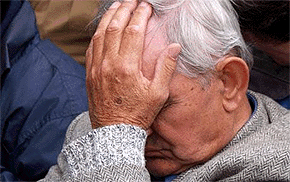 By Amanda Morrall
Wonder what a "no frills" retirement entails?
If you're single and living in the city, it breaks down like this:
| | |
| --- | --- |
| Food | $55.95 per week |
| Alcohol | $0.00 |
| Clothing and shoes | $0.00 |
| Power | $17.87 |
| Household contents and service  | $1.00 |
| Health | $0.00 |
| Transport | $4.70 |
| Communication | $9.55 |
| Recreation and culture | $8.59 |
| Miscellaneous good and service | $15.72 |
| Other | $0.00 |
;<>On a
New Zealand Superannuation
income of $348.92, you may be forgiven for thinking the $113.38 a week it costs to cover the basics will leave you with change. The trouble is this bare bones budget, modelled on the actual retirement expenditures of Kiwis 65 and older doesn't include housing.
Factor in rent or a mortgage and this no frills lifestyle doesn't leave much room for milk, let alone frivolity.
Workplace Savings chairman David Ireland, reacting to the first-of-a-kind retirement expenditures study released Thursday by The New Zealand Centre for Personal Financial Education, said the amount older Kiwis were living off was bordering on poverty.
"The numbers are sobering; 25% of New Zealanders are living on less than what is really breadline stuff,'' said Ireland who confessed to a roomful of financial advisors present for the release of the study, that his weekly coffee budget exceeded the weekly food allowance of 'no frills" retirees.
By their own admission, 47% of the survey respondents (ages 65 and older) said they lacked the financial resources to meet their retirement needs. Some were having to borrowing to cover their essential expenses and others were using reserve mortgage facilities to cover medical expenses.
To determine how much retirees in New Zealand are living on, and how far their income goes to meet their needs, the newly established research outfit undertook a survey of expenditures in retirement.
The results were classified into two groups: 'no frills' and 'choices' the later group having some discretionary money to afford them "treats" or other luxuries, such as travel.
The cost for a two-person household to live a "more fulfilling choices" lifestyle was $765.56 per week in metropolitan areas (Auckland and Wellington) and $693.83 in regional New Zealand. Current NZS payments for a couple are $536.80 a week.
Massy University's Claire Matthews said researchers including herself were shocked to discover just how little some retirees are getting by on.
"The level of expenditure at the no frills level was stunning, that people can get by on that small amount of money is really surprising.''
While 79% of respondents indicated having an additional source of income beyond New Zealand Superannuation, Matthews said the majority would be lost without it.
Were the New Zealand Superannuation discontinued or even scaled back, the consequences would be dire, she warned.
"If New Zealand Superannuation is not around, it's going to be diabolical. If it's not available people will have to save up a whole lot because at a minimum they have to be providing that income level.''
The retirement expenditures guidelines, which the Centre for Personal Financial Education plans to update quarterly, are meant to help households plan more precisely for their futures.
Ireland said younger New Zealanders could be well served by the data in terms of targeting more specific savings. He said increased life expectancy meant New Zealanders would have to save more or else learn to do with less in order to have sufficient income in retirement.
"It's about making more sensible, informed decisions. The key message of this is 'Don't put off the fateful day and think that retirement isn't going to happen.' It's within your power during your working life to put something aside so you are not left with the no frills option, that you can get to the 'choices level' where you can have a comfortable retirement. Otherwise you are looking at a fairly bleak existence ahead."