The bucket list; 52 week savings challenge; Cheap flight finder; My book; U.S. bank backlash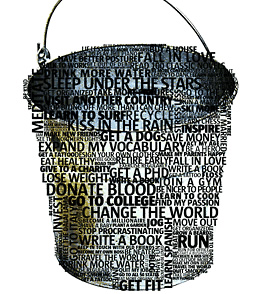 By Amanda Morrall
1) The bucket list
I have a new friend who has a bucket list the size of Brazil. Actually I think there might be a hole in their bucket because it seems bottomless. While I have many lists, including the standard to-do and goals list, I hadn't given much thought to my bucket list to be honest. I think, unconsciously, the bucket list scared me off. I've decided this year to start making one.
Coincidentally, I came across an interesting story about one women's big bold ambitions to tick off 30 items on her list before turning 30. The Telegraph reports on JP Morgan investment advisor Antonia Teixeria's consultative bucket making list process.
 2) Budgeting for the bucket list
Because most of us don't have an investment banker sized paycheque to finance the bucket list, here's a simple way to set aside some money for a saving goal of your choice. The 52 week savings challenge requires a bit of discipline and commitment but is a good way to develop a savings mindset and habit.
3) Logistics
One of the many great things about my gig is the connectivity part. Readers from around the world have somehow discovered this blog and I hear from some really interesting folks from all over New Zealand and the globe who like to share their financial insights or ways to save money.
I had someone recently put me onto a website called hipmonk.com for booking flights. I confess I haven't had time to investigate it thoroughly so you might want to do so before potentially being spammed for giving away your email address for alerts on flights. Because I'm on the lookout for cheap flights to Bali where I'll be heading in July for more yoga teacher training, I decided to give it a go. 
My early impressions are that it is faster, tidier and simpler to navigate than Expedia and it already spat back options much cheaper than what I have found thus far.
Here's a youtube link explaining how it works. Owing to my thriftiness and having blown my discount ISP provider 5 GB limit this month and being bumped to dial up speed, it's been choppy viewing at my end but I liked what I saw. 
4) My book
Back in the heyday of publishing, there used to be something called a book launch. I discovered through my own publisher that this practice has gone the way of the dodo bird. It's a pity as I'd hoped to throw a bit of shindig in celebration of my book finally going on sale last week. Perhaps Amanda will have to foot the bill and throw her own do sometime. In the meantime, those of you who are interested can purchased Money Matters on line through www.fishpond.co.nz or through www.mightyape.co.nz.
5) Bank backlash
It seems banking customers in the U.S. have finally had it with fee gouging big banks. A grassroots movement called Move Your Money has sprung up as a form of retaliation against banks for raising fees on credit cards and other profit seeking strategies that just don't sit well with Americans disgruntled over GFC taxpayer funded bailouts. Here's a primer on what's going.
To read other Take Fives by Amanda Morrall click here. You can also follow Amanda on Twitter @amandamorrall or at www.amandamorrall.com