The Masterplan; Budget breakdown; Separating the wheat from the financial chaff; Cheap healthy eating tips; NZS stand on SRI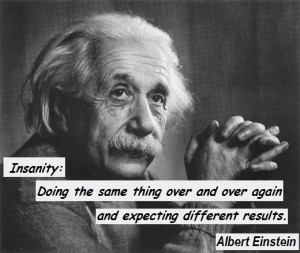 By Amanda Morrall
1) Masterplan
Pop quiz:
a) Do you have a Will?  
If you answered yes, move to question two. If you answered no, ask yourself what the consequences of you dying without one would be. (Don't have a clue, read my story on dying intestate here.)
b) Do you know where you Will is, and further, if you have a partner and they were to die in a fiery crash with you would anyone else know where to find it?
Morbid questions I know but important nonetheless. Equally as important in the context of kicking the bucket is having a file documenting the overall state of your financial affairs so grief wracked friend or relatives don't have to spend hours trying to sort it out for you.
Read more here (via Get Rich Slowly) on why and how to build a masterplan.
2) Budget breakdown
One of my favourite quotes from genius Albert Einstein is about insanity, which he defines as: "doing the same thing over and over again and expecting different results." So true.
When it comes to creating new habits and financial outcomes this little piece of wisdom rings loud and clear. Gaining greater insight into your financial wellbeing requires greater attentiveness to both the minutia of daily transactions as well as the big ticket items, a point well underscored in this blogger's disclosure again via Get Rich Slowly).
3) Separating the wheat from the chaff 
In a similar vein, the following blog, via thesimpledollar.com, explains the importance of understanding (fully) what behaviours, actions and changes are having a measurable and meaningful impact on your finances and those that aren't. He calls it separating the wheat from the chaff; a good analogy. 
4) Healthy eating
I'm 16 days into an alcohol free detox. It was self prescribed. I'm not a big boozer, I just wanted to test my willpower. I went on a similar 30-day blackout a year ago with coffee.
So far so good and I feel much better for my pains both physically and financially.
I linked last week to a woman who tried to survive on a food budget of $1.50 a day. You can guarantee alcohol wasn't part of that. But does being healthy and saving money have to be as extreme as all that? Of course not. Here's five tactics for cheap healthy eating, also via the simpledollar.com.
5) SRIs
The New Zealand Superannuation Fund is doing more than paying lip service to socially responsible investment. This week it struck another poor corporate citizen off its $22 billion investment portfolio.
Barrick Gold and its subsidiary African Barrick Gold have had a long history of security-related, environment and community problems for operations in Papua New Guinea and Tanzania. Fund managers for the NZS decided to blacklist them for doing too little too late to clean up their act. Here's an excerpt from their release on Barrick.
The Fund's Manager, Responsible Investment, Anne-Maree O'Connor, said the Fund viewed Barrick's activities as inconsistent with the human rights and environmental standards contained in the UN Global Compact, the key benchmark against which the Fund measures corporate behaviour.

Ms O'Connor said while Barrick had made recent steps to improve its policies and practices, there was no practical remedy for the environmental impact of riverine tailings (the practice of disposing mining waste into rivers) and the Fund's view was that progress on resolving community grievances and security issues had been slow.

Ms O'Connor said the Fund had decided not to engage with Barrick.

"In reaching our decision we took account of the security and environmental context in which the companies operate, and the length of time over which problems have occurred."

"Given the circumstances, we believe engagement with Barrick would be unlikely to be successful, and until it is evident that significant improvements can be made on the ground we will be excluding both companies from our portfolio."

"It is important that we focus the Fund's efforts to influence company behaviour on situations where we believe a difference can be made."

The use of riverine tailings breaches international norms, with the World Bank and the International Finance Corporation no longer financing projects that make use of riverine tailings disposal.

As at 31 December 2012, the Fund held shares worth NZ$1,826,470 in Barrick Gold Corporation and NZ$78,824 in African Barrick Gold in its global equity portfolio. The stocks have now been sold.
The Fund's responsible investment standards and activities are set out in its responsible investment framework, available on www.nzsuperfund.co.nz.
Like what you've read? You'll enjoy the book better. Here's how to order a copy of Amanda's book Money Matters: Get your Life and $ Sorted. The book is also available in ebook format as well via Amazon and is replete with hyper links to help you get your finances in order. 
You can also follow Amanda on Twitter @amandamorrall; check out her previous Take Fives here; Find out what she's up on on her own blog here.