Credit information bureau Dun & Bradstreet says consumer financial stress is down markedly and the appetite for credit is growing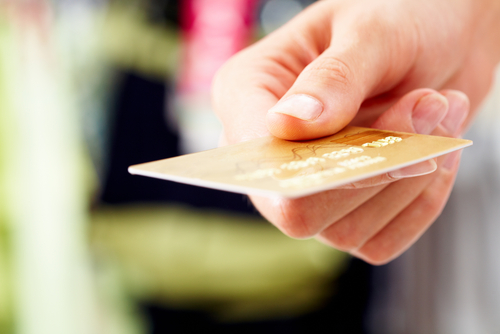 Credit information bureau Dun & Bradstreet says consumer financial stress is down markedly and the appetite for credit is growing
Kiwi consumers are much less stressed financially this year - and their appetite for credit is growing again, according to credit information bureau Dun & Bradstreet.
The company's  Consumer Financial Stress Index, which measures consumer demand and capacity for credit, has fallen to 4.1 points in April, after previously rising to 14.1 in December 2012.
The index peaked in late 2012, the same time as the national unemployment rate reached a 13‐year high, but subsequently, consumer financial stress has fallen for four consecutive months.
Dun & Bradstreet says that with three‐and‐a‐half years of history, the new index can be benchmarked against key macroeconomic variables, including unemployment and personal credit growth, and indicates consumers' ability to meet their credit obligations.
D & B New Zealand general manager Lance Crooks said the falling index reflected official statistics indicating a solid economic performance through the first quarter of 2013 and further positive news since, including increased trade growth with China. In addition, a pick‐up in the housing market over the past few months, solid business activity and low interest rates have had a positive flow‐on effect to consumer confidence.
"This year we are clearly seeing consumers benefit from a steady improvement in economic conditions,"  he said.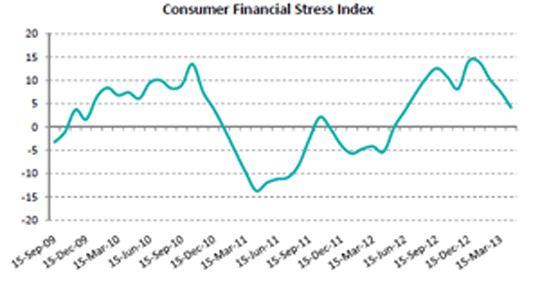 "The Consumer Financial Stress Index reflects this recent change in conditions and also matches what we're finding in our other research. Kiwis are reporting that they are more comfortably meeting their financial obligations, like credit cards, loans and electricity bills, and that they expect to reduce their future levels of debt," he said.
"As a result, financial stress is easing and consumers are regaining their appetite for new credit – although we expect that a cautious approach to spending is likely to continue for some time."
D&B's most recent Consumer Credit Expectations Survey found that New Zealanders wre cautiously optimistic about their personal finances, opting to raise their credit limits over the coming months. In addition, 60 per cent of people expect to find it easy to pay their credit bills in the coming months and one‐quarter expect to reduce their debt levels.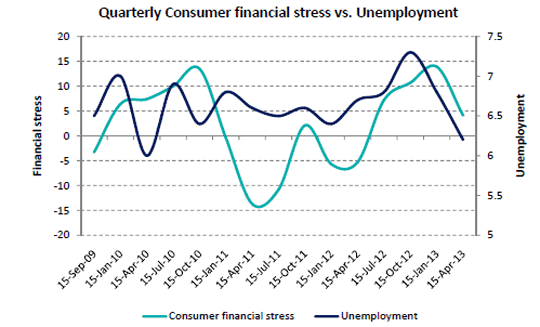 According to Stephen Koukoulas, Dun & Bradstreet's Economic Advisor, the Consumer Financial Stress Index presents a unique and high‐level view of the financial comfort and behaviour of
consumers, thus providing useful insight into the near‐term momentum of the economy.
"The three‐and‐a‐half year history of the index has been distorted by the hangover from the global banking and financial crisis, however changes in the level of the index are closely correlated with growth in employment, house prices and to a lesser extent, retail trade," Mr Koukoulas said.
"In late 2012 we saw a steady rise in the index and rising unemployment levels which risked offsetting the positive signs of coming out of the New Zealand economy.
"The recent fall in consumer financial stress, however, is a welcome sign and it is likely to continue to benefit from the steady, low level of interest rates, falling unemployment and strong house
prices."