In part one of this three part series, Amanda's featured guest blogger explains how he made his millions as a wage and salary earner using a low risk investment strategy founded on hard work.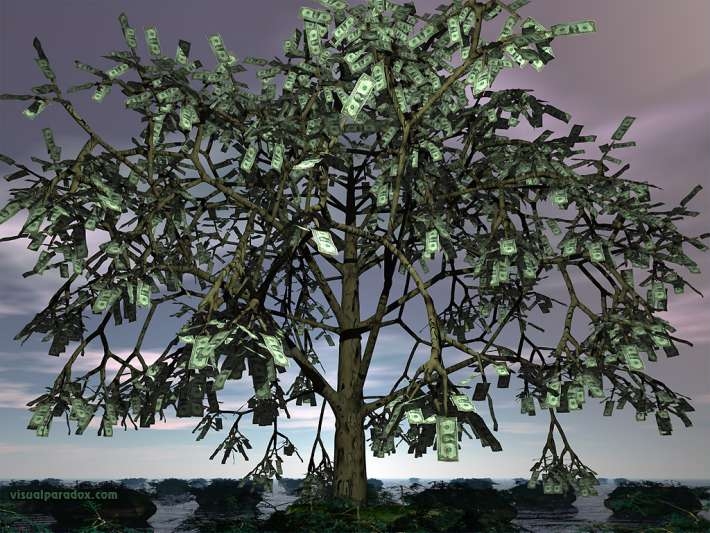 By A. Type
A lot is written about the way entrepreneurs get  rich, but not much about people on a wage or salary. That's me. I have never owned a business, never taken huge risks with money, never lost a lot either. In my 46 years I have become financially independent in a fairly riskless manner.
I made my first million was the same way I made my first thousand. It began at age 11, when I got my first paper round. I managed to convince the distributor in my area to give me the biggest round, and that happened because on my first round, a small one, I was never late and rarely failed to show up for work due to illness or bad weather. I delivered over 130 papers a day, which required two trips on an old dinger of a bike! That earned by the princely sum of $17 a week. Back in those days, for an 11 year old, that was quite a sum.
I spent $7 a week on comics and sweets (life was simpler then) , and saved $10.  In the bank those days you could get 10% interest, so by the end of my first year I had over $570 saved. I spent all my pocket money, which was $1 a week. $8 on sweets and comics made me popular with the other kids on the (poor) street.
On school holidays I worked in a factory assembling packets of shoelaces. No child labour issues then. I remember time marching very slowly and thinking that I was going to concentrate on schoolwork so I didn't have to do this as an adult. But it paid a massive $1.99 an hour, big money for an 11 year old. Three weeks of that was $240. It was all saved.
After school I worked in a supermarket packing groceries for 0.99c an hour. I saved $350 in my first year. At age 12, with mum and dad's permission, I bought my first shares in UEB Industries, a paper company, 500 of my savings. I was lucky and they quickly rose by 40% to $700.
Stocks and laddering
Before I became a teenager,  I had over $1,300 in the bank. I splashed out on a new bike ($130) and kept on rolling over term deposits and buying shares I could afford. I had a simple system: Back in those days all company news was in the daily paper I delivered.  The simple act of reading the business news every day made me as informed as the average investor. I bought companies that looked relatively cheap, paid dividends and where I understood what they did to make money. That basic philosophy hasn't changed in 36 years.  
Fast forward to 30. I studied until 23 and worked part time all the way through university. There were no fees in those days and I worked 20-30 hours a week in a hotel, doing all sorts of jobs. I loved the jobs with tips. In those days tips were virtually unheard of and tax free. I also worked Saturday mornings in a department store. I had a policy of never working past midday on weekends, leaving the rest of the weekend for fun.  Even now I very rarely work weekends. Typically 40-50% of my earnings was saved, so by the time I left university I had $50,000 in the bank. 
At 24 I got my first job with Wang computers, in sales. I took the job because it offered the best chance of making good money quickly. They had bonus systems for exceeding targets and I got paid $120,000 in my first year selling personal computers to businesses. I couldn't believe how much money that was. For three years I was over 100% of my sales target, which I thought pretty easy to achieve. Sales positions pay well because there is a stigma in this country about out and out selling to people.
My theory is that most people are scared of people per se, and very scared about selling them anything. So there is a scarcity of people happy to be selling. So, if you do it well enough, it pays well. 
By 27 I had over $350,000 saved. In hindsight I should have bought a house, which was easily achieved then with that money. But I was too scared to buy anything that expensive, so it stayed in the bank and in shares.
At 28 I moved into stock broking. Why? Because it was still selling, but paid better, much better. It was also free information on investing in shares and funds. I kept @50% of my money in the bank and 50% in shares. By the time I was 33 I had saved over $1m. Then I bought property (more on this to follow in part 2).
No magic tricks
There is no magic here, just hard work from an early age, a savings mentality and an eye for an opportunity. I was also very focused on not losing money. I hate losing money, hence bank deposits and shares I understood.
Education was also key. Having a post graduate degree with honours helped get jobs, as it showed I was smart enough to learn on the job, even though it was in a subject with no immediate relevance to technology or stockbroking.
So by 33 I had made my first million. Then the money really started rolling in, and never by taking big risks.