Why our funds management industry is flunking out; Two life changing chapters for Buffett; The Forbes 2013 Investment Guide; Investing for beginners; The Upside of Failure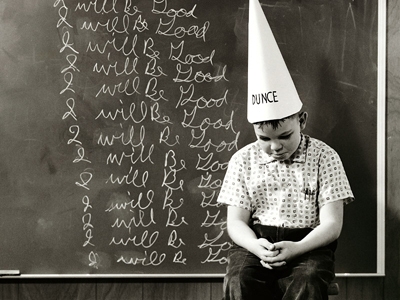 By Amanda Morrall
1) Flunked
It's not exactly a cause for celebration however New Zealand's funds management sector might be congratulated for having gone up a notch in the biennial Morningstar ratings of investor experience. 
After two consecutive D minuses, our industry has managed to claw its way to a lowly C minus. Pretty embarrassing really. 
Is this lowly grade really deserved? Is our managed funds industry really that pathetic?
Not according to this well balanced post mortem from the lawfirm Chapman Tripp (which represents a lot of the big players) explaining more fully why our industry is an international laggard in the ratings.
It's worth a read to provide context and also hope that things are gradually improving here at the bottom of the world.
2) Life changing chapters
It never ceases to amaze me the power of the written word and also its ability to effect change. The following, published in Forbes, pulls out two chapters said to be the most influential on the making of billionaire Warren Buffett's meteoric investment career. What I like most about this piece is how Buffett has drawn a line in the sand for his own personal wealth and apportioned such a huge portion of his wealth to charity.
As Buffett explains in the piece, he felt his wealth cup was full at 25 when his net wealth reached $200,000. To date, he's given away $17 billion. Wow! How inspirational is that.
"Money has given me the independence to do what I love daily. Beyond that it has no real utility for me but enormous utility for others. That is why I'm giving it away," says Buffett, 82.
3) Investment Guide 2013
Also fresh from Forbes, it's 2013 Investment Guide. There were two many juicy nuggets within it to link to so I suggest you check it out yourself and bookmarked for weekend reading. 
4) Why do we invest
For those of you who think investing is for rich people and financial whiz kids, think again. Here's a fantastic introductory 101 piece for beginning via Monevator. 
5) Upside of failure
An excellent piece here from randomatsofleadership.com role modelling and how to teach others to learn from their mistakes and so called failures. When you shift your perception of mistakes to teachable moments, you learn, grow and flourish as a student of life.
Like what you've read? You'll enjoy the book better. Here's how to order a copy of Amanda's book Money Matters: Get your Life and $ Sorted. The book is also available in ebook format as well via Amazon and is replete with hyper links to help you get your finances in order. Find your flow and the money will follow.

You can also follow Amanda on Twitter @amandamorrall; check out her previous Take Fives here; Find out what she's up on on her own blog here.