A Christchurch homeowner doubts the ICNZ claim of 'significant progress' when insurers' own websites show few completed repairs or rebuilds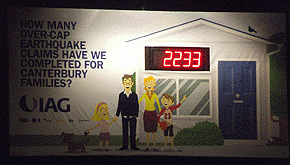 By Cam Preston*
On a large billboard on the busiest street in Christchurch, the IAG cartoon family smile down upon passing motorists.
The motorists' attention is focused on trying to dodge the ubiquitous road cones, but the family persists.
Day and night they ask "How many over-cap earthquake claims have we completed for Canterbury families?"
"2,233" they say.
Yeah Right.
IAG, for non Cantabrians, are more commonly known by the brands State Insurance, NZI and Lantern Insurance.
They, along with Southern Response, are the two companies with the largest exposure to over-cap (the most expensive) residential earthquake claims in Canterbury.
The reality, from IAG's own published data as at 2 September 2013, is 266 rebuilds complete, 99 repairs complete, and the balance as cash settlements.
A quick visit to Southern Response's website reveals a similar story, as at 31 August 2013, 117 rebuilds complete, 53 repairs complete.
The Insurance Council has recently labelled their progress as 'significant', but the most recent data on the 24,400 over-cap claims (as at 1 July 2013) shows only three per cent of the total have had their properties repaired or rebuilt: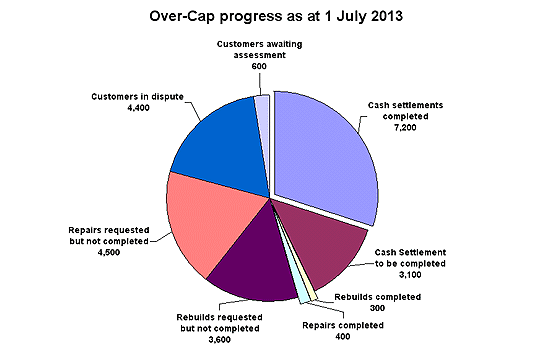 Companies such as IAG and Southern Response have invented fantastical expressions for cash settlements such as "External Resolutions, House Re-installments, Customer Managed Rebuilds or Builds to Budget".
The common theme of all of them is agreement of the private insurers' liability before construction begins, more commonly known as a 'Cash Settlement'. These types of settlements make up 30% of the total.
Alarmingly 18 per cent of customers are in dispute with their insurers.
While the insurers prefer the term "With settlement options offered - Undecided" after 3 years most of these customers will have crossed the threshold from 'undecided' to 'unhappy'.
The highest numbers of customers are those that have made the decision for their insurer to repair or rebuild their properties, but are still waiting, which sits at 33%, excluding those in dispute.
IAG and Southern Response use terms such as 'in construction' or "in design and documentation" to account for those in the queue waiting for their rebuild or repair.
The reality is hardly any have a tradesperson swinging a hammer at their properties. Southern Response has 285 properties where trades people are currently rebuilding or repairing.
IAG doesn't disclose the number of rebuilds or repairs currently in progress.
Glancing at their somewhat aspirational forecasts for the coming years, the most optimistic reader would struggle to reconcile their performance to date with their 2013 forecast, let alone beyond: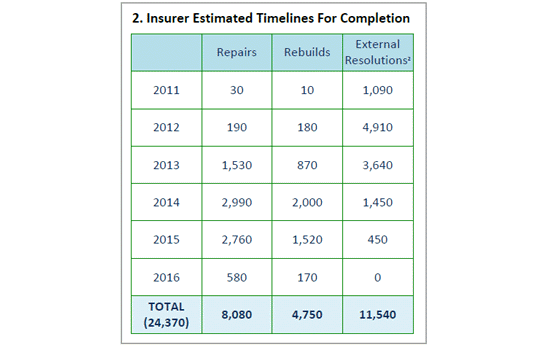 There are technical obstacles to overcome.
The insurers have at various stages pointed to outstanding land zoning decisions, building consent delays and shared property issues.
However with every passing month these obstacles look more like delay tactics.
The reason for the delay tactics appears to be to effect more cash settlements.  Their success could be described as 'significant'.
However the way in which the insurers are going about this coupled with the ever present march of time and the hefty bills mounting from their "project managers" equates to  some nervous insurance executives out there.
Que the Spin Doctors.
While we should all know to never take notice of spin and concentrate on the road ahead, one can't help but wish that they too were part of that happy smiling cartoon family.
-------------------------------------------------------------------------------
Cameron Preston is a Christchurch homeowner who has longstanding unresolved quake insurance claims. This piece is in response to the recent Insurance Council claims of 'significant progress'.