Insurers handling 15% of all building quake claims reassure customers they are making 'significant progress'; release detailed update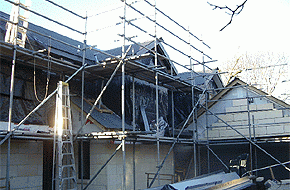 It has been two and a half years since the February 2011 Christchurch earthquake and insurance companies say they have made 'significant progress' in resolving Canterbury residential property earthquake claims.
They are now claiming more than 80% have either been "completed, resolved or are scheduled for completion".
According to figures released by the Insurance Council from data collected by the Canterbury Earthquake Recovery Authority (CERA) for progress up until 1 July 2013, insurers are handling about 24,000 claims because they amount to more than the EQC limit.
EQC however has the far bigger task, handling the vast majority of claims, some 147,000.
The data shows that more than a third of the insurance industry claims had been fully resolved through external resolution or were fully completed rebuilds and major repairs.
Almost a half were claims where a repair or rebuild had been agreed and was in progress, they say.
"The insurer rebuild and repairs programme in Christchurch is well and truly ramping up and will be completed by the end of 2016," said Insurance Council CEO Tim Grafton.
The figures also show that 7,200 (30%) of the 24,400 had been externally resolved, which includes cash settlement and house re-instatements, with an additional 3,100 (13%) external resolutions still to be fully completed. About 4,400 residential property claimants have been offered settlement options but are still undecided on the options presented to them. Some 600 (2%) have yet to receive an offer.
"There are significant issues that are still to be addressed including land settlement, shared properties, the Port Hills review and the speed of building consents," said Grafton. "But we're hopeful that these matters can be resolved without any impact on insurers being able to achieve an end of 2016 completion for the residential rebuild and major repairs programme."
In which box is your claim ?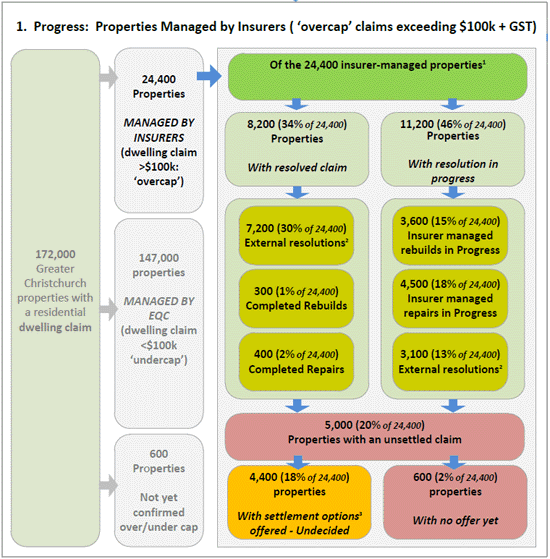 Even though they are handling only 15% of the total number of claims, the insurers don't expect to complete their work until 2016.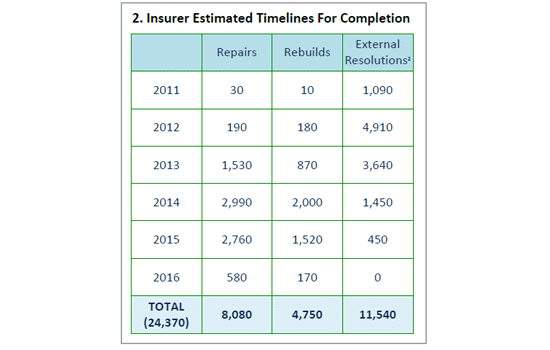 In addition, insurers are dealing with 83,000 claims for things not covered by EQC, and so far only a fifth of these are resolved 2½ years after the February 2011 quake.