CEO Richard de Lautour says Instant Finance to 'look hard' at re-entering the public debenture market next year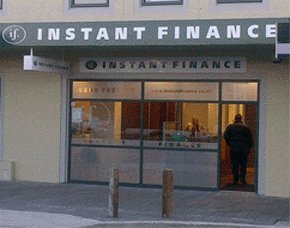 By Gareth Vaughan
 
Instant Finance is considering resuming issuing debenture stock to the public, four years after quitting this market, to fill a "big gap" for mums and dads seeking better investment returns than they can get from bank deposits.
CEO Richard de Lautour told interest.co.nz consumer lender Instant Finance will "look pretty hard" at re-entering the debenture market next year.
"I think there is still a big gap missing in the market for mums and dads that need a return that is better than they can get at the banks," said de Lautour.
"My gut feeling tells me that there is a market there for that. We get a lot of old investors that we repaid constantly saying 'have you got anything?' The preference share offer we had last year was filled in about 10 minutes. Everyone we talk to says mums and dads need to get better returns than they're getting at the moment," de Lautour said.
Instant Finance repaid all its debenture holders in full in August 2009 when it took on Fortress Credit Corp. as its funder. Instant Finance repaid the about $43.9 million it owed to Fortress in May last year and entered a financing deal with Westpac. Fortress does, however, remain a 10.3% shareholder in Instant Finance.
 The Westpac loan facility is for an initial period of two years, with Instant Finance able to borrow a maximum of $60 million. As of March 31 this year, it had utilised $39.5 million, with $20.5 million unutilised. De Lautour said Instant Finance had more money than it could lend at the moment.
But looking to resume issuing debentures to the public would give the company two funding sources.
"If you're old fashioned like I am a finance company is a much better finance company if it has got two funding sources than it is with one," de Lautour said. 
"Mums and dads may well be better off in the new world in a well run, properly compliant NBDT (non-bank deposit taker) that's offering debenture stock that may rank in security behind the bank. But is that in fact a far better investment than the old first ranking in Capital + Merchant, Bridgecorp and all the others." 
Last year Instant Finance raised $12 million through an issue of redeemable preference shares that are paying investors 9% per annum.
This article was first published in our email for paid subscribers. See here for more details and to subscribe.