Helped by Air NZ airports cards, Kiwibank grows credit card marketshare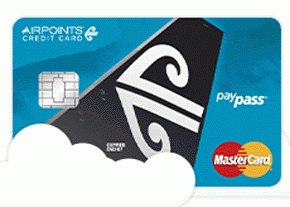 By Gareth Vaughan
Kiwibank is reaping the benefits of its airpoints credit card partnership with Air New Zealand, with the state owned bank's credit card market share rising 40 basis points in the June year.
Announcing Kiwibank's annual financial results on Friday, CEO Paul Brock highlighted the bank's 5.8% share of credit card accounts, which the bank says rose 0.4% year-on-year.
The MasterCard airpoints credit cards launched in partnership with national carrier Air New Zealand last September.
"We are now seeing our credit cards growing four times faster than market, which is good for us. So (there are) good prospects in that credit card business," said Brock.
A Kiwibank spokesman told interest.co.nz the Air New Zealand cards, which have nearly 27,000 customers, was a significant, but not the only, factor in the growth.
"In 2013 we signed a strategic alliance with Air New Zealand which saw the launch of the Air New Zealand Airpoints credit cards. Under this partnership we will continue to work closely and explore opportunities with our partners at Air New Zealand," the Kiwibank spokesman said.
Meanwhile, monthly Reserve Bank sector credit data out on Friday afternoon showed consumer credit up 6.3% in July year-on-year, the highest rate of growth since February 2006. As of the end of July consumer debt stood at $14.344 billion.
This story was first published in our email for paying subscribers. See here for more details and how to subscribe.