Terry Baucher reveals the IRD's failing tax penalty system, says the taxman faces a growing problem with debt management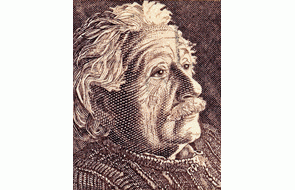 By Terry Baucher*
There's no evidence that Albert Einstein described compounding interest as "the most powerful force in the Universe".
The phrase appears to have been attributed to him by a financial journalist years after his death in 1955.
Whatever Einstein's views on the topic it's certainly true that compounding interest soon adds up.
A classic example of this is the $367 million (and counting) summary judgement Inland Revenue secured in June against one John George Russell.
The Inland Revenue judgement is the final stages of a legal struggle between it and Russell over a tax avoidance scheme (the so-called JG Russell Template) he devised in the 1980s. 
Russell had declared income totaling $298,700 for the tax years 1985 to 2000 inclusive. However Inland Revenue argued that this income was too low because of tax avoidance and instead assessed his income for those years to be $15,757,556.  In 2012, after years of litigation, the Court of Appeal upheld the Inland Revenue assessments.
The legal wrangles between Russell and Inland Revenue have gone on so long John Oliver would be prompted to ask "How is this still a thing?" However, throughout the legal arguments and innumerable court cases, use of money interest and late payment penalties continued to accumulate inexorably on the tax assessed. 
I estimate the tax due on the Inland Revenue assessments was about $6 million before interest and penalties.
But in January 2003 the total tax, interest and penalties due was $75,298,275.54; by April 2010 it had risen to $138,796,819.38.  On 10th June 2014, when the High Court gave its summary judgement against Russell, the amount due was a fantastical $367,204,207.41.  
The amount and circumstances of Russell's debt are unusual. However, it is emblematic of a growing problem Inland Revenue has with debt management.
At present if you miss a tax payment an immediate late payment penalty of 1% of the unpaid tax is imposed.
If the amount isn't paid within a week a further 4% late payment penalty arises.
Any unpaid amounts after the first week attract a further 1% penalty each month.
In addition to these compounding late payment penalties, use of money interest (currently 8.4%) also accrues on the unpaid tax. 
All up the combined penalty and interest rate is currently 26.7% for the first year and 21.7% for each subsequent year.
These are amongst some of the highest penalties in the world.  By comparison Australia only imposes interest (currently 9.63%), while the first year interest and penalties in the UK amount to 18.25%.
Logic would say that such harsh penalties should promote compliance. The problem is it doesn't appear to do so.
According to Inland Revenue's own research about 86% of all tax payments are made on time. This is below what other tax jurisdictions with less punitive regimes achieve.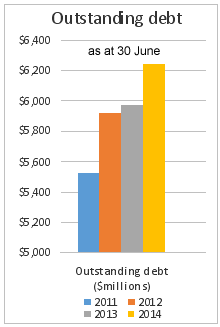 More problematically, the relentless effect of compounding interest and penalties means that Inland Revenue is finding it increasingly difficult to manage the growth in outstanding debt:
As this graph notes, outstanding debt has gone from $5.5 billion in June 2011 to $6.2 billion in June 2014.  
To counter the growth in overdue debt, Inland Revenue has begun to focus its efforts on intervening earlier to manage new debt. As a result the amount of debt up to two years old has declined from $2.76 billion in June 2011 to $2.24 billion as at 30 June 2014.  
However, if Inland Revenue has managed to slow the growth in new debt, it still has a problem with older debt.
This problem is compounded (pun intended) by the effect of penalties and interest.  Interest and penalties represent 48.1% or $3 billion of the total $6.2 billion owed at 30 June 2014.
As Inland Revenue's 2014 Annual Report notes
80.7% of penalties and interest is linked to cases aged two years or over.  Last year, 79.4% of penalties and interest was linked to debt cases aged two years and over.  This shows the continuing debt growth caused by penalties and interest and the impact of our focus on new debt.
In other words, the inexorable power of compounding interest and penalties is pushing Inland Revenue further and further behind. 
It gets worse with Child Support which has an even more brutal late payment regime currently clocking in at 36% per annum on late payments. In its 2013 Annual Report Inland Revenue admitted that
we could not stop an overall growth in child support debt as a result of incremental penalties.
The position was repeated in 2014 with the total overdue child support rising by a further 9.6% to $3.05 billion.  Penalties represent 77.6%, or $2.37 billion, of this outstanding debt.  When you consider that Inland Revenue's role in child support is to act as a collection and distribution agent how such a colossal sum of penalties has been allowed to accumulate is scandalous.
Inland Revenue's Briefing to Incoming Minister is a fascinating document but it had little to say about the issue of overdue debt, merely noting on page 40:
Taxation and social policy debt levels have been increasing, which can put the integrity of the revenue system at risk. Again, in recent Budgets, we have received additional funding to target debt levels. A key contributor to the level of outstanding debt is the compounding effect of the interest and penalties rules applying to unpaid amounts (for example, an unpaid income tax debt doubles in value within about four years).
I would say this understates the scale of the debt issue.
In my view the integrity of the revenue system is already at risk.
Of the $9.25 billion tax and child support debt owed at 30 June 2014, over $5.3 billion represents interest and penalties.  The vast majority of these penalties are almost certainly uncollectible.
Furthermore even where Inland Revenue does collect tax debt much of the accumulated interest and penalties are written off.  Resources are therefore being wasted imposing and then writing off interest and penalties.
This merry-go-round achieves little more than stress taxpayers trying to comply with their obligations.
To be fair Inland Revenue has begun work on reviewing the current interest and penalties regime.  While this is welcome, in my view this is a very serious matter reform of which needs to be pushed forward swiftly, regardless of the status of Inland Revenue's Business Transformation project.
After all as Einstein also might have said, "Time is money and time waits for nobody".
--------------------------
*Terry Baucher is an Auckland-based tax specialist and head of Baucher Consulting. You can contact him here »