Elizabeth Kerr asks whether women have less in their retirement funds because they own more cats than men. The numbers might surprise you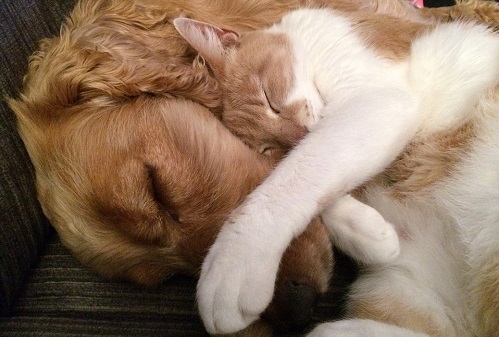 By Elizabeth Kerr

Did you know according to Roy Morgan research (2015) that more than half of us own a pet cat or a dog these days?
It's an apparent $1.6 billion industry, and "apparently" those with a lower education are 64% more likely to own a pet than those who attended higher education.  
Regardless, the way I see it, the desire to pamper our precious pets is getting bigger and more expensive - proving to have quite the impact on  your money machine dreams, so, please don't dismiss it entirely as being unworthy of your brief attention.
(Before you read on guess how much a pet will cost you over its lifetime and write that number down).
I recently had the pleasure of watching a young couple come into a pet store all sweet and doe-eyed at each other and pay $1600 for a puppy.
Surprisingly it was a simple as buying a Big Mac. There was no sitting down in a private room to discuss their new responsibility, the minimum care requirements or the ongoing costs.
At the very least, should someone have checked they could afford it – an income/ credit check maybe, or even a cooling off period before they picked said puppy up? 
Initial costs
You initial set-up costs will vary depending on whether you are rescuing a pet from the SPCA or buying one from a pet shop or breeder.
Using the shopping list supplied from a 'nationwide pet retailer' I have taken the average cost for each product and created a breakdown for you that can be viewed at the bottom of this story.
There may be some veterinary costs included in your purchase price, but for transparency I've split the details out for you.
(Don't shoot the messenger – I know the costs vary among retailer and brands, I just took a random price from the middle of the range).
Some of these pet requirements have really come of age since I was a kid.
I'm positive we didn't have to administer $80 of flea & worm treatments every three months to our family cats and I don't remember kitty-litter being anything more than newspaper in the corner.
I certainly do not recall a scratching post or $35 toys being a 'must have' item.
I accept, however, that unwitting and enthusiastic owners nowadays may feel compelled to give their newest fur-baby everything the pet shop tells them they need, so, I've included all these things in the cost.
(I personally wouldn't bother with some of the "must haves' but not everyone thinks like me).
The costs keep coming
So for your initial investment you get a lifetime of pet ownership pleasure right?   Not quite, you need to add to that initial investment the continued costs of keeping the animal alive and healthy.
For a cat, these include but are not limited to the following every year:
| | |
| --- | --- |
| Dry food | $465.00 |
| Wet food per day | $130.00 |
| Worming and fleas | $195.00 |
| Litter (for inside cats) | $325.00 |
| Insurance | $216.00 |
| Vet visits (allowing for 2 per year) | $104.00 |
| Rent* | $520.00 |
| Sub total: | $1,955.00 |
The last line item (Rent) might appear puzzling but it assumes that if you are renting your place and have a pet that you will need a landlord who is sympathetic to pets on their property. Landlords allowing pets are few and far between and often charge a premium for doing so, therefore I've attributed an extra $10 to the pet here.
Ongoing costs for the cat alone now total $1955 per year for every year that your cat is alive.
A cat can live into its late teens early 20s apparently so for today I'm going to assume your loved moggy lives until 17 years old.
SO, we have an initial investment of $855.00 (assuming cat is free, add extra if you need to) plus an added sum of about $1955 per year over 17 years. The total cost of owning your cat is $34,090.
(This is a great example of how perceived small costs add up over time!)
Money Machine Magic
The key with this calculation is to understand BEFORE you purchase your pet what the ongoing costs are and then determine whether the impact to your money machine is something you are happy to absorb.
If instead of owning a cat you invested that money at a return of say 7% then (using the Sorted.co.nz savings calculator) we can assume you would have $44,976 with $16,000 of that being interest after just 17 years. 
Crazy Cat Ladies?
Studies show that single women are more likely to be cat owners.
The Sunday Star-Times on Sunday published that women are "Likely to retire with $82,000 less than men, based on their current savings patterns".  
Could the two be related?   No one knows for sure … Of course not that's a stupid idea
*wink*
------
The initial purchase price of a kitten is about $300, while a purebred can cost $650 or more. The initial purchase price of a puppy is about $650+, while a pedigree puppy could be $2,000 or more.
| | | |
| --- | --- | --- |
|   | Kitten | Puppy |
|   | $ | $ |
| Dry food (15 kgs) | 155.00 | 117.00 |
| Wet food (10 small cans) | 25.00 | 27.50 |
| Measuring scoop/storage bin | 25.00 | 5.00 |
| Food / water bowls | 10.00 | 20.00 |
| Carry cage / crate | 60.00 | 120.00 |
| Toilet training equipment |   | 18.50 |
| Litter | 40.00 |   |
| Litter tray | 30.00 |   |
| Litter scoop | 6.00 |   |
| Litter liners | 10.50 |   |
| Enzyme-based stain remover | 30.00 | 25.00 |
| Intestinal wormer | 15.00 | 13.90 |
| Flea control | 50.00 | 39.90 |
| Scratching post | 40.00 |   |
| Teething toys |   | 14.00 |
| Catnip | 10.00 |   |
| Assorted toys | 40.00 |   |
| Boredom busting toys | 16.00 | 17.00 |
| Chewing Preventative |   | 14.90 |
| Training treats | 9.00 | 10.00 |
| Shampoo and conditioner | 25.00 | 18.00 |
| Grooming brushes/combs | 25.00 | 23.00 |
| Eye and ear cleaners |   | 13.00 |
| Nail clippers | 15.00 | 15.00 |
| Oral care | 30.00 | 39.90 |
| Harness & lead | 25.00 | 35.00 |
| Coats and jumpers |   | 90.00 |
| Collar and name tag | 25.00 | 33.00 |
| Car restraint |   | 33.00 |
| Bedding | 40.00 | 90.00 |
| Cat door | 99.00 |   |
| Kennel |   | 150.00 |
| ------------------ | --------- | --------- |
| Subtotal | 855.50 | 982.60 |
| Other costs will include ... |   |   |
| Vaccinations x3 | 53.00 | 64.00 |
| Spey/castration | 99.00 | 200.00 |
| Vet visits |   | 52.00 |
| Microchip insert & registration |   | 60.00 |
| Puppy preschool |   | 80.00 |