Waikato mobile traders Ace Marketing and Smart Shop fined $150k & $135k, Ace Marketing ordered to refund customer fees from 1,500 contracts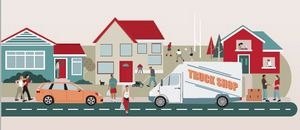 Waikato mobile traders Ace Marketing Limited and Smart Shop Limited have been slapped with the biggest fines yet for mobile traders taken to court by the Commerce Commission.
Hamilton-based Ace Marketing pleaded guilty to 28 charges, including charges for failing to provide customers with key information about their loans that's required by the Credit Contracts and Consumer Finance Act (CCCFA). Ace Marketing also admitted to breaching the Fair Trading Act (FTA) by misleading customers about their rights, including relating to repossession, unforeseen hardship and rights available under the Consumer Guarantees Act (CGA), the Commerce Commission said.
Ace Marketing was also ordered to refund customer fees relating to more than 1,500 contracts.
The Cambridge-based Smart Shop, which trades as SmartStore, pleaded guilty to 11 charges for failing to provide the disclosure required by the CCCFA and for breaching the FTA by making misleading statements in its loan contracts and failing to provide customers with information about its extended warranty agreements.
Ace Marketing and Smart Shop have been fined $150,000 and $135,000, respectively, after being sentenced in the Auckland District Court. The Commerce Commission said these are the highest penalties yet imposed on mobile traders it has taken to court.
"When sentencing the companies, both judges acknowledged the Commission's Mobile Trader Report, published last year. The report found that many mobile traders were selling high priced goods, often on credit, in vulnerable communities, with low levels of compliance with important consumer protection laws such as the CCCFA, FTA and CGA," the Commerce Commission said.
"Judge Ronayne, in sentencing SmartStore, noted its 'breathtakingly overpriced everyday items' and the vulnerability of the company's customers. His Honour observed that 'the power, sophistication and commercial nous was with the defendant, not the customer'," the Commerce Commission said.
The Commerce Commission describes mobile traders as businesses that don't have fixed retail premises. Rather, some of them operate mobile shops, usually from trucks, while others employ sales staff who sell goods door-to-door using catalogues and brochures. Mobile traders use a variety of sales techniques, the Commerce Commission says, including uninvited direct sales through door-to-door or telemarketing sales, parking mobile truck shops in prominent locations, and using websites and Facebook. They sell predominantly or exclusively on credit, layby or other deferred payment terms.
Commerce Commissioner Anna Rawlings said the courts have imposed five mobile trader sentences in 2016 and the consumer watchdog has a number of other mobile trader cases before the courts and under investigation.
"It is crucial that consumers understand what they are signing up to when they buy something on credit and that they are given accurate information about their rights when things go wrong. In the case of Ace Marketing and SmartStore thousands of customers were not given the accurate information that they needed about their contracts," Rawlings said. 
Background below provided by the Commerce Commission
The Commerce Commission has prosecuted nine mobile traders this year. The other mobile traders are Goodring Company Limited, Betterlife Corporation Limited, Flexi Buy Limited, Macful International Limited, Zee Shop Limited, Sales Concepts Limited and one other trader is yet to be named. The Commission also has 13 open investigations into mobile traders. 

Last week Sales Concepts Limited pleaded guilty to 10 charges in the Auckland District Court. You can read more here. Previous mobile trader cases can be found through this media release. 

In August 2015, the Commission published its mobile trader report after a year-long investigation into the industry. It found that 31 of the 32 mobile traders identified did not comply with all of their obligations under the FTA and CCCF Act. You can see the full Commerce Commission Mobile Trader 2014/15 Report and our press release highlighting the report if you click here. 

The Ace Marketing sentencing decision can be found here and the SmartStore sentencing notes will also be available on the Commerce Commission enforcement register once received from the court.