Keeping warm a hardship for almost three in ten households, Stats NZ survey finds; Renters and those on low incomes more likely to report energy hardship; Alex Tarrant says how this could feed into the Election 2017 campaign & policies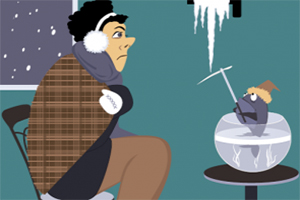 By Alex Tarrant
Energy prices and the costs of heating our homes - particularly faced by renters and those on low-incomes - is set to get a solid airing from now through the end of the election campaign.
A new survey out from Stats NZ shows that 29% of all New Zealand households reported some energy hardship during the 2015/16 year. This indicates struggles to afford power bills, spending large proportions of income on power, and feeling cold in the home.
About 44% of renters reported at least one measure of energy hardship, compared to 22% of owner-occupiers.
The results are from an independent survey by Stats NZ. But they will now doubt also serve to relight the Election 2017 discussion about cost-of-living and rental accommodation warrants of fitness.
As I wrote yesterday, my pick is that Labour could target a policy at energy costs, although without going as far as 2014's doomed NZ Power policy. At a stretch, this could also be one way of picking up further votes off New Zealand First, which has been championing retail energy costs in Parliament this year with a series of Question Time stoushes with Ministers on the subject.
Read the release from Stats below:
Renters and poorer families are much more likely to say it is hard to keep warm than those who own their own homes or earn more money, Stats NZ said today.

Just under one-third (29 percent) of all New Zealand households in 2015/16 reported that they experienced some energy hardship. Energy hardship means people struggle to afford their power bills, or spend a larger part of their income on power, or often feel cold. This energy hardship figure is based on a variety of indicators developed from the Household Economic Survey (HES).

Energy hardship was much more common for households with lower incomes. Around two-thirds of low-income households experienced one or more energy hardship indicators. Low-income households were also three times more likely than all households to have three or more energy hardship indicators (9 percent compared with 3 percent of all households). Low-income households are the lowest 20 percent of households once income is adjusted by the number of people in the household.

The data showed that renters are more likely to experience energy hardship, with 44 percent of renting households reporting at least one energy hardship indicator compared with 22 percent of households who owned their own home.

We have developed a series of energy hardship indicators from the data available in the HES. Energy hardship indicators include things like being unable to pay power bills on time because of a shortage of money, putting up with feeling cold a lot, having major problems heating the home, and spending a large proportion of after-housing income on energy. 

There has been growing concern about the health and well-being impacts of living in a cold, damp home, especially for infants and retired people. Investigating different measures of energy hardship in New Zealand, published today, outlines the indicators we have developed to measure energy hardship in a way that is comparable over time and internationally. It also looks at the characteristics of households and people who are experiencing energy hardship.