Bonus Bonds offer investors a lottery & uncertain returns. However manager ANZ has the certainty of a 1.25% pa return, boosted by never-expiring unclaimed monies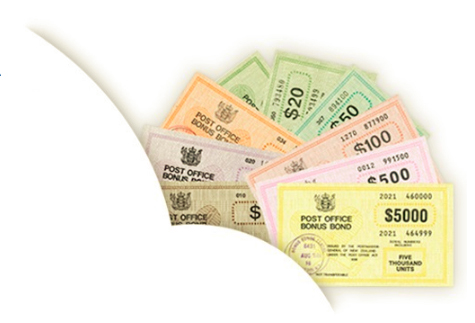 Since Bonus Bonds started in 1970, many hundreds of thousands of Kiwis have bought them, or purchased them as gifts for relatives or friends. You might have been given some at some point, only to lose track of them over the years.
Relatives may die, forgetting to note them in their documentation as part of their estate. And that could well be because they were acquired decades ago.
Those forgotten Bonus Bonds could still have a few surprises in store. Because, if you haven't cashed them in or transferred them to someone else, they've been eligible for tax free cash prizes every month since they were purchased.
But forgotten Bonus Bonds just stay with ANZ. They never get transferred to the Crown as unclaimed monies.
There is a law about unclaimed monies, but it doesn't apply to Bonus Bonds. That is because in order for the Unclaimed Money Act to apply the funds need to have been unclaimed after maturity. As Bonus Bonds do not have a maturity date this means they do not meet the definition of unclaimed monies under the Act. And that means that defacto unclaimed monies just build up in the Bonus Bonds system.
There is $3.4 billion invested currently. ANZ charged $44 million in fees to administer the system, and this is largely based on the value of the Fund.
This is what the Annual Report says about fees:
The fees and expenses payable in respect of the scheme may change, as follows:
• We can change the management fee at any time by giving one month's prior written notice to the supervisor. There is no limit to how much we can change the management fee. The percentage of the management fee that is subject to GST is dictated by an agreement between the Financial Services Council and Inland Revenue.
• The supervisor's fee may be amended by agreement between the supervisor and us.
• The expenses vary each year.
• The manager's removal fee can only be changed by amending the governing document. We would require bondholder approval if the fee change was material.

We will not notify you if we make changes to these fees. The current fees will be disclosed in the current product disclosure statement available in the offer register at companiesoffice.govt.nz/disclose (click on 'Search offers' and search 'Bonus Bonds Scheme – Offer Number OFR11095').
The nature of Bonus Bonds is that customers buy them and hold them for a number of years hoping to win a prize. In cases where a customer has died, and ANZ hasn't been informed, then they continue to manage the bonds on the basis that estate will benefit from it when it contacts ANZ. That could well be 'never'.
Investors in Bonus Bonds should register their holdings with ANZ online to ensure their asset isn't lost, or become unclaimed. But there has never been a requirement to register; they can be held completely anonymously.
The fees for managing the system are substantial. The Product Disclosure Statement says they are "approximately 1.28% of the net asset value of the scheme". Of this, 1.17% is charged to the scheme and paid directly to ANZ, 0.03% is paid to the supervisor, and 0.08% reimburses the cost of "expenses" to run the scheme, some of which is paid to ANZ for "investment management", the balance for "resources supplied by ANZ, including those required to maintain the scheme's register and run the scheme's contact centre". So the 1.17% ANZ earns involves no costs because those are charged separately.
However, ANZ does proactively track down the winners of the major prizes to ensure they are aware of their win. The bank has never failed to find a major prize winner.
Anyone who believes that they may have some forgotten Bonus Bonds should contact ANZ to find them. The information they need to provide is here.
And the chance of winning a major prize?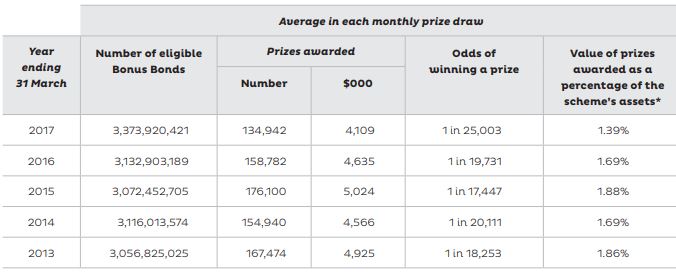 The one good feature is that you never lose your 'investment'. For every $1 you spend, you will at least get $1 back - if you bother to claim it.
The bottom line is that "investors" in the Bonus Bonds scheme have an average chance of getting a tax-paid return of 1.39%. But the chance of 'winning' a return has worsened from one in 18,253 to one in 25,003 in the past five years.
That is not to say investors got all those winnings. many will have gone to bonds that are essentially unclaimed - and will be forever.
ANZ on the other hand has a 100% certainty of claiming at least 1.17% of the funds under management, plus it gets all its expenses paid. All up, the bank gets about a 1.25% return. This amounts to more than $44 million a year.
The larger the unclaimed monies, the larger the base on which fees are paid.
Fees at the rate of 125 basis points seem very generous. ANZ's own Default Conservative KiwiSaver fund only pays them 57 basis points in fees and that has far higher standards, disclosure and communications obligations. And those KiwiSaver fees have themselves come under attack as 'overly generous' - in fact ANZ responded to that criticism and reduced some KiwiSaver fees. On that basis, it seems very hard to justify fees at the Bonus Bonds level, especially as they are net fees.
The Supervisor of the Bonus Bonds scheme is Trustees Executors Limited. Its role is to represent the investors; or to quote the Product Disclosure Statement, "They supervise how we manage the scheme, for the benefit of you and other bondholders."
H/T Paul.