A full house and plenty of bidding at Ray White's mega apartment auction that was probably the biggest one interest.co.nz has attended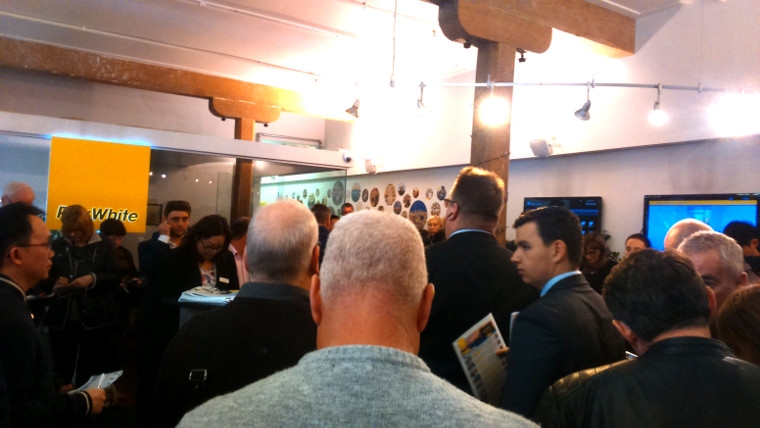 Ray White City Apartments' latest auction was probably the biggest Auckland apartment auction interest.co.nz has attended since we began compiling auction results almost five years ago.
With 20 apartments on offer, the mega auction was a bold move given the lacklustre state of the Auckland property market, so there was an air of nervous anticipation among the crowd that packed out Ray White's CBD office in Lorne St on Thursday (June 20).
That nervousness was heightened by the nature of the first two apartments at the top of the Order of Sale.
Both were near identical studio apartments in the Harbour City building on Gore Street, which is facing what auctioneer Ted Ingram referred to as "significant remediation issues."
Buying properties with remediation issues, especially ones that are on the scale of those facing the Harbour City building, is a game for experienced investors only, and then only for those that can afford to take a loss if things don't work as they had anticipated.
But there were several potential buyers prepared to take a punt and bidding for both units was competitive, with both selling under the hammer, one for $162,000 and the other for $165,000.
According to QV.co.nz the unit that sold for $162,000 had a Rating Valuation (RV) of $215,000 and had been purchased in 2012 for $155,000, while the one that sold for $165,000 had an RV of $210,000 but did not have a sales history available.
The remaining 18 apartments were a real mix, ranging from spacious, upmarket apartments in character buildings to student shoe boxes and leasehold units and all but four of them attracted multiple bids. By the end of the auction 10 of the 20 properties offered had sold under the hammer, giving a sales rate of 50%.
With most of the properties that were passed in attracting multiple bids, and the fact that they would have been opened up to conditional offers after the auction, it's likely that a few more sales would have been concluded in post auction negotiations.
A notable feature at the auction was the relative lack of Asian faces given the size of the crowd. Auckland has a sizeable Asian population and you would expect them to have a reasonable presence at most auctions. If this same auction had been held three years ago at the height of the Chinese buying frenzy, Asian buyers would likely have dominated the bidding. But their numbers have dwindled since the Chinese Government clamped down on capital flight out of China and at this week's auction Asian faces were relatively few and far between.
Coincidentally, City Sales also had a 50% sales rate at their latest apartment auction, although it was a much smaller affair.
Details of the individual properties offered at both auctions and the prices achieved on those that sold are available on our Residential Auction Results page.
The comment stream on this story is now closed.
You can receive all of our property articles automatically by subscribing to our free email Property Newsletter. This will deliver all of our property-related articles, including auction results and interest rate updates, directly to your in-box 3-5 times a week. We don't share your details with third parties and you can unsubscribe at any time. To subscribe just click on this link, scroll down to "Property email newsletter" and enter your email address.