Over 34,000 homes expected to be built in the Pukekohe and Drury areas by 2050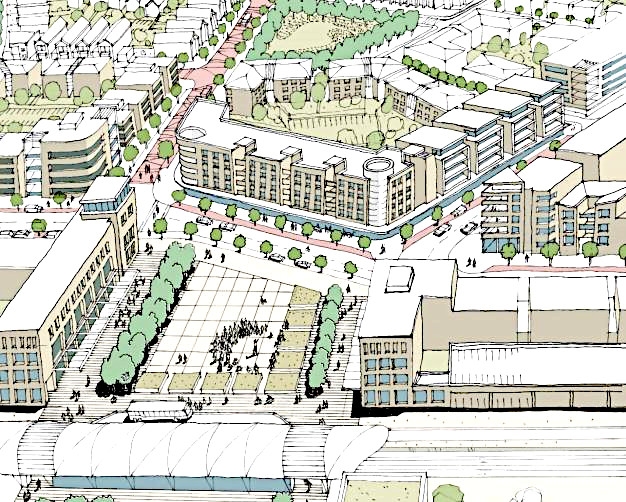 The Auckland Council is getting set to vote tomorrow (Tuesday) on approving two structure plans which could see over 34,000 homes built in the Drury and Pukekohe areas over the next 30 years.
The affected areas will cover about 1900 hectares of land immediately surrounding Drury-Opaheke and 1300 hectares surrounding Pukekohe-Paerata that have been zoned as future urban areas in the council's 2016 Auckland Unitary Plan.
The Auckland Council's Planning Committee is expected to sign off the structure plans this week. A report to the committee says that they will allow up to 22,000 residential dwellings in the Drury-Opaheke area and a further 12,500 dwellings in the Pukekohe-Paerata area.
"The residential zones proposed would provide for a range of living types from larger sections around the fringe to more intensive dwellings such as town houses and apartments around proposed new centres and along public transport routes."
Planning Committee chairman Chris Darby says getting the Drury-Opaheke and Pukekohe-Paerata structure plans to the point of sign off has involved a lot of work since 2017.
"It's been a long process. But we've had some wonderful community engagement and feedback from the affected stakeholders and mana whenua," Darby says. "These are future growth areas that were signalled in the Auckland Unitary Plan, so we're not operating outside of what we've already planned for. And we've always identified Pukekohe as a satellite town along with Warkworth."
According to the structure plans the population of Drury-Opaheke is expected to grow by 60,000 people over the next 30 years, while Pukekohe-Paerata's population is projected to increase by about 34,000.
Both plans also include sites designated for light industry and retail development and the council reports say they are both expected to create more employment in the area. The council claims the development is expected to create 12,000 new jobs in Drury-Opaheke and 5000 new jobs in Pukekohe-Paerata.
Auckland's growth challenge
The Drury Opāheke Structure Plan highlights the city's future population growth projections and the need for more land to accommodate its residents.
"The Auckland Plan (2050) signals that over the next 30 years Auckland could grow by another 720,000 people to reach 2.4 million. To meet the challenges associated with population growth in Auckland, the Auckland Plan anticipates that land for an additional 313,000 dwellings and about 263,000 additional jobs will be needed to support this growth. Part of that growth will occur in southern Auckland."
Both Drury-Opaheke and Pukekohe-Paerata are listed as part of Auckland's southern growth area (also including Takanini) which is about 20 km south of the Auckland city centre and will account for 45% of the city's future urban areas.
The Auckland Unitary Plan established a Rural Urban Boundary around Drury-Opaheke to create a limit on where future development could take place.
Protecting prime land
But Darby says it's also important that the city's future growth doesn't impact on the elite and prime soils in the area, which he describes as the food basket of Auckland and is vital to the region's horticultural industry.
"When we considered the Auckland Unitary Plan we were cognisant of that and we identified the need to protect those elite soils."
He says while there's always the risk that more land could be signed off in the future for development in the Pukekohe and Drury areas,  it wouldn't be easy for developers to get approval if it is on prime horticultural land. 
"The RMA allows private developers to bring forward plan change proposals. But I think in this day and age I would not expect the council to ignore the importance of that land. And I would be gobsmacked if the Environment Court ignored the value of those soils."
He says such plan changes would have to be heard by independent planning commissioners and then parties involved would have the right to appeal to the Environment Court.
Under the Auckland Transport Alignment Project (ATAP), which was announced by the Government and Auckland Council in April last year, the rail network will be electrified from Papakura to Pukekohe and the Southern Motorway will be widened between Papakura and Drury. Next year work will start on train services from Hamilton and Auckland, which involve electrifying the line through Pukekohe.
Darby says such growth has to include public transport in order to avoid simply adding more cars to Auckland's gridlock problem.
"In this climate change age that's not something we can afford to carry on with. It has to be supported by public transport."
Government's national policy statement
Meanwhile the Ministry for the Environment (MfE) and the Ministry for Primary Industry (MPI) are developing a national policy statement on highly productive land. A report by MfE and Statistics NZ released in April last year titled Our land, found a 10% increase in the total size of towns and cities between 1996 and 2012, and a 7% decrease in the amount of land being used for agricultural production between 2002 and 2016. 
A report to Auckland Council's Rural Advisory Panel last week by planner Ryan Bradley says the city's future urban zone within the Rural Urban Boundary covers some 10,095 hectares, and around 66% of the future urban zoned land is on elite or prime soils. The main areas affected are in Whenuapai, Kumeu-Huapai, Drury-Opaheke, Takanini and Pukekohe/Paerata.
The report says information it has provided to MPI shows that since 2012 there have been 1,302 residential sections created (118ha) around the existing town of Pukekohe. While a further 308 sites (33ha) have been granted resource consents but have not yet had titles created.