The sales rate was around 50% at all of Barfoot & Thompson's main auctions last week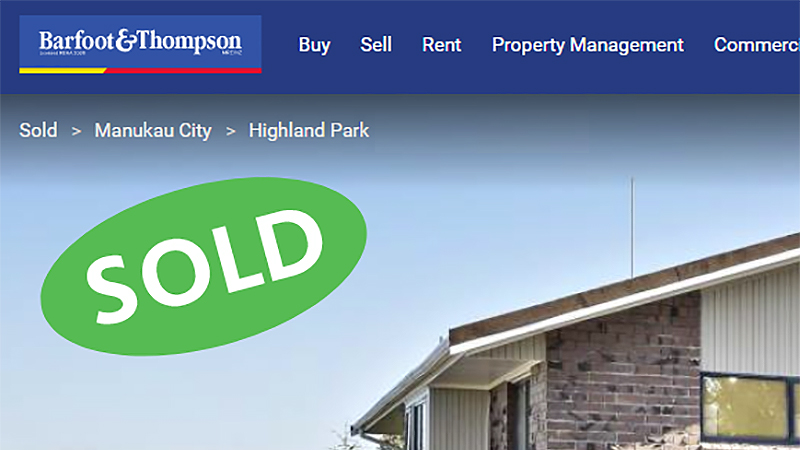 Barfoot & Thomson achieved sales on half the properties it marketed for sale by auction last week, although the total number of properties being auctioned remains low.
The real estate agency, which is the biggest in Auckland, marketed 81 residential properties for sale by auction last week and achieved sales on 41 of them. That gives an overall sales rate of 51%.
Of the 41 properties that sold, 33 sold under the hammer, five sold prior to their auction and three sold immediately after their auctions.
The notably higher sales rates was evident throughout Barfoot's auction rooms with all of the major auctions achieving sales rates in the 45% to 56% range.
The only outliers were three smaller auctions where just one or two properties were offered and the sales rates were either none sold or 100% sold (see table below).
So although there wasn't a lot to choose from last week, buyers were out and about and were prepared to bid if they found a property that suited them.
The comment stream on this story is now closed.
Barfoot & Thompson Residential Auction Results 9-15 September 2019

Date

Venue

Sold

Sold Prior

Sold Post

Not sold

Postponed 

Withdrawn

Total

% Sold

9-15 Sept

On-site

2

 

 

 

 

 

2

100%

10 Sept

Manukau

5

1

3

8

 

3

20

45%

10 Sept

Shortland St

4

 

 

3

1

 

8

50%

11 Sept

Shortland St

13

 

 

12

1

 

26

50%

11 Sept

Pukekohe

2

 

 

2

 

 

4

50%

12 Sept

North Shore

6

4

 

6

1

1

18

56%

12 Sept

Shortland St

 

 

 

2

 

 

2

0

13 Sept

Shortland St

1

 

 

 

 

 

1

100%

Total

All venues

33

5

3

33

3

4

81

51%
You can receive all of our property articles automatically by subscribing to our free email Property Newsletter. This will deliver all of our property-related articles, including auction results and interest rate updates, directly to your in-box 3-5 times a week. We don't share your details with third parties and you can unsubscribe at any time. To subscribe just click on this link, scroll down to "Property email newsletter" and enter your email address