Phil Twyford hopes new legislation will make it easier for the cost of infrastructure in new suburbs to be covered by homeowners; an arrangement Crown Infrastructure Partners says is proving difficult to pull off beyond an Auckland development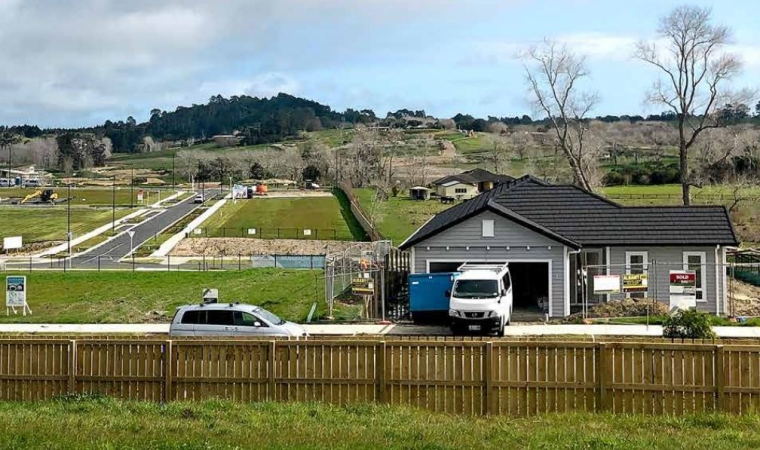 Crown Infrastructure Partners (CIP) says it's proving difficult to roll out an infrastructure financing model being pioneered in northern Auckland in other parts of the country.
The model sees people who buy properties at the new Milldale development in Wainui contribute towards the cost of roading and wastewater infrastructure in the area by paying a levy for 30 years.
Homeowners will pay $1000 a year, and apartment owners $650. The levy will be hiked by 2.5% a year.
Ultimately, owners of 4000 properties will help pay for the $91 million of infrastructure necessary to support their subdivision and 5000 other properties in the area. 
Rather than the debt going on Auckland Council's books, it will rest largely with a Special Purpose Vehicle set up by CIP (which is a crown-owned company).
CIP has raised $45.2 million of 35-year long-term debt from the Accident Compensation Corporate (ACC) at a fixed interest rate. It will also make a $3.7 million equity investment, while Auckland Council will contribute $33.5 million. The remainder of the costs will be covered by the developer, Fulton Hogan.
Bundling smaller projects a solution - albeit more complex
CIP is engaging with councils in high-growth areas like Tauranga, Hamilton and Queenstown to see if there are other bulk housing projects that could benefit from the model.
However CIP CEO, Graham Mitchell, told interest.co.nz these weren't "quite as straight-forward".
Not only does Milldale have the scale necessary to make raising debt economic, but it also only has one major developer, which reduces the complexity of all the contractual arrangements involved.
Mitchell said CIP was therefore looking at how smaller projects could be bundled together and debt raised for the package.
"If you had five developers doing 500 homes, in five different places, that's 2,500 homes. Then that makes it a good package to go to capital markets with. If you went to capital markets with 500, it might be suboptimal to raise the money," he explained.
Will legislation help?
Urban Development Minister Phil Twyford hopes to introduce a Bill to Parliament before the end of the year that will make it easier for the Milldale model to be replicated elsewhere.
He told interest.co.nz the aim was for the legislation to give developers a framework they could use, and cut out some of the red tape involved - especially when more than one developer is involved.
He said councils in high growth areas were keen on the concept; it ultimately taking debt to finance infrastructure off their books.
Twyford also maintained there were developments well-suited to the model, including at Rotokauri in Hamilton and Tauriko in Tauranga.
Mitchell wouldn't be drawn on the specifics around how a law change could be helpful.
"No matter whether you go to a legislative model, or you go to a commercial model, the key challenge is - can you raise the money for it long term? And will people buy a house if it has an additional levy on it that looks like a targeted rate, but isn't?" he said.
Mitchell admitted there were sceptics unsure of whether the model would work in Milldale, as it does in the likes of the US.
He believed progress at Milldale "significantly opens the conversation with other developers", who ultimately want to be able to take land to market without being stymied by infrastructure costs.
He said at least 160 to 200 plots of land have been sold at Milldale, where house building is underway.
CORRECTION: The original piece incorrectly said 9000 properties will be levied. Only 4000 properties in the Milldale development will be levied, although the infrastructure funded by levies will help support an additional 5000 properties in the wider Wainui area.