Barfoot & Thompson's average and median prices are within a hair's breadth of breaking previous records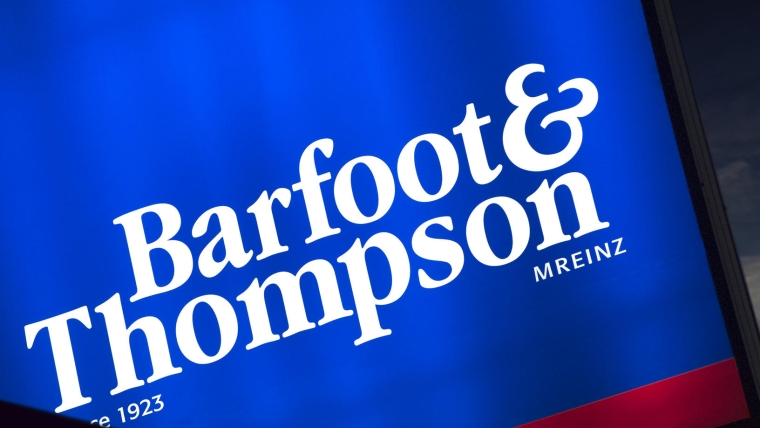 Sales at Barfoot & Thompson were the highest they have been for the month of November since 2015 and both average and median selling prices were at their second highest level ever.
Auckland's largest real estate agency sold 960 residential properties in November, up from 824 in October and the highest number for the month of November since 2015 when it sold 986.
Prices were also firmer, with the average selling price for the month hitting $963,671, which has only been exceeded once before, in March 2017 when it hit $968,570.
The median selling price was $891,000, beaten only by the all time high of $900,000 which was also set in March 2017.
However, vendors seem to be slow to have picked up on the buoyant conditions, with new listings at their lowest level in 11 years.
Barfoot's received 1517 new residential listings in November, down from 1605 in October and 1606 in November last year.
It was the lowest number of new listings received by the agency in any November month since 2008.
That has also reduced the total number of homes the agency had available for sale, with Barfoot's having 3703 residential properties available for sale at the end of November, down 24% compared to November last year the lowest stock level for the month of November since 2015.
That will limit buyer choice and should see the market finishing the year on a firm note before it starts to wind down for the Christmas break.
It also bodes well for a firm market when it kicks back into life in 2020, when potential vendors who may have been holding off listing their property while they waited to see which way the market winds were blowing, decide to commit to a sale over the main summer season.
The buoyant conditions may also encourage potential buyers who have not felt pressured to commit to a sale over winter/spring to take the plunge.
"When high quality properties reach the market there is determined competition among committed buyers which is driving prcies higher," Barfoot & Thompson director Kiri Barfoot said.
"Based on the high number of signed up and conditional sales in the pipeline, the prospect of November being a rogue month is unlikely and we see an active market remaining through to year end and continuing into the first quarter of 2020," she said.
The interactive chart below shows the trends in Barfoot's average and median selling prices, listings, stock levels and price growth.
The comment stream on this story is now closed.