Barfoot & Thompson's auction numbers and sales rates are up compared to this time last year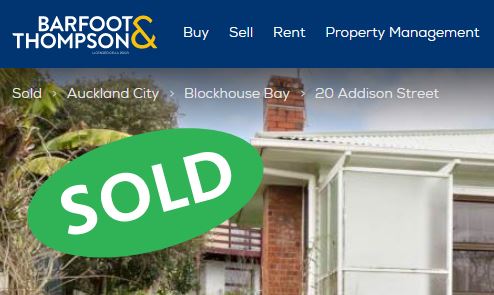 Activity is winding down in Barfoot & Thompson's auction rooms as we head towards the Christmas break, but remains elevated compared to this time last year.
The agency handled 134 residential auction properties in the week from 9-15 December, compared to 107 in the week of 10-16 December last year.
The sales rate was also higher this year with sales achieved on 63 of the properties last week giving an overall clearance rate of 47%.
A sales rate of about 50% has been fairly typical for the last several weeks, compared to sales rates of around a third at the same time last year.
The highest sales rates at Barfoot's auctions last week were the Shortland Street auction on December 10 and 13, which both achieved a 70% sales rate (see table below for the full results).
Properties from suburbs such as Henderson, Te Atatu, Glen Eden, Titirangi, New Lynn, Avondale, Blockhouse Bay and Mt Roskill were to the fore at both auctions.
Details of the individual properties offered are available on our Residential Auction Results page.
The comment stream on this story is now closed.
Barfoot & Thompson Residential Auction Results

9-15 December 2019

Date

Venue

Sold

Sold Prior

Sold Post

Not Sold 

Postponed

Withdrawn

Total

% Sold

9-15 Dec

On-site

7

 

 

6

 

 

13

54%

10 Dec

Manukau

8

1

 

7

2

1

19

47%

10 Dec

Shortland St

7

 

 

3

 

 

10

70%

11 Dec

Mortgagee/Court

2

 

 

 

 

2

4

50%

11 Dec

Shortland St

12

 

 

13

3

2

30

40%

11 Dec

Pukekohe

2

 

 

7

 

1

10

20%

12 Dec

North Shore

14

1

 

18

2

 

35

43%

12 Dec

Kerikeri

 

 

 

1

 

 

1

0

12 Dec

Shortland St

2

 

 

 

 

 

2

100%

13 Dec

Shortland St

5

2

 

3

 

 

10

70%

Total

All venues

59

4

 

58

7

6

134

47%