Augusta's new property fund will own some major assets but there are also uncertainties for investors to consider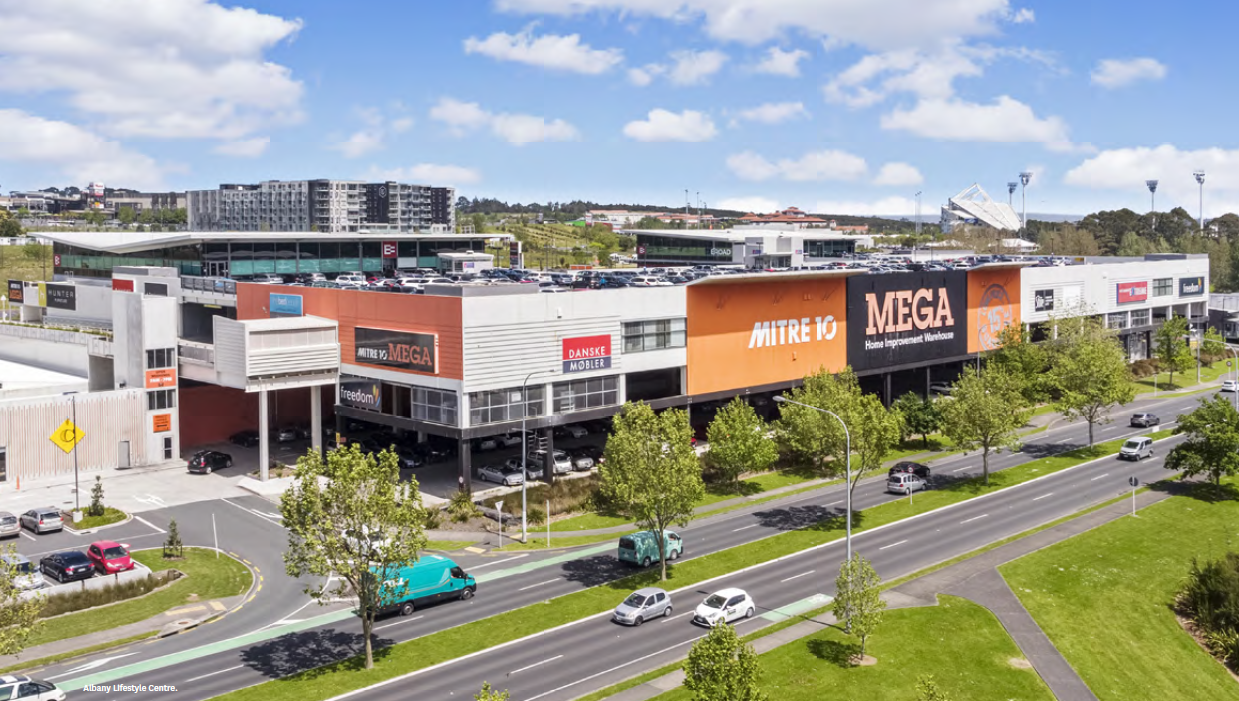 Property syndicator Augusta Funds Management has launched its latest investment offering and it's a whopper.
The Augusta Property Fund (the fund) is seeking $90 million from investors (minimum investment $10,000), which along with a $62.787 million interest-only mortgage from ASB and/or ICBC will be used to fund the purchase of two substantial property assets - the Albany Lifestyle Centre on Auckland's North Shore and the Anglesea Medical Centre in Hamilton.
The fund is being set up as an unlisted unit trust and is forecast to provide pre-tax cash returns equivalent to 5.75% a year, with cash distributions paid monthly.
It will also be a PIE scheme with the associated tax benefits that provides to investors.
The Albany Lifestyle Centre is being purchased for $88,976,591 compared to its valuation of $90 million.
It is a three level complex with a Mitre 10 Mega store as its anchor tenant and other retailers including Freedom Furniture, Danske Mobler and Hunter Furniture on level one and office accommodation on level two.
The Anglesea Medical Centre is being purchased for $55 million compared to its valuation of $56.7 million.
It has 28 medical-related tenants spread around three buildings, including Angelsea Clinic Urgent Care, Pathlab, Hamilton Radiology, Fertility Associates and Anglesea Pharmacy.
So in summary, it's an unlisted PIE unit trust with a couple of large, good quality assets underpinning its projected pre-tax cash return of 5.75%.
For most investors that's pretty straight forward stuff.
However, there are some uncertainties about the shape of the fund going forward.
Firstly there's uncertainty about the ability of investors to cash in their units.
The fund's Product Disclosure Statement states that units will not be redeemable initially but "from July 2021, or such later date as is determined by the manager [Augusta], the fund may offer monthly redemptions on units... provided there are available funds."
So a redemption facility may or may not be available at some time in the future.
If a redemption facility is not made available, investors wanting to cash-up would have to try and sell their units privately, which would put them in the same situation as investors in most property syndicates.
Additionally, the nature of the fund could change over time because Augusta wants it to be able to invest in a wider variety of assets than the two properties it will initially acquire.
Augusta intends to grow the fund by acquiring additional commercial properties, which will most likely be funded by a mix of new capital from both existing and new investors and taking on additional debt, and that could change the performance and risk profile of the fund.
However, future investments may not be limited to direct property investments.
The fund could also acquire units or interests in other property investment schemes such as property-based funds or syndicates, including listed entities.
It seems likely that at least some of these would be other investment vehicles offered by Augusta.
Augusta also wants the ability, subject to regulatory approval, for the fund to provide underwrites or loans to other property-based entities seeking to raise capital, which would probably also include other investment offerings from Augusta.
These additional investment options may improve the fund's profitability and its cash distributions, which could in turn have a beneficial impact on the value of its units, but they also represent a more adventurous investment strategy by Augusta that carries with it normal business risk.
So over time the fund's performance and risk characteristics could change.
Additionally, Augusta Funds Management's parent Augusta Capital is currently subject to a full takeover offer from Australian-based Centuria Capital Group.
Although Augusta directors Bryce Barnett and Mark Francis have agreed to stay on for three years if the offer succeeds, a change of ownership could affect the way the fund is managed in the future.
So investors considering investing in the Augusta Property Fund will need to look beyond its initial model and be comfortable with the possibility of it changing over time.
Here is a link to the fund's Product Disclosure Statement and other supporting documents such as valuation reports.
The comment stream on this story is now closed.
You can receive all of our property articles automatically by subscribing to our free email Property Newsletter. This will deliver all of our property-related articles, including auction results and interest rate updates, directly to your in-box 3-5 times a week. We don't share your details with third parties and you can unsubscribe at any time. To subscribe just click on this link, scroll down to "Property email newsletter" and enter your email address.