Although average housing values are generally rising around the country, values have declined in Auckland and Queenstown over the last three months and are flat in Dunedin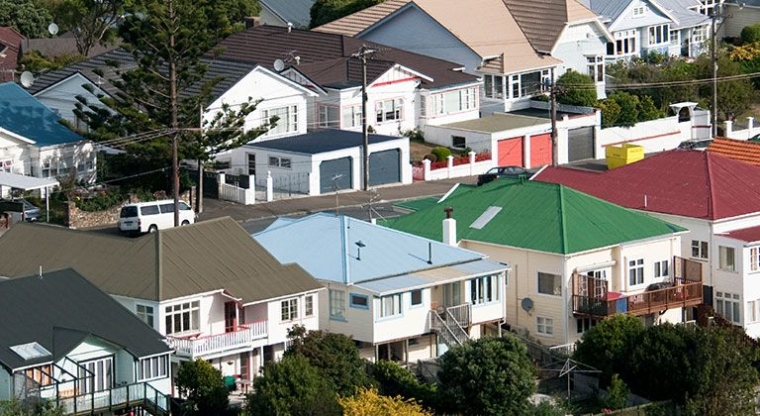 The average value of all homes across New Zealand increased 7.6% over the last year, although values in Auckland have lagged the rest of the country.
According to property data company CoreLogic's House Price Index, the average value of all NZ homes was $743,678 in September, up 7.6% compared to September last year and up 0.8% compared to three months ago.
However it appears that value growth has been stronger in provincial and rural areas than it has been in the main centres.
Several provincial centres have recorded strong average value growth of 3% or more over the last three months, including Hamilton +3.2%, Rotorua +5.2%, Taupo +4.8%, New Plymouth +3.4% and Palmerston North +4.4%.
In some rural districts the growth in values has been even higher, led by Kaikoura +11.1%, Clutha +9.8% and Rangitikei +9.0%.
However across the country's main urban areas, the increase in average residential property values was just 0.3%.
Value growth was particularly weak in Auckland, where the average value declined by 0.4% between May and August, with the biggest decline occurring in North Harbour where it was down by 2.3%.
Auckland was the only main centre to record a decline in average values over the last three months, although value growth in other centres was relatively modest, with average values across the Wellington region up 1.7% while Wellington City recorded a rise of 1.3%.
In Christchurch average values were up 0.7% and in Dunedin there was no overall change compared to three months ago.
Unsurprisingly the biggest fall in average value over the last three months occurred in Queenstown-Lakes where it was down by 4.3%.
See the chart below for the average values in all districts and cities.
The comment stream on this story is now closed.
 

CoreLogic House Price Index

September 2020

 

Territorial authority

Average current value

12 month change%

3 month change %

 

Far North

498,631

3.9%

0.7%

 

Whangarei

589,688

8.6%

1.7%

 

Kaipara

597,552

9.3%

4.8%

 

Auckland - Rodney

985,539

4.7%

0.3%

 

Rodney - Hibiscus Coast

957,785

3.6%

-0.1%

 

Rodney - North

1,012,482

5.4%

0.6%

 

Auckland - North Shore

1,235,527

5.3%

-0.9%

 

North Shore - Coastal

1,415,620

4.8%

0.0%

 

North Shore - North Harbour

1,180,927

5.1%

-2.3%

 

North Shore - Onewa

1,006,955

6.8%

-1.2%

 

Auckland - Waitakere

863,707

6.2%

0.7%

 

Auckland - City

1,262,799

3.9%

-1.2%

 

Auckland City - Central

1,102,079

2.9%

-0.9%

 

Auckland City - Islands

1,163,305

5.3%

0.5%

 

Auckland City - South

1,135,886

5.5%

-0.3%

 

Auckland_City - East

1,579,032

2.9%

-2.2%

 

Auckland - Manukau

945,550

6.7%

0.6%

 

Manukau - Central

735,323

6.2%

1.7%

 

Manukau - East

1,210,775

7.8%

0.7%

 

Manukau - North West

822,617

6.3%

0.1%

 

Auckland - Papakura

740,029

6.2%

1.6%

 

Auckland - Franklin

711,065

5.9%

2.2%

 

Thames Coromandel

836,259

9.3%

3.4%

 

Hauraki

465,188

9.1%

3.0%

 

Waikato

533,160

9.3%

-1.2%

 

Matamata Piako

528,028

7.6%

4.5%

 

Hamilton

647,777

9.7%

3.2%

 

Hamilton - Central & North West

608,988

12.4%

3.7%

 

Hamilton - North East

787,131

6.9%

2.6%

 

Hamilton - South East

601,129

10.1%

2.4%

 

Hamilton - South West

580,378

9.9%

3.3%

 

Waipa

659,163

9.6%

4.0%

 

South Waikato

315,944

22.0%

-0.3%

 

Taupo

598,355

11.0%

4.8%

 

Western BOP

721,404

8.9%

3.3%

 

Tauranga

795,182

6.4%

0.1%

 

Rotorua

547,473

15.0%

5.2%

 

Whakatane

531,165

9.8%

2.0%

 

Kawerau

303,044

15.1%

7.5%

 

Opotiki

373,196

5.2%

4.3%

 

Gisborne

465,719

26.1%

8.0%

 

Hastings

596,607

11.5%

1.5%

 

Napier

620,046

12.1%

0.9%

 

Central Hawkes Bay

436,358

12.9%

3.0%

 

New Plymouth

526,168

10.2%

3.4%

 

Stratford

356,366

21.2%

6.3%

 

South Taranaki

290,287

14.7%

1.4%

 

Ruapehu

272,214

23.6%

4.9%

 

Whanganui

374,474

27.8%

1.5%

 

Rangitikei

320,727

30.8%

9.0%

 

Manawatu

481,485

18.0%

3.0%

 

Palmerston North

531,002

15.2%

4.4%

 

Tararua

292,769

22.1%

0.3%

 

Horowhenua

448,012

17.0%

2.2%

 

Kapiti Coast

688,424

12.3%

2.8%

 

Porirua

710,763

16.2%

2.8%

 

Upper Hutt

661,211

15.1%

3.4%

 

Hutt

697,171

14.7%

1.6%

 

Wellington City

899,358

8.7%

1.3%

 

Wellington - Central & South

888,152

8.4%

1.7%

 

Wellington - East

965,257

8.9%

1.7%

 

Wellington - North

828,150

8.6%

1.1%

 

Wellington - West

1,017,304

9.1%

1.1%

 

Masterton

442,605

11.4%

0.6%

 

Carterton

496,900

12.9%

4.2%

 

South Wairarapa

607,813

13.0%

5.0%

 

Tasman

647,455

6.4%

2.0%

 

Nelson

665,798

5.8%

0.7%

 

Marlborough

536,256

10.6%

4.4%

 

Kaikoura

472,636

5.2%

11.1%

 

Buller

208,221

4.1%

0.2%

 

Grey

230,363

5.4%

0.4%

 

Westland

275,655

4.3%

-2.5%

 

Hurunui

418,749

5.6%

3.2%

 

Waimakariri

469,805

4.1%

0.9%

 

Christchurch

522,057

5.0%

0.7%

 

Christchurch - Banks Peninsula

552,939

6.6%

2.6%

 

Christchurch - Central & North

609,761

4.8%

0.4%

 

Christchurch - East

395,749

4.6%

0.7%

 

Christchurch - Hills

709,894

4.9%

0.0%

 

Christchurch - Southwest

497,464

5.0%

1.1%

 

Selwyn

569,967

2.5%

0.4%

 

Ashburton

386,672

7.8%

1.7%

 

Timaru

394,170

6.1%

0.7%

 

MacKenzie

582,217

12.6%

2.7%

 

Waimate

279,480

5.6%

-2.7%

 

Waitaki

368,863

14.0%

4.6%

 

Central Otago

596,900

11.6%

-0.4%

 

Queenstown Lakes

1,141,643

-4.2%

-4.3%

 

Dunedin

547,429

15.6%

0.0%

 

Dunedin - Central & North

553,792

13.6%

-0.9%

 

Dunedin - Peninsular & Coastal

500,103

15.4%

1.3%

 

Dunedin - South

527,943

15.1%

0.5%

 

Dunedin - Taieri

575,491

17.4%

-0.1%

 

Clutha

307,031

27.1%

9.8%

 

Southland

359,070

13.5%

-3.2%

 

Gore

289,902

16.9%

2.9%

 

Invercargill

360,338

14.7%

1.2%

 

 

 

 

 

 

Auckland Region

          1,078,326

5.0%

-0.4%

 

NZ Main Urban Areas

              847,999

6.9%

0.3%

 

Wellington Region

              797,196

11.4%

1.7%

 

Total NZ

              743,678

7.6%

0.8%