Activity in Barfoot & Thompson's auction rooms setting a cracking pace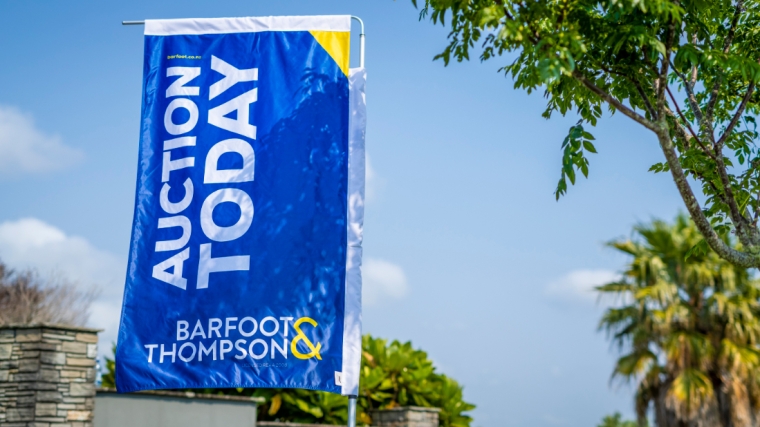 Barfoot & Thompson auctioned more than three times as many homes in the first week of February as it did in the corresponding period of last year.
The agency handled 185 residential auction properties in the week form January 30 to February 5, compared with just 54 in the corresponding period of last year (1-7 February 2020).
The sales rate was also considerably higher this year with sales achieved on 71% of the auctioned properties compared with the sales rate of 52% in the corresponding week of last year.
The sales rate was 100% for properties in Rodney, Papakura and Franklin, although the number of properties offered from those areas was relatively small.
At the bigger auctions the sales rates ranged from 60% for properties in the central Auckland suburbs, to 77% for North Shore properties.
Where selling prices of the properties that sold were able to be matched with their rating valuations (RVs), 98% sold for more than their RVs.
March is traditionally the busiest month of the year for the real estate industry and the high level of activity in early February suggests the market remains extremely firm.
The table below gives the district by district breakdown of Barfoot's auctions for the week.
The comment stream on this story is now closed.
Details of the individual properties offered and the results achieved are available on our Residential Auction Results page.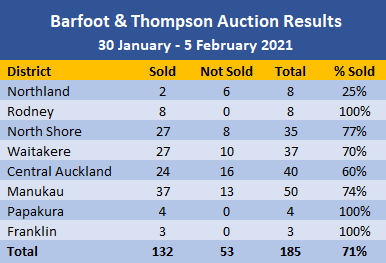 You can have articles like this delivered directly to you inbox via our free Property Newsletter. We send it out 3-5 times a week with all of our property-related news, including auction results, interest rate movements and market commentary and analysis. To start receiving them, go to our email sign up page, scroll down to option 6 to select the Property Newsletter, enter your email address and hit the Sign Me Up button.