If the best measure for housing demand is land value, what people will pay to live in particular areas, Auckland Council's economists find there is a mismatch in some areas between land that is high value, and current residential development potential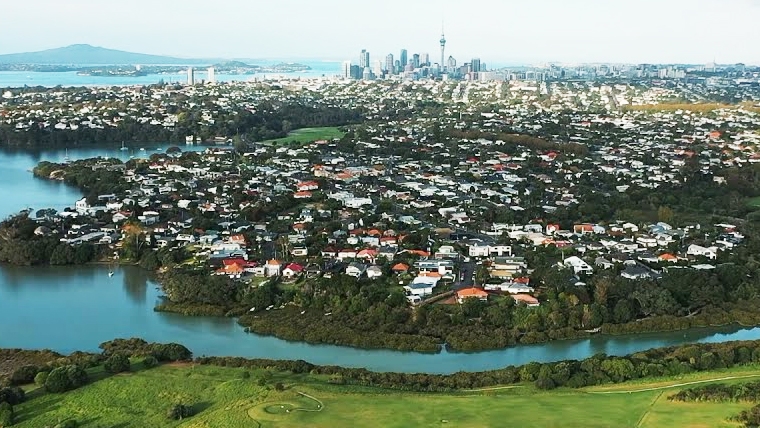 By David Norman and Shane Martin*
• Auckland will be required by central government's new National Policy Statement on Urban Development (NPS-UD) to allow more development than the current Unitary Plan allows.
• This upzoning will be focused around the city and metropolitan centres, rapid transit networks, and in all other locations commensurate with the accessibility and relative demand for housing and business there.
• The best measure of demand is land values – what people pay to live in particular areas.
• In Auckland, there is a mismatch in some areas between land that is high value, and current residential development potential. This is true across distances from the city centre and current zonings.
• Land values show that more upzoning is demanded closer to the city, where the highest paying jobs, best transport links and access to other amenities exists.
---
How did we get here?
Large swathes of Auckland were massively upzoned (which means the rules changed to allow much more efficient use of that land) in 2016. In aggregate, this landmark study showed there is sufficient development activity available inside the region's Rural Urban Boundary such that land prices are not being skewed up by that boundary.
Not all areas inside the Rural Urban Boundary were upzoned equally. Areas a long way from the city centre or major metropolitan centres were generally not upzoned much at all, which makes sense given the relatively low demand for property that far from jobs, transport links and other amenities. A ring much closer to the city centre, close to jobs, with the best public transport links in the city, and close to other amenities, also did not receive much upzoning.
The NPS-UD requires local governments to further upzone in and around city and metropolitan centres, and around rapid transit nodes (which typically means train stations and the northern busway in Auckland). It also requires upzoning in all other locations commensurate with the greater of accessibility and relative demand for housing and business use there.
How do we best measure accessibility? How do we measure relative demand? The Chief Economist Unit was asked to assist in analysing how the latter question pertains to all these other locations outside city centre, metropolitan centre and rapid transit catchments. Our analysis is the subject of this paper.
Measuring what people want
Some have suggested using number of sales or number of new dwellings consented in an area as measures of relative demand. But these indicators are already skewed by the very factors we want to strip out of our analysis: lots of homes get consented and sold where we have already zoned for more housing. The bigger question we really want to answer is if the right zoning is in the places people most want to be.
The NPS-UD recommends using land values as an indicator of demand. We agree. Land values are the best indicator of where, without budget constraints, people would prefer to be. That does not mean that no one wants to live in areas with lower land values. People often have links to neighbourhoods that may lack the location or amenity that make some areas more expensive. But the best indication of what area people value most on average and in aggregate is land prices there.
Two things make land valuable. One is its proximity to amenities that people value (location). The second is what you can do with the land. We want to determine the amenity that people derive on average from different locations, as if zoning was not a factor. That means a fair comparison of land values must strip out zoning and consider only the other attributes that drive land value.
Creating the triangle we need
Our work over the last four years has shown repeatedly that proximity to Auckland's city centre is one of the strongest and most certain pointers to value. The city centre is a great proxy for where the high paying jobs are, where public transport is best, and where a huge range of goods and services are available in a small walkable area, close to the water.
It will not shock our readers then that land values outside of the immediate city centre are highest in areas right next to the city centre. Cities around the world broadly follow a pattern where land that is valuable has the highest buildings, and at lower values you get lower buildings (the dark blue triangle in the stylised graphic). But this is not the pattern in Auckland, shown in red.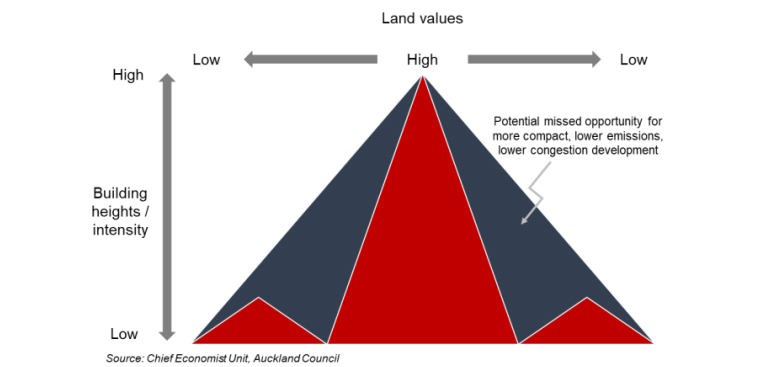 The dark blue triangle is simply not possible in Auckland under current zoning.
Where your wallet is, there lies your heart
So what does the empirical data say about relative demand for land across the region? Zeroing in on the city centre, we see that all four major residential zones, from THAB (Terraced Housing and Apartment Buildings) through to the least dense zoning (Single House) are massively more valuable closest to the city. At 10km from the city centre, land values are typically 40%-50% lower than at 2km from the city centre across the four residential zones.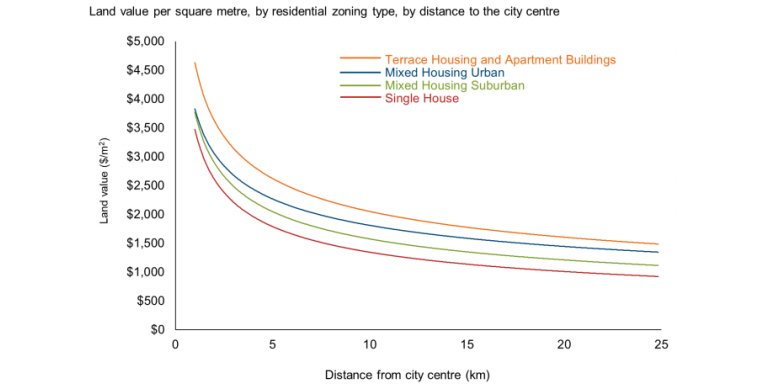 This demonstrates what we already know anecdotally – relative demand is far higher close to the city.
Looking across zones, the patterns are similarly obvious. On average, across all distances from the city centre, the highest value land is land that allows more efficient use (THAB). The lowest value land is typically that with the least efficient use (Single House) even closest to the city, where that zoning is quite dominant.
Given this pattern, are we currently delivering most development potential where it is most valued and where relative demand is highest? Short answer: No.
There are two sets of maps at the end of this paper. The first set shows in greater detail where the most valuable THAB land is, and how much of each area's residential zoned land is zoned THAB (from 0% to greater than 75%). The most valuable THAB land, worth over $4,000/m2, is close to the city, but several areas close to the city have little or no zoning for THAB at all. In contrast, the second set of maps shows lots of single house zoned land closest to the city, where once again, land values are highest.
Being careful what we wish for
But the stroke of a pen increasing development rights closer to the city is not without its challenges and it would be naïve to ignore them. Key among these challenges are what infrastructure will be required to support the increased density clearly demanded, and who pays for that infrastructure. Property owners who receive upzoning, whether they choose to redevelop or not, will receive a huge windfall gain in property value from upzoning, based on the expectation that infrastructure will be provided to service a more efficient use of their land. It is good economics that those who receive the windfall value gain should contribute a commensurate share to the cost of that infrastructure.
An appropriate funding mechanism will need to be in place in advance of zoning changes. If not, a changed zone may just be an idea on paper, as no meaningful development could ensue.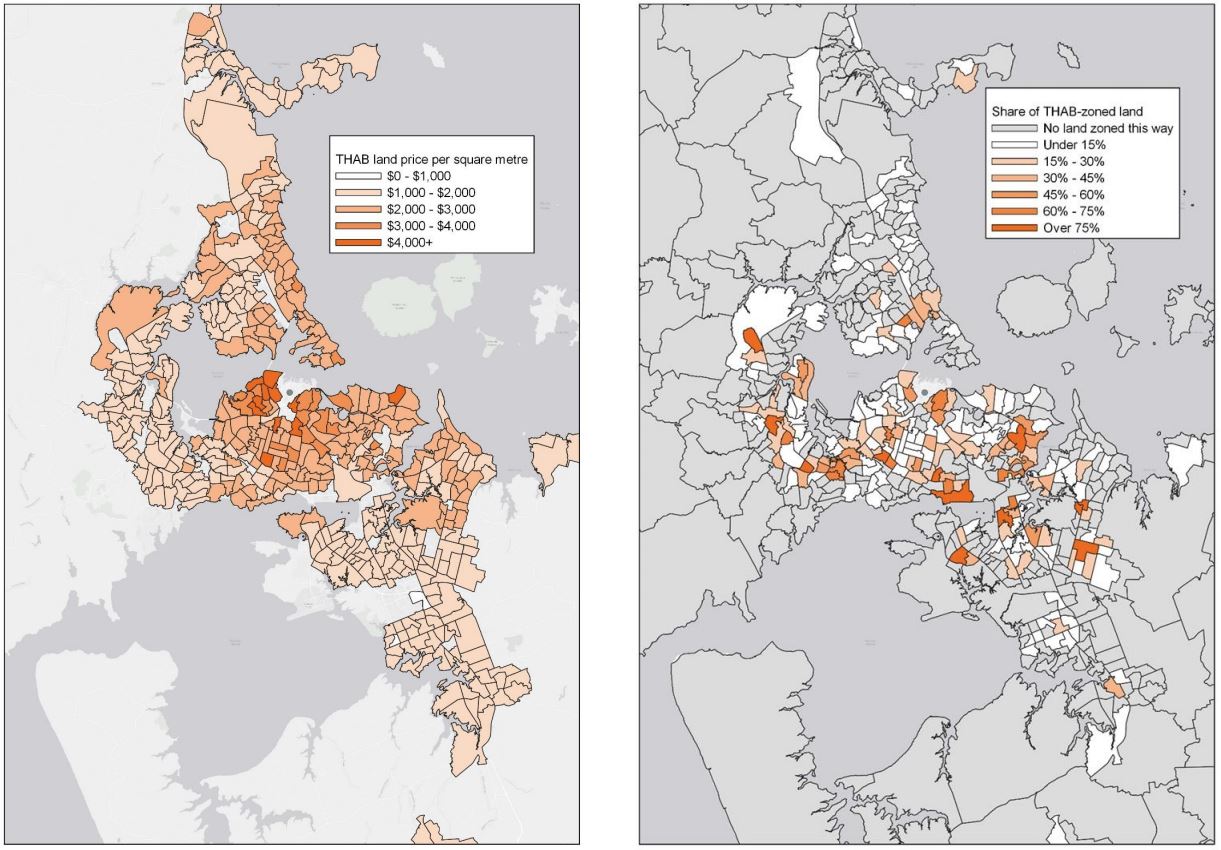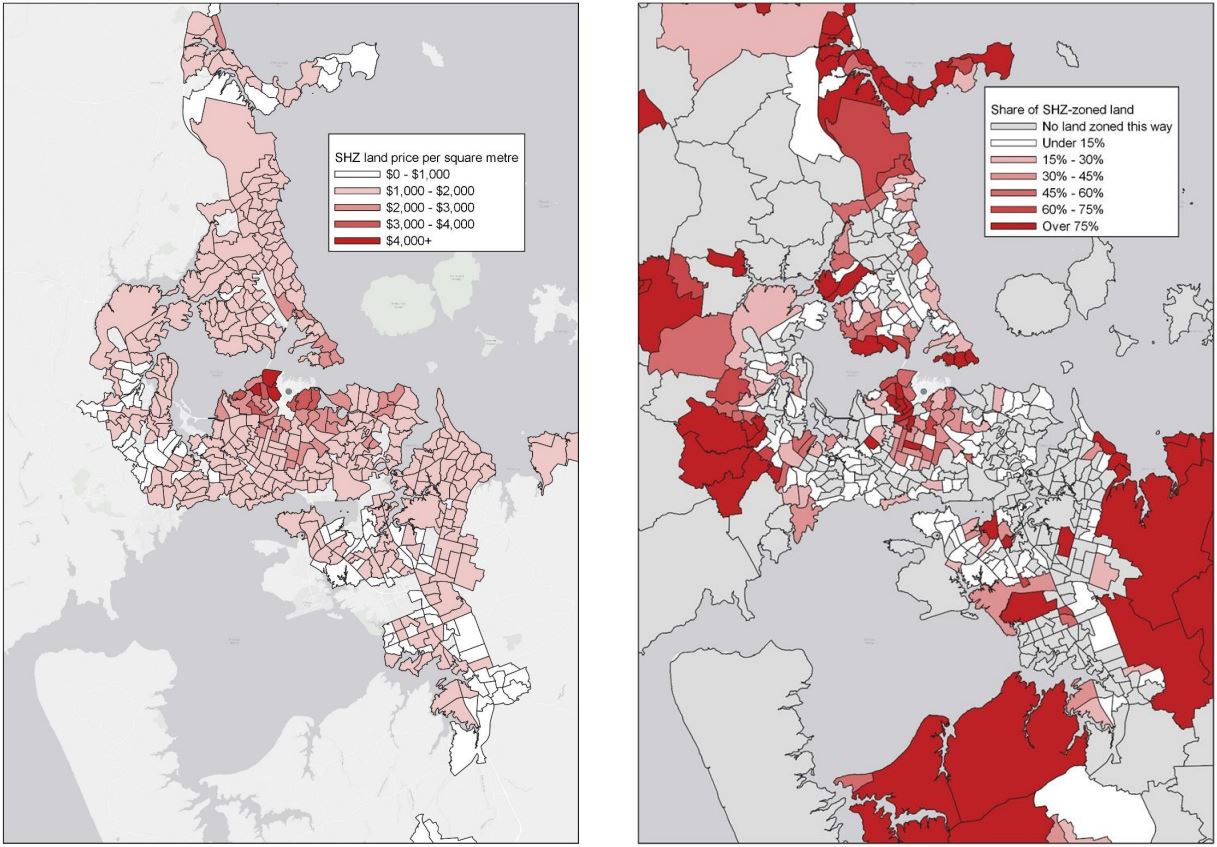 ---
* David Norman was chief economist at the Auckland Council when this article was written. Shane Martin is a senior economits at Auckland Councit. This article was first published here. It is here with permission.