Better quality apartments in central Auckland haven't suffered the big price falls of their shoe-boxy cousins, but they generally haven't had big capital gains either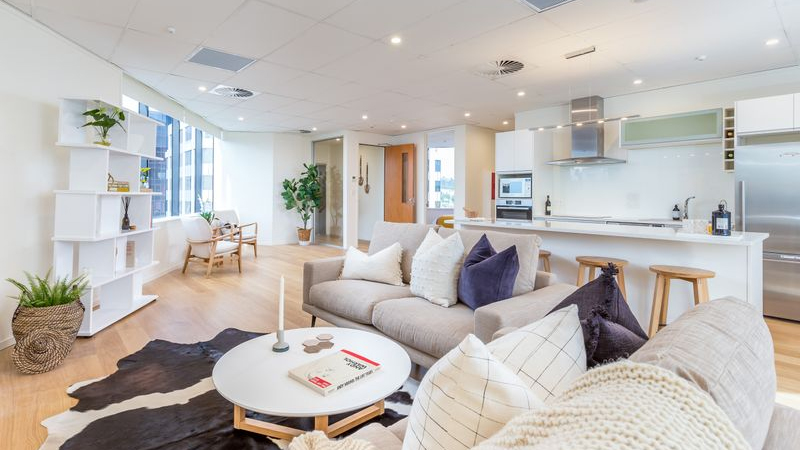 The price boom that has swept across the general housing market over the last 12 months appears to have largely bypassed the better quality apartments in central Auckland popular with owner-occupiers.
There is no doubt that the market for the tiny inner city apartments often referred to as shoeboxes has been hammered by the lack of international students due to pandemic-related border restrictions.
And prices for units in leasehold buildings and those with weathertightness or other structural issues have also been severely marked down in recent times, with some selling for just a fraction of their original purchase price.
However there's another part of the market that receives less attention - the larger, more desirable apartments in buildings with no known structural issues, that are as likely to appeal to owner-occupiers as they are to investors.
The latest auction results suggest that while prices for these types of apartments haven't suffered the dramatic declines of their shoe-boxy cousins, they haven't enjoyed the big price gains that have characterised the general housing market over the last year or so, with many selling for around or below their 2017 rating valuations.
Several such properties were offered at the latest Ray White City Apartments auction. While they received a reasonable amount of buyer interest, the prices achieved were flat at best.
They included a three bedroom, two bathroom apartment with a car park covering an entire floor of the building at 71 Symonds Street, just down from the Cordis Hotel (formerly the Langham).
It had a floor area of 147 square metres which is bigger than many houses, and property records show it was last sold in 2016 for $1.25 million, and had a 2017 rating valuation of $1.28 million.
There were no bids for the property but the auctioneer said a pre-auction offer of $1.2 million, subject to what was described as a very minor condition, had been accepted, making it likely that it would be sold at that price.
That would give a capital loss to the vendor of $50,000 and selling expenses would be on top of that.
Another upmarket unit was offered in the Union Green complex on the CBD fringe in Union St.
Built over two levels, it has a floor area of 83 square metres, with two bedrooms, two bathrooms and two car parks, plus a balcony and small courtyard.
It had a 2017 rating valuation of $960,000 and its property records showed it had been purchased for $975,550 in 2015.
There was only one bid for the property, at $1 million, and it was passed in for sale by negotiation.
Also on offer was a more modest two bedroom unit with a car park in the De Rohe building on Flower St in Eden Terrace.
It has a floor area of just 46 square metres but came with an eight square metre balcony, and had a 2017 rating valuation of $490,000 and was last sold in 2017, for $496,200.
It sold under the hammer for $530,500, giving its vendor a capital gain of $34,300 after almost four years of ownership, less selling expenses.
Other sales at the same auction included a 40 square metre, two bedroom apartment in the Altitude building on Kingston St, opposite the Heritage Hotel, and a 38 square metre studio in the Heritage Tower on Nelson St, with both likely to appeal more to investors than owner-occupiers.
The apartment in the Altitude building had a rating valuation of $420,000 and sold for $297,000, while the Heritage studio had a 2017 rating valuation of $350,000 and sold for $367,500.
Overall, recent prices suggest that the better quality apartments in central Auckland are more or less holding their value, but generally aren't achieving the big price gains that have been apparent for many other types of properties.
Details of the individual properties offered at all of the auctions monitored by interest.co.nz, and the results achieved, are available on our Residential Auction Results page.
The comment stream on this story is now closed.
You can have articles like this delivered directly to your inbox via our free Property Newsletter. We send it out 3-5 times a week with all of our property-related news, including auction results, interest rate movements and market commentary and analysis. To start receiving them, go to our email sign up page, scroll down to option 6 to select the Property Newsletter, enter your email address and hit the Sign Me Up button.