Auction sales rates lowest in Auckland and dropping in BoP, strongest in Canterbury and Queenstown-Lakes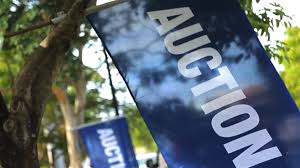 The number of properties being auctioned declined for the second week in a row last week, suggesting auction activity has now passed its summer peak.
Interest.co.nz monitored 381 residential property auctions last week (12-18 March) down from 422 the previous week.
Auction numbers appear to have peaked at 441 in the week of February 26 to March 4.
The number of properties selling under the hammer also declined, to 138 last week compared to 167 the previous week.
That pushed the national auction sales rate down to 36% from 40%.
The sales rate remains weakest in Auckland where it ranged from 15% for properties in Manukau to 37% in Rodney, and strongest in Canterbury at 64%.
The Central Otago-Lakes auctions also put in a strong showing with an overall sales rate of 57%.
However the sales rate in Bay of Plenty has been taking a dip lately, dropping to 26% last week, down form 43% the previous week.
The table below gives the district-by-district results from the main auctions, but does not include regions where the auction numbers were extremely low.
You can see the individual results from all of the auctions monitored by interest.co.nz on our Residential Auction Results page.
The comment stream on this story is now  closed.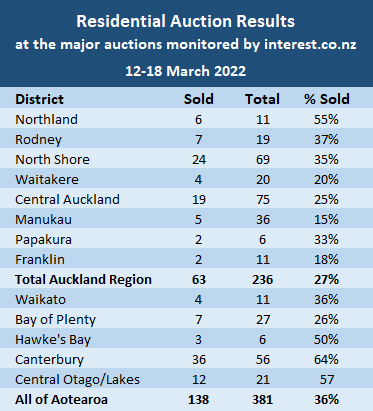 You can have articles like this delivered directly to your inbox via our free Property Newsletter. We send it out 3-5 times a week with all of our property-related news, including auction results, interest rate movements and market commentary and analysis. To start receiving them, register here (it's free) and when approved you can select any of our free email newsletters.