Are renters reacting to affordability issues too?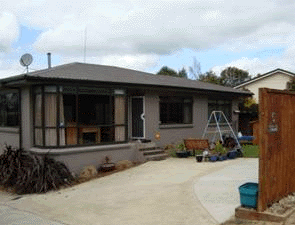 Are renters staying in their homes longer? The latest bond registration data reveals a surprisingly low number of new transactions registered in December.
The data supplied to interest.co.nz from the Department of Building & Housing shows that only there were only 7,782 bonds registered in December 2010, down from 11,999 in December 2009 and 12,496 in December 2008. This December data follows soft numbers for November 2010 as well.
On the other hand, the median rent value for these new bonds registered is unchanged on a national, all-types basis at $300 per week. However, in the main centers, rents registered with a new bond are creeping higher.
Median Auckland City rents for a three bedroom house came in at $480 per week, an all-time high, although there were only 209 of these type of rentals registered, the lowest level since we started keeping track of this data in January 2006.
In Wellington City, the median rent for a 3 bedroom house is dropped a bit to $430 per week, and the volumes were also very low, at only 89 houses registered.
In Christchurch City, the median rent was $330 per week, a record high, but the volume was only 220, at least a four-year low since the start of our 2006 records.
Similar trends are evident for two bedroom flats.
One explanation may be that renters have decided to stay put. The data we are publishing today on median rents for bonds registered does not cover rental value changes where renters do not move properties. That data is anecdotal only, and come occasionally from press releases issued by realtors and professional rental managers.
Our monitoring of online For Rent listings on both Trade Me, and realestate.co.nz shows there has been a considerable rise in listing since October, continuing a rising pattern that started in March 2010. A record peak occurred just before Christmas. This listing peak happened at the same time a listing peak happened for houses for sale.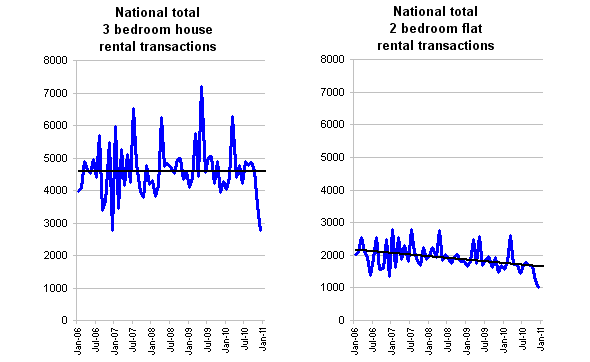 Affordability may have reached a limit, from which renters are not prepared to pay more for even for a 'better place'. We compare the relationship between the costs of owning and of renting in this research.
We welcome readers' analysis of what may be happening in the rental markets, because certainly market forces are starting to behave in a noticeably different way.