QV says property values rose rose slightly in Feb from Jan, but still 1.7% lower than a year ago and 5.6% below late 07 peak
By Bernard Hickey
Government owned valuer Quotable Value (QV) has reported property values rose slightly in February from January and have generally stabilised after falling through much of 2010.
However, QV said prices were variable across New Zealand with prices rebounding in the main centres, but still falling in rural and provincial areas.
Values were still 1.7% below a year ago and 5.6% below their peak in late 2007.
"Values for all New Zealand have levelled off in recent months, but this is mostly due to a rebound in values in the main centres. In contrast, values in the rural and provincial areas have generally continued to decline" said QV.co.nz Research Director, Jonno Ingerson.
"Overall the property market remains subdued with lower than normal numbers of listings and sales being the main signs of buyer and seller caution. However there are pockets of the market that remain active, particularly in the main centres," Ingerson said.
"There is variability in how values have changed over recent months, even within the main centres. Values across the Auckland area increased in the last month, particularly in central Auckland, with the rest of Auckland remaining more or less steady. Values across the wider Wellington area were steady, but increased in Hutt and Upper Hutt, were flat in Wellington City, and decreased in Porirua. In contrast values in Hamilton and Tauranga have continued to steadily decline,"  he said.
"In Christchurch, the market took a while to start moving again after the September quake, but once it did there were some positive signs. Increased demand for undamaged houses saw prices lift by a few percent in the subsequent months and in February values were 0.3 percent above the same time last year. The much more widespread damage caused by the February quake will again cause sales activity to slow for several weeks or even months. It is too early to tell what the effect on values of relatively undamaged houses will be."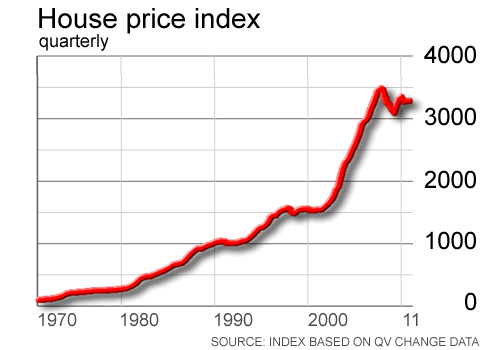 While unrelated to the QV index, and a less reliable measure of value change, the average New Zealand sales price over the last three months is NZ$411,712 which is slightly up on the NZ$409,067 reported last month.
The continuing slide in values in recent months means that none of the provincial centres now have values above the same time last year.
Compared to this time last year Whangarei is -5.3%, Rotorua -3.2%, Gisborne -7.0%, Hastings -2.8%, Napier -0.5%, New Plymouth -3.0%, Wanganui -4.3% and Palmerston North -3.6%.
In the South Island Nelson has now dropped below last year by 0.1%, while recent increases in value mean that Queenstown Lakes is only 0.3% below last year, and Invercargill 2.8% below a year ago.
More soon.