QV sees stabilising of house prices in Auckland spreading to other areas; says activity drying up after Easter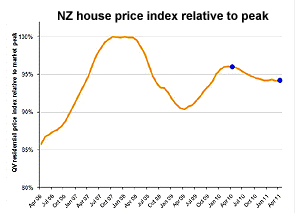 By Bernard Hickey
Government-owned property valuer Quotable Value has reported residential values were stable in April from March, but remain down 1.9% from a year ago and down 5.8% from the market's peak in late 2007.
Prices had stabilised first in Auckland and this stabilisation appeared to be spreading to other parts of New Zealand, although activity was patchy and appeared to have slowed down after the Easter holidays and school holidays.
"The levelling of nationwide values was initially due to a flattening of values in the Auckland market, but there are now increasing signs of values stabilising in many other areas also" QV  Research Director Jonno Ingerson said.
"In the Auckland area values have moved within a narrow band for most of the last 18 months. In recent months values have been slightly variable, but there is little evidence at this stage of values moving significantly up or down. Currently values in Auckland are 0.5 percent below the same time last year, " Ingerson said.
"Values in Hamilton are 3.5 percent below the same time last year, but in recent months values appear to be flattening off. In Tauranga values are 1.7 percent below last year, but also appear to be flattening in recent months. The Wellington area is 3.4 percent below last year, with most of this drop coming in 2010, while over the past six months values have been moving within a narrow band. Values in Dunedin have dropped more over the past year than the other main centres, but may also be stabilising in recent months."
"There was an increase in sales activity in March and the first half of April, but this appears to have dropped away following the Easter and school holiday break. Sales activity typically tends to slow from now through until spring," said Ingerson.
There had been a significant slowdown in sales in Christchurch since the February earthquake, which meant QV had not generated an index for Christchurch.
"Local valuers in Christchurch are seeing plenty of interest in quality properties in relatively unaffected areas, and prices have been generally holding. There is still a great deal of uncertainty in the market, particularly driven by concerns over job security," said Ingerson.
While unrelated to the QV index, and a less reliable measure of value change, the average New Zealand sales price over the last three months is NZ$405,310 up from the NZ$400,656 reported last month.
See our article on Barfoots' figures for April, which showed a drop in volumes and average prices in April from March. Full REINZ figures are due this Friday.
Despite values levelling in recent months in many provincial areas, none currently have values above the same time last year. This recent levelling of values, coupled with declining values last year, means that the gap between this year and last year is closing in many areas.
Whangarei (-5.2%), Gisborne (-4.6%), New Plymouth (-4.5%) Palmerston North (-3.7%) and Invercargill (-3.9%) have the greatest gap compared to last year. Rotorua (-1.0%), Hastings (-1.4%), Napier and Wanganui (-2.4%) and Queenstown Lakes (-1.3%) all have values slightly below last year.
In Nelson values have been relatively stable since January 2010 and as a result the gap between last year and this year is only -0.7%.
(Updated with detail, chart, link to Barfoots article)