Opinion: Which way now for the market?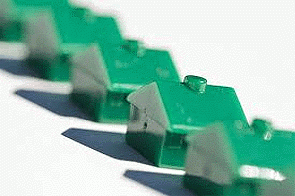 By Olly Newland

I have in several previous articles and columns predicted the rise in rentals, starting in Auckland and spreading like ripples in a pond throughout the country.
Having just been to Australia and with the benefit of my own investments there, I have always looked at the Aussie property market to pick trends here at home. House prices in Aussie are sky high and A$1 million buys you little. Now rentals are moving as their market cools.
The natural disasters that have swept Australia have knocked The Lucky Country around.
I predict before long the exodus of Kiwis [from New Zealand] will slow, stall and then reverse.
See The Age: Softening property market, new home sales slow
New Zealand
With regard to the local market, it remains (as I predicted two years ago) more or less flat with very little new building coupled by little demand. Why is this? Why are new houses, especially modest new houses, so hard to build?
The answers are simple.
1. New houses carry a GST component of 15% on every door knob, piece of timber and blade of grass - this makes them immediately uncompetitive with second hand houses - which may only be across the road.
If the Government wants to revive the building industry then this is an area that should be looked at carefully.  Some of the actions that could be taken to help first home buyers include a serious effort to provide grants towards the purchase of first homes up to a certain price limit (which would vary from area to area).
There is a 'Welcome Home' grant supposedly available from Housing Corporation but it appears not to be actively promoted. I haven't ever come across one single person who has received one of these grants. It seems likely it was created as a mere political stunt to anaesthetise the masses rather than a genuine attempt to help. (Call me cynical.)
A cash grant of up to 5% of the purchase up to a certain price limit (which would vary from area to area)
A subsidised interest rate for the first 5 years.
The ability to capitalise all or part of the Working For Families benefit to create a deposit. (http://www.workingforfamilies.govt.nz/)
Making interest payments for first home buyers tax deductible
Waiving  or substantially reducing the GST content on new home
In many other countries (Australia in particular) not only is stamp duty waived on homes but first home owner cash grants are also available which keep the building industry simulated and thereby helps the economy and the unemployed.
2. Local council regulations, fees and bureaucracy often stifle development and sub-divisional work. These costs add yet another large layer to an already over-priced product and could be another area where grants could be given for first home buyers. It is no wonder then that people choose to either buy second hand houses - or rent, which can be the cheapest option of all.
But renting as the preferred option is steadily losing ground. Rents are steadily rising and will, in my opinion, double in the main centres  over the next two to three years. This will have the effect of  pushing people back into the buying mode again, or forcing them further out into country areas where rents tend to stay lower.

Click image to read Crockers report (PDF 289kb)
As evidence of the 'rental creep' see the latest market report from Crockers, one of the largest rental agents in Auckland which confirms what I predicted many months ago. It makes interesting reading indeed.
In my view, the times have never been better to consider investing in the rental market. Positive factors include the combination of steady prices, shortages of good stock, rising rents and low interest rates. This combination only happens once or twice in a lifetime, and those of you who hesitate will look back in a year or two, and regret having missed the the boat - yet again.
Recent news tells us that over a quarter of all real estate agents have left the business because of the slow market. That's part of the property cycle.
NZ Herald: Quarter of estate agents walk out.
This will come as no surprise as listings are down, sales are glacial, and the market is flat. There may be some who think that it serves the agents right as they make a packet out of the market in the good years. That's a very short sighted view indeed.
If agents are leaving, so will be carpenters, electricians, brick layers, plumbers and a host of other trades who relied on a good property market to make a living. The Christchurch earthquake may have one benefit in the long run, and that is to provide jobs and a livelihood to those in the trades (they'll earn every dollar) - but that time is some way off yet.
Look at this graph from Harcourts and observe what a treacle-slow market looks like.
Commercial Property
Commercial property is having a somewhat better run than was expected when the GFC first exploded. While it is is true that there are large number of vacant commercial properties around, it is also true that there is a strong investor demand for well-leased commercial properties in the main centres.
Retail properties (shops etc.) are in great demand and investors are standing on each other's shoulders to get in on the act. As evidence of that, yields have steadily fallen typically by 2%-3%. Put another way, good commercial property has grown by 10%-20% in value especially those with strong or diverse tenants.
A small building in Matamata (of all places!) recently sold for a return of only 5.83% (i.e. the price paid was $1.25 million on a rental return of $73,500 p.a). True, the building sold with a bank tenant in place, but from experience let me tell you, banks are not easy as tenants ... as no doubt the new owner will find out in due course.
Small industrial properties (e.g. factories, showrooms, mixed retail industrial) are doing very well thank you, but larger industrial premises are still languishing. This is not a good time for investing in these unless they're leased to rock solid tenants on long leases.
Office space is still suffering (despite experiencing extremely high rent rates) and will continue to do so for some time yet. Many old style offices are effectively redundant. When I started out in this business, offices were great investments. Any one who needed an office immediately needed space for a desk, a typist, as well as a landline telephone, filing systems, photocopiers plus a host of other gadgets. Now many businesses can be run from an office at home, or a much smaller space.
Unless an office investment is cheap, (or luxurious and expensive) and well-leased, be wary of them as investments.
The Property Council of NZ says this about the commercial market:
MEDIA RELEASE
1/6/2011 [6pm]
Property index shows slow, steady market conditions ahead
The commercial property market is still recovering, but the pace of recovery is slowing, according to the latest Property Council/IPD New Zealand Property Index.

For the year ending March 2011, the index recorded a total return of 5.9 per cent, which is a substantially lower return against the long-run return of 10 per cent. The total return comprises 8.3 per cent income return and negative 2.2 per cent capital growth.

Property Council chief executive Connal Townsend said the results indicated a levelling out in a continuing recovery cycle. "The index results will give investors some degree of confidence of a slow, steady recovery."

Managing director of IPD in Australia and New Zealand Anthony De Francesco said the results suggested the overall commercial property market was moderating, with the speed of the upswing slowing. "This is supported by various macroeconomic indicators (such as employment growth and retail sales growth), which are pointing towards a soft economic outlook over the short-term."

However, Mr De Francesco said the speed of the recovery would continue to vary across sectors, with the industrial sector continuing to outperform retail and office due to relatively favourable market conditions.

The office, retail and industrial sectors recorded annual total returns of 4.9 per cent, 4.9 per cent and 9.2 per cent respectively. The office sector reported a larger income return and retail showed lower capital growth declines.

Mr De Francesco said the average cap rate for the commercial property market was 8.4 per cent, which had remained relatively steady at that value for the past two years. "Over the short-term, average cap rates for the overall commercial property market are likely to remain steady.

"This will be underpinned by on-going unfavourable capital market conditions and a softening in the economic climate. However, cap rate dynamics are likely to vary across sectors."

Mr De Francisco released the results at a Property Council market outlook event in Auckland today, which included presentations from consultant Ed Schuck, principal of Fidato Advisory on the role of Real Estate in institutional portfolios and interest in unlisted assets, and Bayleys Realty Group manager of research Gerard Rundle about current market conditions.

Mr Rundle said the commercial property market was in the midst of a slow, steady recovery that he expected to continue until 2012. "We're coming out of a difficult time, so it's quite surprising that four years after the Global Financial Crisis (GFC) we're talking about recovery."
See also, National Business Review: Commercial property market on the up, but pace of recovery slowing
I have to say that my observations don't quite match those of the Property Council, but as the commercial market is so large and diverse it is little wonder that there are divergent views on such a complex subject. It also depends very much on which end of the market you invest in. The Property Council tends look at super-large investments in the tens of millions range (if not more) and that rarefied market differs considerably from the average investor's price range of $500,000 to $3 million.
Apartment Market
A sure sign that the property market is on the road to recovery is the sales record of shoebox apartments. These are steadily becoming the new the 'darlings' of the market. I have said on many occasions that the cheap apartment market was once hopelessly overpriced - and is now hopelessly underpriced. For those who have a strong stomach and want income and a punt on capital gain, then these types of investments maybe for you.
Sales results published 2 June 2011 City Sales sold 7 apartments under the hammer and one shortly after the auction yesterday.
They included a large (70m²) one-bedroom unit in the Princes St apartments attached to the Pullman Hotel (ex-Hyatt Regency), one sub-penthouse unit in the Spencer on Byron Hotel in Takapuna which has consent for both hotel & residential use, and 3 Princeton units taken out of the hotel pool. Auction results:

Learning Quarter Princeton, 30 Symonds St, 3 units each of 27m², all taken out of the hotel pool, all 2 bedrooms, rates & body corp levy $4572/year for units 4F & 4B, $4520/year for unit 2F, rental assessment $300-330/week, unit 4F sold for $103,500, unit 4B sold for $105,500 and unit 2F sold for $102,500 (Wendy Feng & Andrew Bond)

The Pullman Hotel, 6 Princes St, unit 15F, 70m², one bedroom, deck, parking space, rates & body corp levy $11,000/year, vacant possession, rental assessment $650-750/week, sold for $433,000 (Wendy Feng) The Quadrant, 10 Waterloo Quadrant, unit 1007, 42m², 2 bedrooms, deck, rates & body corp levy $5228/year, under hotel management, current rent $400/week, sold for $217,000 (May Ma & Mark Li)

Quay Park The Docks, 8 Dockside Lane, unit 238, leasehold, 60m², 2 bedrooms, parking space, rates & body corp levy $10,814/year (including $2400/year ground rent), current rent $500/week, sold for $165,000 (Hilary Seagrave)

Victoria Quarter Victoria, 135 Victoria St West, unit 13M, 33m², 2 bedrooms, deck, rates & body corp levy $3036/year, current rent $315/week, sold for $163,000 (Mark Jones)

North-east Takapuna, Spencer on Byron, 9-17 Byron Avenue, unit 1901, 48m² sub-penthouse one bedroom, deck, parking space, the unit has consent for dual hotel or residential use, vendor to remain a plaintiff in remedial works litigation, rates & body corp levy $4707/year, vacant possession, sold post-auction for $240,000 (Gabrielle Hoffmann)

Attribution: Auction, story written by Bob Dey for the Bob Dey Property Report.
Auckland Housing Trends for May
Meanwhile house prices remain flat despite a tightening supply according to Auckland's largest real estate agency Barfoot and Thompson.
The trend was down for May by a 2.5% which is well within the margin of error, but any graph in any period shows the same "wobbles". The trend while still flat is under increasing pressure from factors such as the building industry being on its knees, leaky homes starving the market and immigration from both overseas and locally steadily hiking up rents.
Barfoot and Thompson
See NZ Herald: Building consents trend hits another record low
Banks are still touchy
All the baloney and hot air about banks being freer with their mortgages doesn't add up when you consider the following story.
One of my clients owns an inner city commercial building with three retail tenants, right in the heart of Auckland sitting on freehold land. The tenants had been there for an average of 10 years and none of the tenants had missed a beat in all that time. Over the years his bank had an excellent overview of the reliability of the property by simply looking at the account through which the rents and outgoings ran and analysing the figures. (They really do this.)
My client was invited, indeed encouraged (note!) by his bank to apply for mortgage funding of up to two-thirds of his building's valuation, which after careful consideration he did. After 20 years as a customer of the bank with never any bother and being in the black most of the time, and having been invited to apply, my client naturally assumed the finance was a foregone conclusion. His property was valued at $1.7 million and the mortgage application submitted for $1.3 million -  a whisper under two-thirds.
You would think at this point my client would just pick up the cheque and get on with it, but oh no!  At this point the bank showed its true colours. After contemplating the application for three weeks the banks "generous" terms became clearer. There were a number of very nasty  fish hooks included such as:
(1) The bank deducted 10% off the valuation - "just to be conservative" - they said. So, for their purposes they valued his $1.7 million property at $1,530,000 and calculated the mortgage at $995k (or 58.5% approx) despite the valuation being from a long established and experienced valuer who was approved by the bank.
(2) Then the bank deducted 20% off the  rents – "just to be conservative"- reducing the net rents actually being received from $119,000 p.a. to $95,000 ... despite the fact that there was never a day in the last decade when rent hadn't been paid.
(3) Then the bank re-cast their calculations and with total illogicality said they would lend against their "valuation".
But wait- they wanted more;
A charge (known as a GSA or General Security Agreement over the investor's large term deposit despite it being in a family trust. (A GSA is the newer version of a debenture, and a very powerful tool.) Someone holding a GSA can instantly appoint a Receiver to the debtor if the debtor fails to pay the debt. They can seize and sell the assets of the company to pay the debt and act as the debtor's agent to, for instance, complete a building project rather than sell a partially-completed development. A receiver has a duty primarily to the creditor — to take all the assets of the company, sell them, and in this case, pay the bank. All in all a measure way over the top for bank to demand in these circumstances.
A similar charge over ALL the other investment properties my client had
A personal guarantee from my client
Another valuation report from a different valuer
A mortgage over my client's family home
And a priority on the mortgage of a further $1M to hamper and further charges being registered on any property where the bank had its mortgages
There were four more pages of onerous conditions which it would be tedious to list here, but you get the message. The end result was that my client went elsewhere and got his mortgage with no problems from private lenders who see matters more simply. and, as you can imagine, the bank has lost a valuable client.
Incompetence is not limited to this particular bank. Various property managers are no better.
Let me explain: The Property Manager's Story
I sometimes relate stories of strange, shocking or weird stories that come across my desk. And now a good friend of mine (ahem) has experienced a truly bizarre and frustrating series of events with his property managers. These are events that defy explanation and are breathtaking in their revelation of incompetence and bias where one might expect professional neutrality. One of my companies manages tens of millions dollars worth of property, and we know only too well how difficult some landlords or tenants can be ... but this story beats the lot:
As my friend described it, the trouble began when he took his property manager to the Disputes Tribunal over a relatively minor matter. At that meeting the manager brought some of his staff along as witnesses.
To the astonishment of my friend, when one of the so-called witnesses spoke up at the Tribunal it was with a tirade of accusations - all couched in convoluted legal techno-babble. The nature of this outburst puzzled my friend because he knows, as we all should, that lawyers are not permitted at Disputes Tribunal hearings.
During a gap in the hearing my friend quickly opened his lap top and searched the name of the 'witness' only to find that she was a top barrister in an Auckland legal firm!
When the hearing recommenced, my friend mentioned this inconvenient fact and sat back to watch what would happen next. What followed, I am told, was an explosion from the adjudicator which rivalled that of Mount Tawawera directed towards the barrister-cum-witness. She was expelled on the spot and (as was learnt later) reported to the Law Society for a serious and deliberate breach of the rules.
In my experience the calibre of some bank managers and some property managers is appalling. Time and again my clients complain about unprofessionalism from these people. Just as some Financial Advisors need to be registered and authorised, there is a desperate need for higher qualifications and a better grasp of business (not to mention common sense) by bank managers and property managers so these types of blunders are kept to a minimum.

Olly Newland
June 2011
www.ollynewland.co.nz
© 2011 Olly Newland. Used with permission.