Trade Me founder Sam Morgan reckons there are too many real estate agents in New Zealand. Is he right?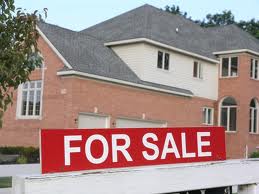 Trade Me founder Sam Morgan recently suggested New Zealand has too many real estate agents.
"60,000 house sales per year. A sale per agent per month means we would need 5,000 real estate agents. Yet we still have 13,000," Morgan tweeted.
His comments certainly come at a time the real estate market is at a low point and the average agent is not closing many deals. And the immediate prospect for higher volumes or higher prices does not look promising
The recently established registration system for real estate agents run by the REAA (Real Estate Agents Authority) is revealing how many agents operate in New Zealand.
Early data from the Authority was confusing, with transition activity classing some agents as either "Pending" or "Suspended" in addition to the core "Active" status, as qualification and overlapping issues were worked through.
However, the registration system is now settled, and it is timely to review how many "active individuals" work selling real estate in New Zealand, and relate that to the number of sales being made.
Sales data (deals that go unconditional in any month) is published by the Real Estate Institute of New Zealand (REINZ), and while that may not include every agent, the vast majority are members of the REINZ.
These members not only sell residential real estate, they also sell sections, lifestyle blocks, and farms.
Combining all these factors shows that the average realtor sells one property every two months, or between five and six properties a year.
The most efficient agents are in Taranaki, where they sell more than seven properties per year. In fact in May 2011 they sold properties at the annual rate of nine each.
The least efficient agents are in Northland and Auckland, selling about four per year. In May, they were selling at a faster rate, but still only five per year.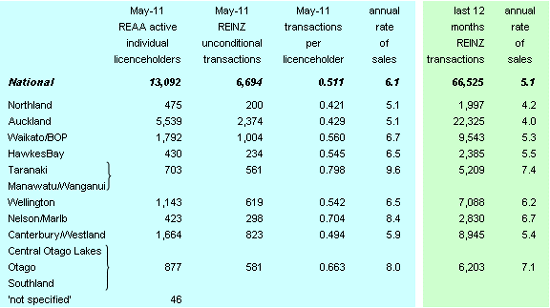 If the median value of a house sales is NZ$350,000 and the agent fees are similar to Barfoots - that is the total gross commissions charged to the seller is NZ$14,778 - and if that gross is shared 50% to the branded real estate company and 50% to the selling agent, that means an average individual real estate agent will earn NZ$6,425 every two months or so, or NZ$34,054 per year for 5+ house sales.
But 'average' means that about half will earn more, and half will be earning less than this.
 
This looks unsustainable from every viewpoint suggesting Morgan was right . There are apparently far too many agents chasing too few deals. And fees appear to need to be this high just to allow many agents to survive on meagre earnings.