Govt allows South Canterbury Finance receiver to sell 64 hectares of residential Christchurch land as Labour touts buying sections for red-zone home owners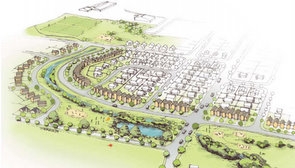 By Gareth Vaughan
As the opposition Labour Party pledges to buy land sufficient for 1,500 red-zone home owners in Christchurch should it win November's election, the government is allowing the sale of 64 hectares of land available for residential development on the outskirts of Christchurch that it effectively controls through the South Canterbury Finance (SCF) receivership.
SCF receivers Kerryn Downey and William Black confirmed to interest.co.nz via a spokeswoman that Belfast Park was now on the block.
"The SCF receivers have commenced a sale process for the residential and industrial Belfast land. We are working with our sale advisors on realisation options," Downey and Black said.
The land in East Belfast is controlled by SCF through subsidiaries Belfast Park Ltd and Tyrone Estates Ltd. Last summer, before the devastating February 22 earthquake, the Christchurch City Council rezoned the land from "Rural 3" to "Living G" which allows for mixed density residential development along with small areas of commercial and industrial land.
A spokesman for Finance Minister Bill English said the Government is keen to see affordable sections coming onto the market in Christchurch.
"However, it doesn't treat the SCF receiver any different to others in the market," the spokesman said.
In March Downey told interest.co.nz that interest in the land, from a number of property developers and the government, had increased since the February earthquake.
"That zoning approval and so forth has really added quite significant value and that was obviously prior to the earthquake," Downey said then. "And (after) the earthquake, as unfortunate an incident as it is, the land would appear to be of greater interest."
Asked whether he could come under pressure from government interest in the land given as SCF receiver he is acting on behalf of the taxpayer which is facing a massive bill following the earthquakes, Downey said his job was to get the best price for the land no matter who it was from. Under the Receiverships Act McGrathNicol is tasked with getting the highest value obtainable for SCF's assets, he said.
"Whether there be an offer through a government agency, through an SOE or (from) private enterprise, it doesn't matter as long as I get best value. As long as I follow a process that ensures I've got best value, I'm not selective as to who I sell (to) or what deal I make at the end of the day."
Labour eyes land purchases
On Monday Labour Party leader Phil Goff said if Labour wins the election it would buy land sufficient for 1,500 sections to on-sell to red-zone home owners in a bid to keep a lid on rising land prices in the undamaged, or less damaged, parts of Christchurch. And yesterday Goff said he had heard some section prices had risen by NZ$30,000 to NZ$40,000 over the last few months, which would hit red-zone homeowners in the pocket if they're looking for new homes and the price they had to pay for a new property was higher than the government's 2007 CV payout offer for their damaged house.
McGrathNicol was appointed SCF receiver on August 31 last year when it failed to secure up to NZ$300 million of much needed fresh equity in time for the expiry of a waiver to a breach of the company's trust deed. The receivership triggered a NZ$1.6 billion payout to 35,000 SCF investors under the Crown retail deposit guarantee scheme and a NZ$175 million Crown loan to McGrathNicol so it could repay SCF's prior charge holders including the George Kerr chaired Pyne Gould Corporation subsidiary Torchlight.
The government says the taxpayer faces a NZ$1.2 billion loss from the Crown retail deposit guarantee scheme, with the bulk attributable to SCF.
Belfast Park is just the latest of SCF's assets the receiver is selling.
McGrathNicol has sold the 100% SCF owned Helicopters NZ to Canadian Helicopters for NZ$154 million, it sold about NZ$100 million worth of commercial loans from SCF subsidiary and specialist plant and equipment lender Face Finance to GE Capital, it sold SCF's 79.7% stake in horticultural and primary sector processor Scales Corporation to private equity group Direct Capital for NZ$44 million, and about NZ$123 million worth of SCF's "Good Bank" loans to Japan's Nomura.
Downey and Black are also trying to sell SCF's 33.6% stake in Fonterra's biggest supplier Dairy Holdings. However, they've been forced to defend a High Court claim from fellow Dairy Holdings shareholder and Fonterra director Colin Armer who alleges the receivers and other shareholders' attempts to sell their combined 83.3% breach a shareholders' agreement. 
Interest.co.nz understands discovery is underway in the case.
This article was first published in our email for paid subscribers this morning. See here for more details and to subscribe.