Opinion: Olly Newland says avoid major rebuilds and stick to once-over-lightly makeovers. Your view?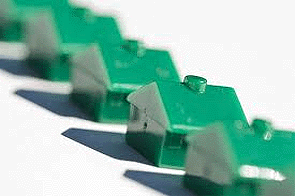 By Olly Newland

This may seem a little contrary to popular thinking at present but by being counter cyclical you will have a greater chance of profit and wealth creation than when interest rates are high.
A few weeks ago I spoke to a group about investment. I spoke mostly about seizing opportunities when they arise and, with my usual arm-waving, talked about how the volatility in the market is a great chance for all investors and home owners.
I probably got a little carried away (as I sometimes do) because I find the volatility in the market very exciting at times.
At the end of the talk someone in the audience asked me if there were any opportunities when you had a mortgage (or mortgages) to deal with.
The common practice used by most is to apply cash to reducing debt - and not save it for investing. There are exceptions, of course, such as KiwiSaver and the like, but the general rule stands that debt should be paid off first before investment begins.
So the person in the audience, feeling a little awkward no doubt, asked me how he should deal with his debt.
Yes I agreed that money is cheap these days - so why not borrow it and then borrow some more at every chance while low interest rates last?
Some stick-in-the-mud advisers (with respect) say differently. They suggest taking the opportunity of low rates to accelerate repayments of principal and interest.
After all, they say, when interest rates fall and you keep up the same monthly repayments, it will have the effect of paying off the mortgage more quickly.
When money is cheap it is easy to get carried away and lower repayments as well … so you have more money in your pocket to spend on other things.
The problem is that principal payments make up such a tiny portion of any loan that it's hardly worth the effort. Even though it's true that a component of each payment you make is applied to reducing the mortgage it takes years to make any sort of dent in the amount still owing through your regular payments.
Interest rates are down and 'down for the count' … and let me go out on a limb here and say I believe that low interest rates are here to stay for the foreseeable future- as has always been the case in most Western economies for decades and especially these days.
One day interest rates will rise … but that day is far-off - unless, of course, we get hyper inflation. If that happened it would not occur overnight and there would be plenty of time to change course (and, indeed, profit mightily as hyper inflation carries all assets up in value as money devalues).
Home buyers and property investors see low interest rates as a great opportunity to trade up to a bigger and better house or investment and - despite what some say - that is how it should be.
Worrying about future interest rate rises is a hiding to nowhere.
Should interest rates rise it means that the economy is improving or inflation is on its way which means higher wages and greater profits which should easily make up any difference.
The opportunity to get cheap money now carries little threat to buying on tick and loading up some debt — if done carefully — and it can bring great rewards.
My advice
My advice is to borrow more and use the money to carefully upgrade your home or investment property. A dollar well spent in upgrading can return up to ten dollars in profits - and it's a darn easier way to make money than trying to pay down a hopeless debt.
Put another way, increasing the value of your property is the same as decreasing the mortgage. For example, if you have a $500,000 house with a $250,000 mortgage then your gearing is 50%. Not bad, but it could be better.
If you spend a prudent $50,000 on upgrading the kitchen, bathroom, or whatever and the property ends up being worth (say) $750,000 (this is pretty easy to do. Ask any property investor) then the mortgage - still at $250,000 against a $750,000 house is now only 33% geared.
Extra borrowings, even at the current historically low interest rates are being covered by rising rents (something I predicted over 12 months ago). Look at the latest figures for the Auckland region. Some rents have risen by as much as 40% … and this is just the beginning as the housing shortage deepens: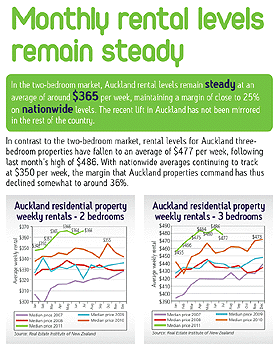 Crockers latest research is here.
Also: remember paying off a mortgage has to be done with tax paid dollars. Increasing the value of a property is tax free in most cases. Which one, then, is the obvious choice?
Before embarking on any such plan get your friendly Registered Valuer to give you an estimate on what your property is worth as it stands today and what it would be worth when you do the upgrade you are planning.
Be prepared to compromise to get the biggest bang for the bucks as possible. (This is a big subject. Contact me if you want to learn how.)
Now is the time to increase your mortgage, not to buy 'toys', but to reinvest into the home or investment through improvements and ultimate tax free capital gain.
This is not the time to fall asleep and forget the opportunities out there. In fact it's time to wake up and increase the value of your investment as much as possible … and reduce your debt the far easier way.
I have had countless number of clients who have followed my advice and seen their homes or investments climb quickly in value - outpacing the market easily - even in these quieter times.
A few years ago everyone was throwing money at real estate and just wanting values to go up without any effort  on their part. (No wonder so many came to a sticky end.)
Now a relatively few well spent dollars (borrowed or not) can bring the same rewards with minimal effort. The aim for most renovations is to complete them quickly -ideally inside 4 to 6 weeks. With that it is quite possible to get that gain more quickly and more certainly then by blind speculation or naïve hope.
Time is of the essence. Avoid major rebuilds and stick to once-over-lightly makeovers - then you will see your equity increase in leaps and bounds … as your debt ratio reduces.
And one more bit of advice before you rush out to you see your bank manger: Increasing equity (viz. decreasing debt) requires a fair amount of hard work and dedication on your part. There is much to learn if you are not experienced. With the right coaching and right advice virtually anyone can achieve great results. It takes lateral thinking and the will to succeed
From the files – A real life story
Let me give you a real example from my recent files on just how increasing value creates equity and cash profits.
Sue and Brian, with a small loan from their elderly parents found a very nice looking 3 bedroom plus wash house brick and tile 1970's home in the suburb of Glenfield on a reasonably level full site of 620 m2 more or less.
Brick and tile are always popular as there is no concern over leaks or shoddy workmanship and so is a full site. These types of houses are in great demand as they tend to be easier to renovate being made of relatively modern materials.
It was for sale in a very shabby run down state  after being rented out for years. The suggested asking price was $395,000 and with my advice Sue and Brian put in an offer of $340,000 which was rejected but came back with a counter offer of $370,000.
With my advice a registered valuer was employed who valued the property at $380,000 as is, but with the note that similar fully renovated houses in the area were selling in the high $400's-to mid $500's. Brian and Sue put in a counter-counter offer of $359,000 and a deal was finally sealed  at $361,500.
A mortgage of $300,000 was arranged and then Brian and Sue moved into the house and got stuck in.
Within 6 weeks (a little longer than anticipated) a new kitchen (pre made variety) and bathroom were installed, the place repainted inside and out, floors polished or carpeted, a double carport erected (always a good move and cheap), plus new lighting, gardening and minor repairs and major scrub up. They also turned the wash-house into a study — good move.
Total costs $35,000 plus their own labour.
A new valuation was obtained suggesting $525,000 so it looked like around $100,000 equity or profit was created. Brian and Sue listed it for rent on Trademe and were staggered to get 40 replies within 3 days. This sort of response told them that they had created something a little special so they decided to sell it, which they did within 2 weeks achieving  a sale price of $500,000 clear.
Not bad for their first effort and I am sure they will do even better next time  – and the time after.
Indeed as I write Brian and Sue are now onto their second property also on the North Shore and if they keep this up they will earn enough to effectively double their annual income.
While it is true that doing up a house while you a still living in it is not easy, the rewards more than make up for it.
Olly Newland
October 2011
www.ollynewland.co.nz
© 2011 Olly Newland. Used with permission.