Earthquake-related building consents hit new high in Canterbury; Auckland consents up 19% in July from year ago; But national trend flattening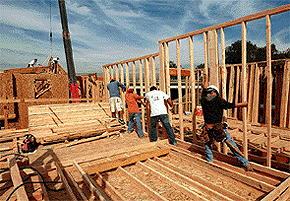 Earthquake-related building consents issued in Canterbury hit a new high in July, while consents issued for new housing in Auckland rose 19% from the same month a year ago, figures released by Statistics New Zealand show.
However, of the 395 new dwellings consented in Canterbury since the September 2010 earthquake, 149 were for 'relocatable units' associated with temporary housing while the city begins to rebuild from the devastating 2010 and 2011 earthquakes.
It has been estimated about 10,000 houses in Christchurch need to be demolished following the quakes. Delays with insurance payouts, Earthquake Commission assessments, land remediation, and the wait for new building codes have all been flagged as reasons for the delay of wide-scale residential rebuilding in the city.
A 26% national increase in new dwelling consent numbers to 1,478 in July 2012 from July 2011 was boosted by 235 apartments, mostly in Auckland and Canterbury, Stats NZ said.
"Of the 408 new dwellings consented in Auckland, 145 were apartments. There were 70 retirement village units consented in Canterbury and 20 apartments in Wellington," Stats NZ said.
The number of new dwellings consented in Canterbury increased by 207 to 371 (126 percent) and in Auckland by 65 to 408 (19 percent).
"Canterbury had recorded 164 new dwelling consents in July 2011, the lowest July month since the series began in 1990. The 371 new dwelling consents in Canterbury in July 2012 is the highest July month since 2007, and almost half of these were in Christchurch city," Stats NZ said.
Despite the large annual increase, seasonally adjusted figures showed the trends for the number of new dwellings, both including and excluding apartments, seem to be flattening, after rising during much of 2011 and 2012, Stats NZ said.
"After seasonal fluctuations are removed, the number of approved new dwellings, including apartments, increased 2.0 percent in July 2012 compared with June 2012. Excluding apartments, there was a decrease of 2.5 percent," it said.
Earthquake consents
Canterbury consents identified as being earthquake-related totalled NZ$59 million in July 2012, the highest monthly total since the Canterbury earthquakes began in September 2010. Stats NZ said this result compared with:
NZ$45 million in June 2012
NZ$47 million in May 2012
NZ$28 million in April 2012.
"Of the NZ$59 million recorded for July, NZ$41 million was for non-residential buildings, and NZ$18 million was for residential buildings (including 33 new dwellings)," Stats NZ said.
"Since 4 September 2010, there have been more than 2,400 Canterbury earthquake-related consents identified, totalling NZ$532 million. This includes 395 new dwellings, of which 149 were relocatable units. Also included are alterations and additions for residential buildings, non-residential buildings, and non-building construction," it said.