Auckland and Christchurch lead 22% jump in building consents in September from year ago; Consents up 7.8% from August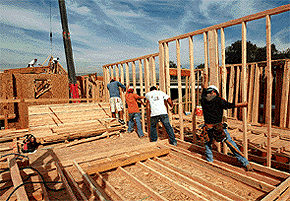 Auckland and Christchurch led a 22% rise in building consents issued September 2012 compared with September 2011, Statistics New Zealand says.
There were 1,520 new dwellings consented in September, including 186 apartments.
"Canterbury and Auckland drove the national increase in new houses in September 2012," Stats NZ industry and labour statistics manager Blair Cardno said.
"The number of new houses was up 80 percent in Canterbury and up 50 percent in Auckland," he said.
Canterbury and Auckland regions had the largest increases in new housing numbers in September 2012 compared with September 2011. This month, the growth in Canterbury came from Christchurch city, along with Waimakariri and Selwyn districts, Stats NZ said.
Dwelling consent numbers for September 2012, compared with September 2011, were:
1,520 new houses, including apartments (up 22 percent)
1,334 new houses, excluding apartments (up 19 percent)
186 new apartments (up from 122).
Compared with August 2012, and after removing seasonal fluctuations, the number of new houses, including apartments, increased 7.8 percent in September 2012. Excluding apartments, the number of new houses increased 5.6 percent. The trend for both series has been growing for 18 months, Stats NZ said.
In Canterbury, earthquake-related building consents totaled NZ$58 million in September 2012. Of this, NZ$17 million was for residential work and NZ$41 million was for non-residential work.
In the year to September 2012, 16,000 building consents for new dwellings were issued nationwide. That was up from 13,500 the previous year, but still well down on the 26,067 issued in the year to September 2007.
Reaction:
ASB:
Residential consents

Residential consent issuance continued to recover over September, underpinned by post-earthquake rebuilding activity in Canterbury. Beyond Canterbury, the underlying trend of an improvement in house-building demand remains in place.

StatsNZ reported the number of earthquake-related consents issued in August totaled $58 million. Of this, $17 million was for residential buildings, with the remaining $41 million for non-residential building work.

StatsNZ noted since 4 September 2010, earthquake-related consents have totaled $636 million. Given this estimate only takes into account direct repairs and reconstruction on damaged sites, the true extent of rebuilding is likely to be even greater. For example, a new house built somewhere else as a result of the demolition of a damaged house would not be included as an earthquake‐related consent.

Non-residential consents

The recovery in non-residential building nationwide remains more subdued relative to residential building.  There are signs caution amongst businesses is weighing on non-residential construction activity, with consents issued for retail outlets and accommodation falling over the month.  This is in line with recent business confidence surveys which show a decline in commercial construction intentions.

Over the past year, an increase in consents issued in Canterbury has offset the weakness in non-residential consent issuance in other regions. We expect rebuilding activity to gain momentum later this year and provide a boost to non-residential construction activity.

Implications

A recovery in house-building activity looks set to continue, underpinned by rebuilding activity in Canterbury. However, recent activity indicators suggest some patchiness in rebuilding, with firms in the construction sector noting weak activity more recently. Nonetheless, the steady gradual improvement in building consent issuance adds to confidence construction activity will pick up over the coming year. We expect rebuilding activity will gain further momentum later this year and provide a boost to construction activity, which will likely lead to capacity pressures in the sector.  For now though, there remains little urgency for the OCR to be increased, and we expect the RBNZ will remain on hold until September 2013.
Westpac
Summary 
Residential consents were stronger than expected in September, but were consistent with our forecast of a steady pickup in building activity, dominated by the respective supply constraints in the Auckland and Canterbury regions.  Non-residential building consents have also shown more signs of life in recent months, although the trend is only slowly turning higher. 

Details 
Building consent issuance rose 7.8% in September, following an upwardly revised  2.8% increase in August.  The headline figure was boosted by an above-average month for apartment units (186 in September, of which 115 were retirement village units).  The 5.6% rise in ex-apartment consents should also be tempered by the fact that about half of the national increase came from the Waikato region (up an estimated 35% s.a.), suggesting that we'll probably see a corrective drop in October. 

Setting these points aside, the figures were our consistent with our outlook for a steady pickup in building activity, led by the regions where housing shortages are apparent.  Consents remained high in the Canterbury region (albeit with much of the growth still coming from the outer regions of Waimakariri and Selwyn, rather than Christchurch City itself), and there was a second month of strong gains in the Auckland region, where consents had unexpectedly waned in the previous few months. 

There were $314m of non-residential building consents in September.  This was the third straight month where non-residential consents topped $300m, the first time this has happened since April 2010.  Nevertheless, the overall trend is only modestly turning positive, with a strong recovery in the Canterbury region offsetting declines in the rest of the country. 

Stats NZ identified $58m of quake-related consents in September, close to July's peak of $59m.  This comprised $17m of residential building (including 34 new dwellings) and $41m of non-residential work.  That brings the total to date to $636m, including 481 new dwellings.