If you are renting now and saving for a down-payment on your own home, we show who should buy now, and who should stay renting-and-saving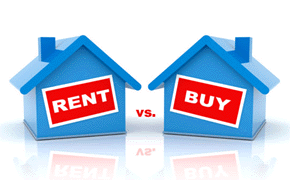 By David Chaston
On a financial basis, how does home ownership compare with renting?
This issue won't appeal to most people, but it is an important consideration for renters, especially those renters who are saving to buy a house.
Our home loan affordability measures are part of comparison, but in themselves not complete enough. That is because when you rent, you are essentially paying your landlord for your right to occupy including the cost of Rates, building insurance, and building maintenance. In some cases some utilities (such as water and wastewater) may also be included in some cities.
All these are separate costs for every homeowner, over an above the costs of servicing a mortgage.
For renters who aspire to own one day, there is always the question of when to buy. Should you save more or take the plunge now?
In actual fact, there is more to answering this question than just a financial comparison. Things like your family situation, other financial objectives, other personal objectives.
But if we just focus on the financial aspects, it is possible to compare the cash-flows between the two options.
We produce the Roost Rent-or-Buy report series for all regions and most urban areas.
These Reports track the figures for 25 to 29 year olds who are renting a 3 bedroom house and are thinking of buying a similar first-quartile home. We are assuming a 'couple' household of two incomes, and no children for this study.
We source take-home pay data from the IRD LEEDS series (Linked Employer Employee data series - essentially the data collected by the IRD via payroll deductions).
We source rent data from the giant DBH rental bond database.
And we compare this data to the Roost first-home buyer affodability detail and add the expenses of council Rates, house insurance, and maintenance.
With these comprehensive data sets, we compare the relationship between take-home pay and rent, and take-home pay and the adjusted house-buying data.
On a national basis, for most couples who are renters and potential first-home buyers, now is a good time to consider buying.
 
House prices
Median
--------- Affordability ---------
October 2012
lower quartile
rent/wk
Buy
Rent
Diff.
 
$
$
%
%
%
New Zealand
262,000
337
25.4
23.3
+2.0
It is not a slam dunk - more of a close-run thing.
The costs are similar between the two options, but interest rates are low and likely to stay low for some time.
But it will not be the comparison between renting or buying that will be the main decision point however – it will be whether you have saved enough for a deposit.
It is generally unwise to extend yourself excessively by buying with little equity. Future market directions are uncertain, and if they turn against your circumstances, you can be wiped out financially. When the technical data shows little between the costs of renting or owning, you are probably best to spend some additional time saving to ensure you have a sensible equity buffer before you buy.
In our book, that is buying with a 20% deposit. Besides, with that down-payment, banks will work hard to give you their best deal.
That means, on an overall (national) basis, if you are buying a first-quartile house, you need to have saved $52,400.
However, in some centres, it is clear you should keep saving rather than buying now.
 
House prices
Median
--------- Affordability ---------
October 2012
lower quartile
rent/wk
Buy
Rent
Diff.
 
$
$
%
%
%
Auckland North Shore
505,000
470
46.3
29.2
+17.1
Queenstown
377,000
402
41.3
30.0
+11.3
Auckland West
359,200
390
35.5
26.7
+8.3
Wellington City
417,300
460
35.0
26.4
+8.6
Auckland South
365,400
410
38.8
30.2
+8.6
Auckland Central
441,000
520
40.9
33.3
+7.6
Christchurch
311,800
370
31.7
26.4
+5.3
That is true in all of Auckland's zones (North Shore, West Auckland, South Auckland, and the Central isthmus area), in Wellington City, in Christchurch, and in Queenstown.
In all these areas, it is at least 5% more expensive to own than rent - and in Queenstown and Auckland's North Shore it is more than 10% more expensive. That is a big premium to pay and we think it would be better to salt it away in your down-payment fund.
At the other end of the scale, it is clearly a great time to buy in Hastings. If you have a deposit, don't wait - get out there and buy because you will be paying about 7.5% less than paying rent (if you are in a median situation with both your income and your housing choices).
 
House prices
Median
--------- Affordability ---------
October 2012
lower quartile
rent/wk
Buy
Rent
Diff.
 
$
$
%
%
%
Hastings
151,250
320
16.8
24.4
- 7.7
For everyone else, its is close to a toss-up. A lot will depend on your own personal situation of course, and a good mortgage broker can help you with that.
The individual Reports for each urban centre are here »
-----------------------------------------------------------------------------------------------------
Mortgage choices involve making a significant financial decision so it often pays to get professional advice. A Roost mortgage broker can be contacted by following this link »
-----------------------------------------------------------------------------------------------------