The tight housing market got even tighter in December, but average asking prices fell survey shows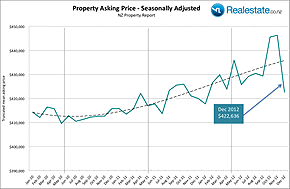 The new year starts with even fewer properties for sale, and a somewhat surprising easing in asking prices, according to the December NZ Property Report from realestate.co.nz.
Auckland, Waikato and Otago were most affected by low inventory levels, with stocks of unsold homes falling to a new record lows of 13.9 weeks of inventory in Auckland, 31.5 weeks in Waikato, and 20.4 weeks in Otago, each well below their long term inventory levels.
Inventory levels across the country remain low and the market remains a firms sellers market across 16 of NZ's 19 regions in the survey.
The seasonally adjusted truncated mean asking price for listings in December was $422,636 which eased from the record high of $446,277 set in November.
The month-on-month decrease of 5% takes the month level to 1% up on December last year.
The level of new listings coming on to the market in December fell on a seasonally adjusted basis by 8.4%. A total of 8,482 new listings were added representing a 3% year-on-year fall.
For the calendar year of 2012 a total of 132,243 new listings came on to the market as compared to 124,748 for calendar year 2011 – a rise of 6%. By comparison the prior years stats were 2007: 177,529; 2008: 163,488; 2009: 135,416; 2010: 138, 789. Compared to the peak of the market on 2007 listings are down 26%.
ASB economist Jane Turner commented on the Report saying:
We interpret December and January housing figures with greater caution than usual, given the limitations of seasonally-adjusted monthly data over a small sample.

Nonetheless, the results suggest the housing market has potentially tightened further in December with supply failing to respond to the increase in demand over 2012. 

Ongoing tightness in the housing market will continue to place upward pressure on house prices. 

The RBNZ faces a dilemma of balancing a supply-constrained housing market fuelling a lift in credit growth against a muted economic recovery.  In light of the weaker economic growth figures, we now expect the RBNZ will keep the OCR on hold until December 2013 (previously September). 

However, we believe the RBNZ will not be able to tolerate the momentum in house prices and credit growth for much longer, as it poses a risk to both monetary and financial stability objectives.

There is a growing possibility that the RBNZ will opt to use macro-prudential tools at some point in 2013 in order to ease pressure in the housing market.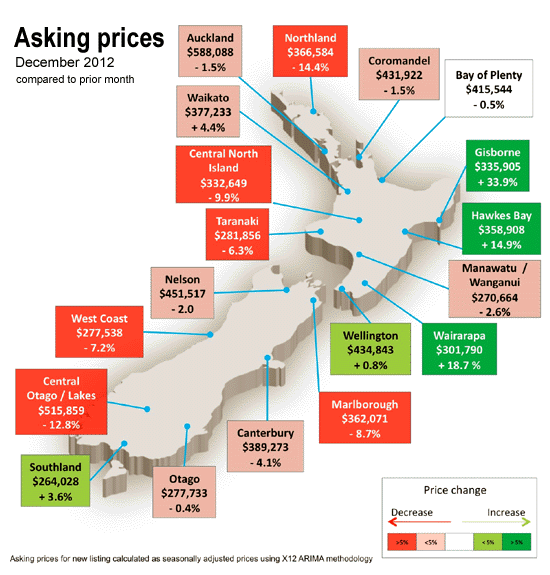 ​