The head of the world's biggest bond fund is worried.
He is not convinced that the recent run-up in equities will last.
Pimco chief Bill Gross is warning investors to "be very afraid" of coming inflation and how the flood of cheap money will affect all investments.
They say that time is money. What they don't say is that money may be running out of time.
Gross has been warning investors about the potential downsides of the Federal Reserve's bond buying strategy for months, but the tone of this month's letter was decidedly more fearful.
In his latest column, he says "our credit-based financial markets and the economy it supports are levered, fragile and increasingly entropic – it is running out of energy and time."
"When does money run out of time?"
"The countdown begins when investable assets pose too much risk for too little return; when lenders desert credit markets for other alternatives such as cash or real assets," he says.
The element of time is critical because investors and speculators that support the system may not necessarily fully participate in it for perpetuity.

We ask ourselves frequently at PIMCO, what else could we do, what else could we invest in to avoid the consequences of financial repression and negative real interest rates approaching minus 2%? The choices are varied: cash to help protect against an inflationary expansion or just the opposite – long Treasuries to take advantage of a deflationary bust; real assets; emerging market equities, etc.

One of our Investment Committee members swears he would buy land in New Zealand and set sail.
You can read his full opinion piece here »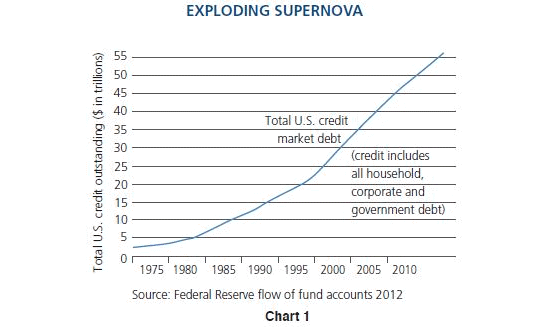 HT for this story to Andrew Patterson.