Receivers update position on Mainzeal crash but no financial information revealed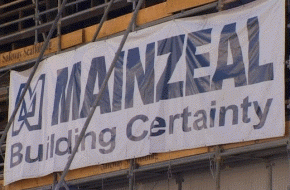 The receivers of the collapsed Mainzeal Property and Construction have released a further update but, five weeks after the Waitangi Day crash of the business, there are still no financial details forthcoming.
PwC Partners Colin McCloy and David Bridgman, the receivers, said they had made "good progress with this large and complex receivership".
McCloy said receivers had continued their dialogue with Mainzeal's clients as they have worked through an assessment of each of Mainzeal's more than 40 various projects, all of which are at varying stages.
"The majority of clients have elected to continue projects using other contractors. We have therefore handed most sites back to Mainzeal clients, in a controlled manner, and we are reaching settlements in respect of those contracts. In the meantime we are completing a relatively small number of selected projects through Mainzeal.
"With the progress to date, it is hoped that Mainzeal subcontractors and staff will have a prospect of being re-hired on various jobs. We understand how trying the situation has been for all parties involved," adds Mr McCloy.
As previously announced, Mainzeal's 50% interest in the MWH – Mainzeal Joint Venture has been sold to its partner, with that business now renamed MWH Recovery. This has enabled more than 80 Mainzeal staff seconded to that joint venture to transfer their employment to MWH Recovery.
"We are marketing a package of partially completed houses and sections in various subdivisions around Christchurch, and we are presently in discussion with a number of interested parties," says Mr McCloy.
"We are working with a core residual team of around 40 Mainzeal personnel in Auckland, Hamilton, Palmerston North, Wellington and Christchurch, as we complete the wind down of the Mainzeal business, manage the orderly transition of projects, negotiate settlements with Mainzeal's clients and recover assets. We have valued their assistance throughout the process," says Mr McCloy.
The Receivers are now focused on realising Mainzeal's property assets, realising items of plant and equipment, reconciling obligations to subcontractors, suppliers and staff, and addressing a range of other matters. The Receivers are also working with the Liquidators appointed to Mainzeal, assisting them with their reporting requirements and other statutory obligations.
"This Receivership represents an extremely disappointing end for what has historically been a well recognised brand in the New Zealand construction sector, and we appreciate the impact of this Receivership on all stakeholders," McCloy said.
Mainzeal, the country's third-largest construction company collapsed on Waitangi Day after its last remaining director Richard Yan asked the firm's bank, BNZ, to put it into receivership. More than 400 Mainzeal workers, hundreds of sub-contractors and dozens of major construction projects were put in limbo.
Yan hasn't been heard from publicly since. The receivership announcement followed hard on the heels of the resignation of independent directors (former National Prime Minister) Jenny Shipley, (former Brierley CEO Paul Collins) and Tauranga businessman Clive Tilby. Subsequently about half the Mainzeal staff lost their jobs.
Mainzeal is thought to have worked on NZ$7.5 billion of projects over the years.
While the receivers have previously issued updates on their progress, there have not yet been any statutory filings on the financial position of Mainzeal, list of what creditors are owed, or any detailed indications of just what caused its collapse. More recently the company was placed into liquidation, which is being led by Andrew Bethell of the BDO accountancy firm. There has been no detailed financial update from the liquidators either.
Under the terms of the Receiverships Act 1993 the receivers must issue a statutory first report not later than two months appointment. This must outline the state of affairs with respect to the business in receivership including assets and liabilities and names and addresses of creditors. It should also include details of events leading up to appointment of the receiver and an estimate of amounts likely to be available for payment to creditors. Under the terms of the Companies Act 1993 liquidators should compile a report on the state of affairs of the business just five days after their appointment - but can seek an extension from the courts, as was apparently done in this case.
What is known is that the various inter-related businesses of Yan were extremely complex. King Facade, a company that worked alongside Mainzeal and was involved in building facade work is also in liquidation. BDO is also handling the King Facade liquidation and in their first detailed report on that it was revealed that some NZ$15 million had been advanced by Mainzeal Property and Construction to King Facade.