Insurers pay out NZ$320 million to Housing New Zealand for earthquake damaged homes in Canterbury - NZ$110 million less than was claimed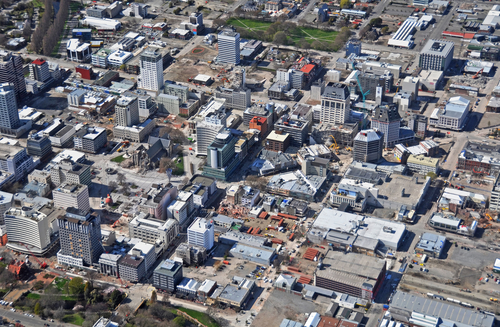 Housing Minister Nick Smith is trumpeting a NZ$320 million payout to Housing New Zealand over Canterbury's earthquake damage, although it is NZ$110 million less than HNZ originally claimed.
"This NZ$320 million settlement is the largest single insurance pay-out in New Zealand's history. This is great news for thousands of Housing New Zealand's tenants, for Canterbury's economy and New Zealand taxpayers," He said.
Smith said the final amount received for the 5559 damaged houses was less than the original claim because the submitted claim was based on a five-year repair timeframe, which has now been reduced to three years.
"This has reduced the escalation component of the claim and due to early settlement Housing NZ will also earn interest on settlement monies prior to paying for repairs. In addition, we have a better understanding of the extent of damage and the appropriate repair methodologies."
Smith said that the amount received would cover the repair programme.
"Housing NZ has a 10-year rejuvenation and rebuild investment plan of NZ$1.1 billion that will contribute to increasing and improving our housing stock. This involves ongoing negotiations with [the Canterbury Earthquake Recovery Authority] and the Christchurch City Council."
Smith said the negotiations were complex and challenging.
"They took several months to complete and involved not only our lead New Zealand insurer Vero, but other New Zealand co-insurers, London insurers and Lloyd's of London and Insurance Broker Aon. I was concerned, given the huge sums involved, that this claim could have resulted in years of litigation. I congratulate all parties involved for working to achieve this pragmatic and fair settlement."
The settlement enabled Housing New Zealand to proceed with its repairs and redevelopment at pace.
"It can now get on and demolish, repair or redevelop its housing without the slow and bureaucratic process of having to individually check off each property with the insurer. This settlement enables the repair programme to be shortened from five to three years," Smith said.
"Housing New Zealand can now move forward and reconfigure its stock for the future social housing needs in Christchurch. The new housing will have a lot more one and two bedroom units and less three bedroom homes. We are also moving from concentrated state housing estates to mixed communities, as research shows we can get better social outcomes.
"This significant settlement gives us the opportunity to rebuild Christchurch's social housing so it is safer, better aligned to the need and of better quality than prior to the earthquakes."