QV says Auckland residential property values up almost 13% in year to May, some buyers foregoing usual due diligence as desperation kicks in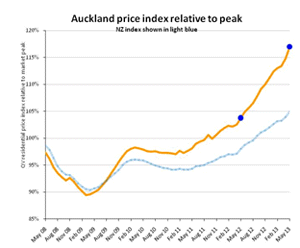 National average residential property values rose 7.1% in the year to May 31 to $436,097, with Auckland values up 12.7% to $640,106, government valuer Quotable Value (QV) says.
QV says nationwide values rose 1.7% in the three months to May, and are now 5% higher than the previous mark peak of late 2007.
Values across Auckland rose 12.7% on an annualised basis. Overall QV says Auckland values are still rising and are well above last year, with North Shore, the old Auckland City (Council) area, Waitakere and Manukau all up about 12% to 13%.
"Over the past few months values in Rodney and old Auckland City had been increasing slower than the rest of Auckland. However both have seen an increase over the past three months, 3.3% and 3.7% respectively, which now aligns with growth in the rest of the city. Waitakere has again seen the highest increase at 3.9% over the past three months," QV says.
Offers minus any formal due diligence
QV operations manager Kerry Stewart says there's a "somewhat desperate feel" among buyers looking for good properties at reasonable prices.
"The speed with which people have to make an offer has seen some forego the usual due diligence, which leaves them exposed to potential risks associated with the property," Stewart says.
Asked by interest.co.nz for more detail on these comments Stewart says several QV valuers have spoken of discussions with potential buyers who've indicated in some instances they've "had" to make an offer without any type of formal due diligence.
"For these people it meant that they either made, or were prepared to make, an offer without having undertaken a building report and/or a valuation," says Stewart.
"The people who made the comment to our valuers were actively in the market looking to purchase. I am not aware of lenders or lawyers doing this (and I would think this very unlikely). We are not aware whether the behaviour is widespread, and I expect it isn't. However it does reflect the pressures that have been on buyers in very much a seller's market."
Separately Stewart says buyers continue to look in a wide array of Auckland suburbs with the likes of Mt Roskill seeing sales up to and over $1 million.
"Prices this high have previously been very uncommon."
Meanwhile, Jonno Ingerson, QV's research director says rising values in Auckland and Christchurch are being driven by a supply shortage.
"The rest of the main centres are also increasing in value, although at a much more modest rate, reflecting a general increase in consumer confidence. Values are more variable in the rural towns in response to local economic conditions," Ingerson says.
"Given that the current increase in values in Auckland and Christchurch is largely driven by strong demand and short supply, values are likely to continue to increase in the coming months."
Here's QV's full release and here's what it's saying about other regions aside from Auckland
Hamilton and Tauranga

Outside of Auckland, the main cities are generally still increasing.

Although improved confidence in areas such as Tauranga continues, values are still fluctuating and show little sign of increasing as much as other main cities. The small amount of growth seen in Tauranga last month has faded, now only 0.5% up over the past three months. This leaves Tauranga 0.2% down on this time last year.

QV Valuer Paul Thomas said "Although there is increased confidence this hasn't translated to an increase in values. There is continued buyer enquiry from Aucklanders however few are actually turning into purchasers due to lack of employment opportunities."

Hamilton has also slipped back slightly with 0.9% growth over the past three months and a 4.3% increase on last year.

QV Valuer Richard Allen said "There appears to be a steady supply and demand in the market as well as early signs of investors starting to take more interest in the market."

Wellington

Values in the Wellington area are showing some growth, albeit steady. Values are now 2.7% above this time last year with a 0.8% growth in the last 3 months. Within Wellington, Wellington City, Hutt City and Upper Hutt all have around a 2% increase on last year, however, Porirua has seen the biggest increase, now up 4.2%.

QV Valuer Pieter Geill said "There is increased demand from buyers in the Hutt Valley for properties up to $400,000, as well as buyers looking around the $400,000-$600,000 mark. Property investors are also still active, with many purchasing low value homes before making a modest profit after making only small to medium sized renovations. They are also interested in blocks of flats."

Christchurch and Dunedin

Christchurch values have increased this month, now 10% above last year. The outlying areas such as Waimakariri and Selwyn have also continued to grow despite slowing growth rates in the past few months. Both Waimakariri and Selwyn have seen 2.9% increases over the past three months.

QV Valuer Daryl Taggart said "The market continues to go from strength to strength. We have seen some good interest in the middle to upper end of the market where buyers looking to upgrade to their second or third homes are spending $500,000 plus. There is also a noticeable increase in popularity with modern homes in subdivisions built within the last 10 years or so."

Dunedin has slowed slightly, with only a 0.2% increase over the past three months. Values still sit 4.2% above last year.

QV Valuer Tim Gibson said "Unlike last month, we are starting to see the affect of the normal winter slowdown starting to take place. Whereas the beginning of the month was a good one, especially for the lower end of the market, the latter half has seen a noticeable drop off in demand."

Provincial centres

The provincial centres generally remain steady. It is mainly areas in the middle of the North Island, such as Taupo, that saw decreases in values over the past three months. Areas such as Hawke's Bay and Wairarapa are seeing most activity in the lower end of the market with buyers cautious and sellers realistic on regard to price expectations. Whangerei and Gisborne, which have previously been declining, have continued to grow in recent months.
OCR increase 'the most effective tool to reduce housing market pressures'
In response to the QV release, ASB senior economist Jane Turner noted Auckland prices are now 17% above the 2007 peak, and Christchurch prices 10.8% higher than in 2007. Whilst Auckland and Canterbury continue to lead nationwide price growth reflecting supply constraints that'll take some time to resolve, Turner said.house price increases have broadened over the past year. This reflected increased household confidence and buying demand.
"With the pace of house price increases outside of Auckland and Canterbury (between 3-5% depending on the area) lifting above inflation, it is becoming increasingly appropriate for the Reserve Bank to lift interest rates from very low levels in order to keep demand in check," Turner said.
"Recent communications from the Reserve Bank indicate it is strongly considering placing restrictions around growth in high loan-to-value lending. While blocking access to credit might choke off demand in some instances, it is unlikely to have much impact on demand for prospective buyers in strong capital positions, particularly while interest rates remain at very low levels."
"We see the Official Cash Rate (OCR) as the most effective tool in reducing housing market pressures. We continue to expect the Reserve Bank to lift the OCR from March 2014," added Turner.
(Updates add comments from Jane Turner and additional ones sought from Kerry Stewart).