Christchurch CEO put on leave; acting CEO appointed; Parker agrees to appoint Crown Manager for building consents; Manager can direct Council staff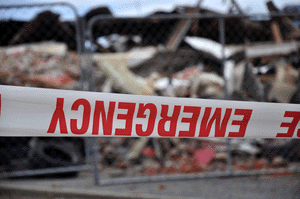 By Bernard Hickey
The Christchurch City Council was in turmoil on Wednesday afternoon as it announced its controversial CEO Tony Marryatt was taking leave and Mayor Bob Parker had agreed to appoint a Crown Manager to direct the council to issue building consents.
The decision to put Marryatt on leave came after it emerged Parker and councillors had not be told by staff that consents had been issued that may not have been up to code. The Government later said audits of new buildings that had recently been consented would be conducted to ensure they were safe and did not need to be demolished.
Canterbury Earthquake Recovery Minister Gerry Brownlee, Local Government Minister Chris Tremain, and Building and Construction Minister Maurice Williamson, said they welcomed the decision by Mayor Bob Parker to seek the appointment at a council meeting tomorrow of a Crown Manager to address consenting issues.
"I am pleased that Christchurch City Council has recognised the gravity of the situation and that a motion will now be put to the council to invite the Government to appoint a Crown Manager," Brownlee said.
"This decision will ensure they get a robust consenting system in place, and is a constructive and welcome step forward," he said.
Tremain said he looked forward to meeting the council tomorrow to discuss the terms of reference for the Crown Manager.
"The Crown Manager will have the authority to direct the council to address issues relating to consenting," Tremain said. "The Council will be required by legislation to cooperate with the Crown Manager, comply with the Manager's directions, and comply with any reasonable request to provide relevant information," he said.
Williamson said he had instructed a specialist team from the Ministry of Business, Innovation and Employment (MBIE) to continue working with the council, as they had been doing over the past two weeks.
Brownlee said the move to appoint a Crown Manager aimed to ensure the Council regained IANZ accreditation as soon as possible.
'We weren't told everything'
Meanwhile the Christchurch City Council said in a statement a planned meeting with government ministers later this afternoon had been cancelled and a special meeting would take place tomorrow at 12.45 pm to invite Tremain to appoint a Crown Manager.
"The situation around building consents is serious, and it has become apparent that Councillors have not been well served by the information that has been provided to us," Parker said.
Almost in passing, the council said Chief Executive Tony Marryatt was "taking leave pending further discussions with the Council."
General Manager City Environment, Jane Parfitt, would be acting Chief Executive, it said.
A clearly shocked Parker told a later news conference the council was very disappointed by the lack of information coming from its staff.
''What we are discovering is that apparently signficant pieces of information crucial to this organisation functioning in the way that we expect it to function do not seem to have reached the governance team. That's an appalling situation to find yourself in as govering body .. and that's why we have taken immediate action,'' Parker said
Fear over new buildings
Brownlee says the Government would seek to have an audit of recent building consents issued by Christchurch City Council to ensure they were up to the required standards.
"IANZ says it has identified issues with technical processing that means building consents might not meet the requirements of the Building Code," Brownlee said.
"The potential for there to be sub-standard buildings as a result of a less than adequate consenting process is a huge worry to the Government," he said.
Tremain said one of the first tasks of the new Crown Manager would be an audit, including a technical review, of the consents issues.
Williamson said he had been advised initial assessments had shown it was "highly unlikely any recently consented buildings would have to be demolished, but we will need to check to be sure."
Demolition?
Insurance Council NZ Insurance Manager John Lucas was quoted as saying demolition of buildings could not be ruled out.
'If insurers have started work on developing a new property, rebuilding a house or repairing a house, and then partway through that construction period there's a delay because they find out later the building consent was issued incorrectly, then that's going to stop that project,'' Lucas was quoted as saying in The Press.
''It may cost the parties a lot of money because the project may have to be demolished and rebuilt, or there may be some very expensive remediation costs involved,'' he said.
Non-compliant foundations were the most likely to be an issue, he said.
(Updated with evening statement from Brownlee about audits of consents to ensure buildings are safe and don't need to be demolished, quotes from Parker and comments from ICNZ on demolition)