Three years in, Govt's financial assistance package has coughed up to fix just 249 leaky homes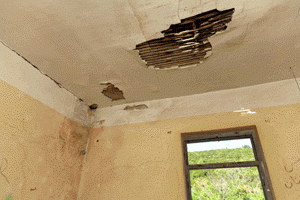 By Gareth Vaughan
The problem had been plaguing New Zealand home owners since the 1990s. Finally, three years ago, the government was apparently getting serious about tackling it.
Yes, I'm talking about leaky homes. Given the magnitude of the problem, there were even murmurings that a government bailout of leaky homeowners might lead to a downgrade of New Zealand's sovereign credit ratings. So there was much interest in the Government's "solution."
Against this backdrop, Prime Minister John Key and Building and Construction Minister Maurice Williamson trumpeted the launch of the Government's financial assistance package for leaky home owners in May 2010. Key said his government had taken the lead in creating a "fair and effective" package that could "deliver real support for many thousands of New Zealand homeowners" who were "stuck in the dreadful bind" of owning a leaky, rotting home.
In terms of the nitty gritty, the package would see the Government meet 25% of homeowners' agreed repair costs, and local authorities another 25% leaving homeowners to find the remaining 50%. There would be a loan guarantee underwritten by the Government, provided applicants met bank lending criteria.
Williamson said that, if, as officials had forecast, 70% of affected homeowners within the 10-year liability limit took up the package, the cost to the Government (read taxpayers) would be around $1 billion over five years.
Just 249 homes being repaired after report estimated up to 89,000 homes could be leaky
But three years in, the bureaucratic reality has proven very different.
In responses to questions from interest.co.nz, the Ministry of Business Innovation and Employment (MBIE) says thus far the Government has coughed up a paltry $8.05 million. Yes, that's $8.05 million.
"To date, $8.05 million worth of government Financial Assistance Package (FAP) payments have been paid and further payments will be made as repairs progress," an MBIE spokeswoman said.
Since the scheme started in late July 2010, MBIE and councils have assessed 1,317 claims, representing 4,008 dwellings, against their FAP criteria.
"As at 30 June 2013, there were 1,110 active claims, representing 3,872 dwellings, where an interest in the FAP has been indicated," the spokeswoman said.
"MBIE has found 1,016 claims, representing 2,969 dwellings, that qualify for the government contribution. Of these, 499 claims, 1,062 dwellings, also qualified for the council contribution."
"To date, MBIE has approved $10.39 million worth of Financial Assistance Package repair contracts for 249 dwellings. The total cost of repairs for these 249 dwellings is estimated to be around $41.56 million."
This comes after a report by PwC, commissioned by the Government in 2009, suggested 42,000 dwellings were likely to be leaky homes and only about 3,500, or 8%, had been repaired. At the time of the PwC report it was estimated about 9,000 homes had fallen outside a 10-year liability limit. The 42,000 figure was a consensus forecast, with the PwC report estimating between 22,000 and 89,000 homes were leaky. PwC estimated the total cost of fixing 42,000 leaky homes, including repair and transaction costs, at $11.3 billion in 2008 dollar terms.
Provision in Crown accounts drops below $100 mln
As interest.co.nz reported in October 2012, the Government's leaky home provision in the Crown accounts was slashed by $378 million, or two-thirds, from $567 million at June 30, 2011, to just $189 million at June 30, 2012. It has now plummeted even further.
The Crown accounts for the 11 months to May 31 this year, released on Friday, show the provision for the weathertight services FAP at just $97 million.
Asked about this the MBIE spokeswoman said; "The provision is a reflection of current demand and forecast demand, based on assessments made twice a year, by an independent actuary."
"The demand for the scheme is currently at lower levels than originally forecast. These forecasts are updated to ensure the Government is able to meet any change and can ensure owners of leaky homes have access to services and financial assistance as they need it."
"It is important to understand that if demand increases for the Financial Assistance Package the Government will increase its provision to ensure that funds are available to get leaky homes repaired." 
'I have no influence over homeowners' - Williamson
Asked by interest.co.nz why he thought uptake of the FAP was running so low Williamson, via a spokesman, said;  "It is true that demand for the scheme is lower than originally forecast. But it is just one option available to homeowners with weather-tightness issues. In addition to the FAP, claimants can also seek adjudication through the Weathertight Homes Tribunal or redress through the Courts. Many homeowners have done just that." 
And asked whether he thinks it's a bad thing that the FAP appears set to cost the Government/taxpayers much less than initially forecast, Williamson said;  "I have no influence over homeowners and what route they decide to go down. There are a number of options available and the FAP is there if people want to use it. I'm advised that the bulk of payments and repairs associated with the FAP will be made in the next two years or so."
A total of 2,082 homeowners expected to access the FAP
Meanwhile, the MBIE spokeswoman said the current estimate is for 2,082 homeowners to access the FAP in total. The "current" Crown provision had been assessed at $101 million. 
"The government expects to see more payments being made to claimants and repairs being completed as the scheme progresses, once claimants make final decisions on which resolution option best fits their needs, however, we do not have an estimated number on exactly how many homeowners this may equate to, given the FAP is only one of several options available to owners of leaky homes under the Weathertight Homes Resolution Service," the MBIE spokeswoman added.
The FAP scheme became available to homeowners from July 29 2011 and eligible homeowners must lodge claims before July 29, 2016. There's a 10-year limit for bringing a claim meaning a claimant's house must have been built, or altered if the alterations leak, within 10 years of the date of lodging a claim. Homeowners close to the 10 year limit are able to "stop the clock" by lodging a correctly completed claim.
Homeowners signing up for the FAP must agree not to sue their council or the Government, although they're still allowed to pursue compensation from other potentially liable parties such as builders, developers and makers of defective building materials.
As noted by Williamson, there's also a dispute resolution service run through the Weathertight Homes Tribunal. Here homeowners can directly engage with parties to their claim and seek damages through mediation, negotiation or adjudication, with the same remedies available as could be sought through the courts.
(Below is a video of Key announcing the financial assistance package with Williamson and the then mayors of Auckland and Wellington, John Banks and Kerry Prendergast, in May 2010).
This article was first published in our email for paid subscribers. See here for more details and to subscribe.