Opinion: Cam Preston looks at the recently released financials for Southern Response and is worried by what he finds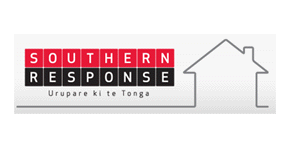 By Cameron Preston*
In my last article I illustrated the way in which excellent PR has been used by insurers.
Last week, with zero PR, the latest financial statements for Southern Response were tabled in Parliament and posted online.
For those outside Canterbury, Southern Response is the company formed when the government took ownership of the failed AMI Insurance on April 2012.
It is also the company with the largest exposure to overcap (over the EQC limit) earthquake claims in Canterbury.
So before the PR consultants start spinning the broken record on excuses as to why insurers have not made any progress in Christchurch, lets look at some interesting facts from Southern Response's latest result:
Firstly. they show that although the Government sold the non-earthquake side of AMI to Australia's IAG for $365 mln, Southern Response only netted $244 mln on the sale once overdrafts and payables were settled.
Secondly, at the time of the sale (April 2012) the Government stated publicly that the outstanding claims to be settled amounted to $1.8 bln; however it now revealed to be $2.1 bln.
Thirdly, the Government has stated that, to date, they have only provided Southern Response with $100 mln of taxpayer bailout money, and they 'have committed' an additional $400 mln buffer but stated that it will likely not be needed, this is shown on the balance sheet. The facts now show that every penny of this is currently required or the company would be insolvent and could not continue to operate under NZ law.
Point four: despite the spin of significant progress, the estimates of total claim liability keeps steadily growing. This means Southern Response are slowly cash settling claims, however their liability is continuing to grow at the same rate: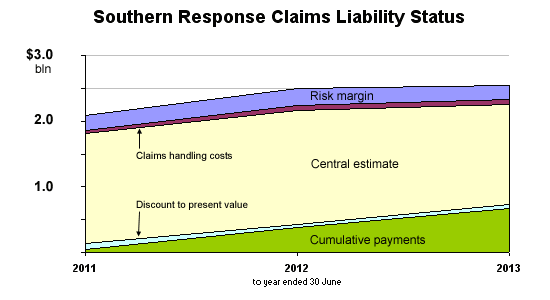 Five: the only 'significant progress' of note is the alarming decrease in funds (including reinsurance) available to Southern Response:

A sixth point is: Southern Response was provided another $500 mln funding guarantee by the Government in October 2012 (signed on 30 January 2013) in the form of another issue of 500,000 uncalled ordinary shares (not shown on the face of the balance sheet), bringing the governments total to 1 bln shares (100,000 paid and 900,000 unpaid), equivalent to $1 bln.
I believe there is a very strong argument that Southern Response is currently under-valuing its claim liability (including its risk margin and claims handling costs) and is currently insolvent.
The Southern Response Board had set themselves 24 "Key Performance Indicators" to reach by the end of the financial year. Somewhat surprisingly, although they had only completed a paltry 139 rebuilds and repairs as at the end of June 2013, they self-assessed that they had "met" 22 of their 24 KPI's, and "Partially Met" the remaining two.
It appears to this reader that the most worrying trend here is that very soon Southern Response will have its hand out to the Government more cash from the $1 bln taxpayer bailout fund already setup for them.
While there are very good moral hazard questions that could be raised at this point around the Governments actions in bailing out AMI policyholders, what is done is done.
But these questions are important because there is also little doubt that the Government will continue to support Southern Response financially. This expectation will not be helping the company's push for their customers to cash-settle rather than wait for them to repair or rebuild.
However surely now is the time to start holding the Board, Executive and Shareholders of Southern Response to account over it's significant lack of any progress, both in rebuilding or repairing homes in Canterbury, but also for putting taxpayers at significant financial risk through their continuing inaction.
Or they could just continue to hide behind EQC, the obvious problem being the shareholders of EQC and Southern Response are one in the same.
-------------------------------------------------------------------------------
Cameron Preston is a Christchurch homeowner who has longstanding unresolved quake insurance claims.