Alistair Helm explains why real estate agent boycotts of Trade Me Property are marketing madness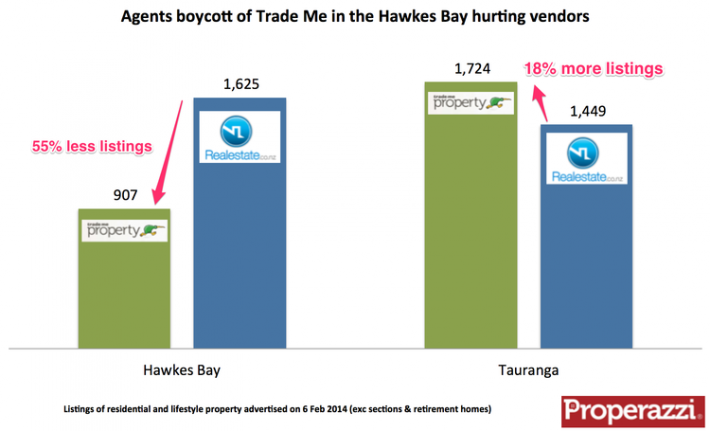 By Alistair Helm
This week has seen significant media interest in the boycott of Trade Me Property by agents particularly in the Hawkes Bay and Hamilton City.
Articles written have proffered opinions that "The real estate industry has a lot more to lose than Trade Me" and gone as far to look to whether the Commerce Commission will investigate the potential breach of the Commerce Act or whether the governing body of the Real Estate Agents Authority will clarify if the action of these agents is against the best interests of the vendor as the agents clients.
I shared my opinions with Bernard Hickey as in my judgement this is a matter that should not result in vendors' property listings being used as pawns in this standoff.
The fact is that there are vendors in these two regions of the country who are missing out on valuable marketing on Trade Me and as ever with the web, the data is there to back up the story.
Firstly look at listings. Generally Trade Me and Realestate.co.nz enjoy the support of all licensed real estate agents across the country (up until this time), Trade Me holds a larger stock of listings nationally as they feature private sale listings which are usually around 15% to 18% of the total of property for sale.
Looking at the Hawkes Bay data on the respective websites today based on comparable listings of residential and lifestyle property shows that there is most definitively a boycott. Compared to a similar sized area such as Tauranga the Trade Me listings are down 55% as compared to Realestate.co.nz in the Hawkes Bay whereas the listings ratio should be similar to Tauranga with around 15% to 20% more - this means that around 1,000 properties in the Hawkes Bay are not being featured on Trade Me Property. These are listings from offices of Property Brokers, Tremains, Sotheby's and others. Importantly these offices have withdrawn all the listing - recent listings as well as older listings.
These c. 1,000 listings are not attracting potential buyer interest from the more than 120,000 property buyers per day using Trade Me Property.
As a buyer accustomed to using Trade Me when searching for property there is no recognisable experience that will tell a person that there has been a boycott.
The functionality of the web allows for tailored searches by location, price and type and at no point do you get a sense of the number of listings in relative terms. That is why the level of viewing of individual properties in the Hawkes Bay has not changed since the boycott began. This can be proved by this simply analysis.
Taking two properties that are advertised by Ray White (who have made no mention of their intention to join any boycott) that were both listed on the 5th February. The level of viewing on these properties comparing Realestate.co.nz and Trade Me continues to show the general trend of a 10+ fold higher viewing on Trade Me Property.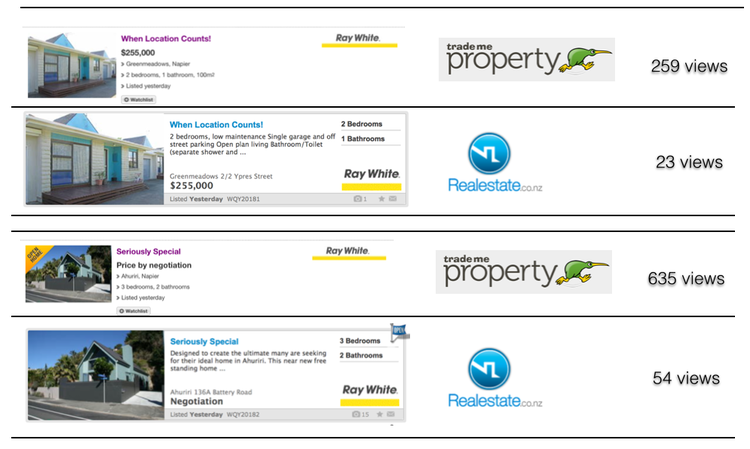 Now look at a couple of examples of the c. 1,000 listing not shown on Trade Me Property, they are not getting more viewing on Realestate.co.nz because they are not on Trade Me - here are comparable stats. It clearly shows that there is no greater viewing on Realestate.co.nz because these properties are not on Trade Me Property.
The vendors of these properties are not receiving the exposure they should. The scale of the loss is substantial - every day these c. 1,000 properties are missing potential buyers which has the potential of lessening the sale impact and competitive pressure in the market. The fact is the medium of choice when searching for property by over 90% of home buyers is the web. There are only two websites for real estate in NZ and Trade Me dominates to such an extent that not being on the site is marketing madness.
What perplexes me is that the real estate industry continue to think of online advertising as a cost, in the same way as they think of the photocopier as a cost or the phone system. They do not think this way about their preferred medium of choice - the newspaper or property magazine, that they think of as a re-charged advertising medium.
A single property advertised on Trade Me Property cost them $159 + GST. That advert works everyday to market that property until sold and would costs private seller upwards of $400. So why don't they front up to their clients and say " Our recommendation is that we market your property on Trade Me Property at a cost of $200 and Realestate.co.nz for $100 - that way your property will reach 90% of buyers" (that cost includes a small margin for admin - which they need to disclose under the REAA). If they are not confident to ask for the money upfront they could suggest adding it to the commission upon the successful sale.
This boycott is hurting the clients of these real estate agents, vendors will very soon be up in arms and potentially pulling their listings and moving across to agents who don't treat their property as a pawn in the internal squabble between Trade Me Property and the agents. These agents would be wise to reflect that to the average kiwi Trade Me is far more loved than a real estate agent!
For reference here are the links to these listings highlighted above:
Ray White Listing #1 "When location counts" on Trade Me
Ray White Listing #1 "When location counts" on Realestate.co.nz
Ray White Listing #2 "Seriously Special" on Trade Me
Ray White Listing #2 "Seriously Special" on Realestate.co.nz
Property Brokers Listing "Rural views" on Realestate.co.nz
Tremains Listing "Modern Brick Home" on Realestate.co.nz
This article was first published on Alistair Helm's Properazzi website and he is the former Chief Executive of Realestate.co.nz.