Bill English tells Auckland's anti-sprawl NIMBYs who won't allow growth 'to go up' to at least allow growth to 'go out'; eyes big state house reforms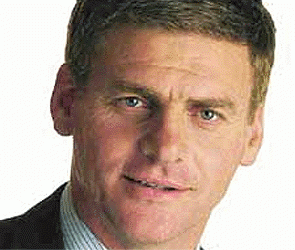 By Bernard Hickey
Finance Minister Bill English took a swipe at those Aucklanders who opposed more intensive housing developments close to the city to stop campaigning against 'sprawl', arguing their NIMBYism was a major contributor to Auckland's unaffordable housing and the resulting pressure on interest rates and the exchange rate.
English was speaking at an Auckland Chamber of Commerce and Massey University luncheon event where he announced details of the Government's float of Genesis Energy shares.
He was asked by a luncheon guest why the Government's support for the Inner City Rail Loop was only conditional and what it was doing to prevent sprawl. English repeated the Prime Minister's comments about the Government needing Auckland City to meet jobs growth and population growth targets for it to secure the Government's support for building the loop before 2020.
"Both of those in the census (jobs and population growth) have turned out to be a bit lower than expected," he said, adding it would not be a panacea anyway for Auckland's traffic congestion problems. "It's a big expensive project so we've got to be careful," he said.
English then turned to the issue of urban sprawl.
"With respect to so-called urban sprawl, I think that's a nonsense. If you're against urban sprawl and that means lower to middle income Kiwis can't buy a house and you can't build an apartment in the middle of Auckland for less than NZ$600,000, then that's too high a price to pay. And if it means driving up house prices in a way that wrecks the economy then that's too high a price to pay," he said.
"Funnily enough the people who are most worried about urban sprawl live in the middle of the city. They don't get to see it. How much time to they really spend out the end of the Western motorway or Botany? None actually. They think you should be able to walk to the countryside. Well...welcome to Gore. If you're really mad, that's where you should go. But they don't. They stay in Auckland Central," he said to laughter from the audience.
"What's actually happened is that the local authorities were keen for a denser city, but the inhabitants weren't, so they've jettisoned a fair bit of the densification aspect," he said.
"So if Auckland wants to grow now, it has to grow out because you don't want it to grow up. Now that's a fair choice, but please don't stop it from growing out as well, otherwise we'll get another few years of 15% house price growth and you get a real mess when it crashes," he said, adding the special housing areas agreed under the Housing Accord with the Auckland Council "do spread the city because the planning rules don't let you do anything else."
"We're indifferent as a government as to whether you grow up or out. But you said don't grow up, so we expect to help you grow out."
English said people making planning decisions in Auckland, Wellington and Christchurch needed to understand they were making decisions about New Zealand's largest asset class, where the decisions they make affect the whole economy, not just your neighbourhood.
"Of course there's tension there, but we are pretty determined to turn ourselves into an affordable housing market," he said.
"There's no obvious reason why little old New Zealand should be one of the most expensive housing markets in the developed world. It really puts pressure on our households. It's one of the reasons why we have interest free student loans, working for families, subsidised early childhood care and savings are low," he said.
High mortgage costs were a reason why the Government provided payments supplementing incomes costing billions, "and a lot of that is driven by planning decisions in this city."
State housing
Earlier in English's prepared speech he reiterated the Government's plans to to reform Housing New Zealand by selling housing stock that was in the wrong areas or the wrong quality and building elsewhere in parternship with social housing community groups. He suggested this process of restructuring social housing could also help increase supply of more affordable and denser housing.
He said about a third of the Government's NZ$17 billion of state housing was in the wrong place or was the wrong size.
"In housing and other areas we will continue recycling taxpayer assets to free up money for reinvestment in areas where there is genuine demand," he said.
Later in the questions and answer session with the audience, he expanded on the plans.
"We actually don't need to own all those houses to help those people who need help,"he said, referring to the Government's partnership with the likes of the Salvation Army, the New Zealand Housing Foundation and IHC's Idea Services.
English said the Goverment wanted to assess a family's need for housing in an area close to jobs and schools, which was difficult to do with its existing stock of 60,000 to 70,000 houses. "You've got to stick them in a house that's empty," he said.
"That will mean growing the non-Housing Corp social sector and redeveloping the Housing Corp assets."
English said there were big tracts of Auckland such as Mt Roskill and Tamaki where "there's endless potential for supplying medium housing to the Auckland housing market if we redevelop those areas."
"But our top priority is to meet the needs of the people in the houses first, and then redevelop what we don't need in order to supply the market better, and there could be a lot of that happen."