Len Brown hails start of 'new era' for private capital funded Auckland infrastructure projects with announcement of $200m hotel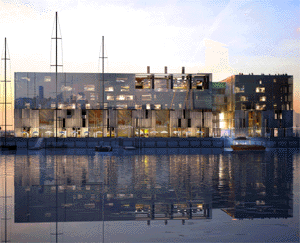 In what Mayor Len Brown is touting as one of the biggest foreign investments in New Zealand public infrastructure, an Auckland Council owned entity will partner with China's Fu Wah International Group, with the latter building a 200 room five star hotel at Auckland's Viaduct Harbour.
Approval for the project is currently being sought from the Overseas Investment Office. Assuming this is secured, it'll then move to the design and resource consenting phase. Construction is planned to begin in 2015.
Brown hopes the hotel will be built by 2017 and says it involves a $200 million investment by Fu Wah. The partnership referred to is between Waterfront Auckland and Fu Wah.
"The $200 million investment by Fu Wah Group is the culmination of a lengthy developer selection process that began in March last year and is believed to be one of the largest foreign investments in public infrastructure in New Zealand," says Brown.
"This marks the start of a new era for private capital-funded infrastructure projects that have the potential to deliver jobs and growth for Auckland," Brown says.
Team New Zealand's headquarters is currently located on the site where it's proposed the hotel be built.
A Waterfront Auckland spokesman told interest.co.nz the $200 million figure was "an approximate figure", rather than a fixed one, based on the level of investment to be offered by Fu Wah.
"This includes: Construction, fit out, land use payment, consultants, financing, landscaping and the cost of building a new public promenade out the front of the hotel on the edge of Viaduct Harbour. It could vary in both directions although the payment to Waterfront Auckland for the land and public areas is fixed," the spokesman says. "We won't pick up any shortfalls."
The major contributions to the partnership from the Waterfront Auckland-Auckland Council side include "design and sustainability." The spokesman says Auckland Council is not contributing any money to the development of the hotel.
"Other obvious things we'd bring (to the partnership) is the offer of land use and use of networks to access local suppliers/consultants," the spokesman says.
'An exemplar of the potential for council leveraging its strategic landholdings'
Brown says "significant" economic benefits are expected from the construction and ongoing operation of the hotel, on top of the lease payment by the developer. And a new section of Auckland's waterfront alongside Viaduct Harbour will be opened for public use.

"It is estimated that during construction the hotel will create more than 1,300 full time equivalent (FTE) jobs and add more than $100 million to Auckland's Gross Domestic Product and more than 750 FTEs and more than $50 million to regional GDP per annum once completed," says Brown.
"It's an exemplar of the potential for council leveraging its strategic landholdings to attract investment into Auckland and to develop infrastructure that will attract further and ongoing benefits to the local economy while still retaining ownership."
Waterfront Auckland Chief Executive John Dalzell says the hotel will be "a world-class signature design", built to the highest sustainability standards. Meanwhile, Chiu Yung, president of Fu Wah International Group, was quoted saying his firm was "honoured" to be selected as development partner.
Fu Wah's website says the company was established in Hong Kong in 1988 and has real estate as its core business. It's chaired by Chan Laiwa.
Auckland Council says the hotel is just one of the projects to stem from an "open and transparent" international investment search process started in April 2013 to develop about $1 billion worth of commercial and residential buildings, plus a five-star hotel in the Wynyard Quarter. The Waterfront Auckland spokesman said a further announcement, as part of the $1 billion development, is likely next month.
Final design of the hotel is yet to be decided.
(Update adds comments from Waterfront Auckland spokesman).