The sector hardest hit by LVR restrictions is the sub $400K's and the data proves that clearly, says Alistair Helm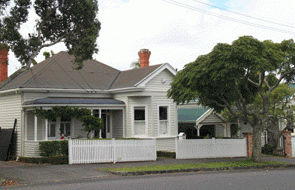 Barfoot & Thompson published its Housing Market Update for May highlighting what is a clearly a slowing property market with the year on year sales volume down 14% as compared to May 2013.
The trend of property sales is downward, from a peak in October last year the moving annual total of sales by Barfoot & Thompson in the Auckland market has fallen from 13,232 to 12,572 in May.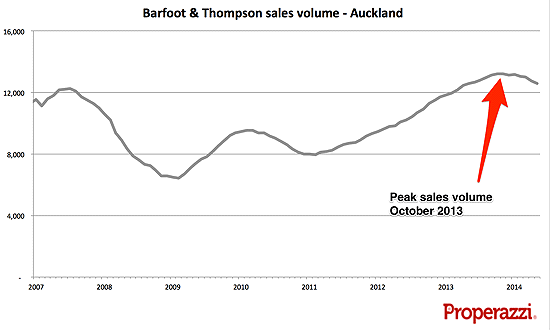 Within the composition of sales for the month of May the most striking fact is that whilst total sales at 1,109 was down 14% compared to a year ago the sales of property below $400,000 was down 50% - the total sales in May 2013 of property below $400,000 was 301 properties, a year later this segment had fallen by half to just 151.
Just to reinforce these numbers, excluding the below $400,000 segment which still represents 1 in 8 properties in Auckland the remainder of the property sales, those over $400,000 saw sales volumes slip just 3% down from 991 in May 2013 to 958 a year later.
So almost all of the 14% fall in total sales is as a result of the collapse of the sub $400,000 segment.
It can be no coincidence that this segment of the market has been the hardest hit by the withdrawal of funding for high LVR mortgages which are primarily for 1st time buyers seeking an entry level property which in Auckland has traditionally been this sector.
The LVR restrictions came into effect in October of last year and since that time sales in the 8 month period for property at this lower price bracket of less than $400,000 has totalled 1,541 property sales a year earlier it was 2,123, nearly 600 less purchases over that 8 month period, at a time when sales volumes overall barely changed.
The chart below very clearly shows the impact of the LVR - performance before October certainly showed a weakening in the lower price segment of the market; however after implementation the impact has been striking with the red bars for the lower prices segments showing the decline in year on year sales volumes.
The retardant of LVR restrictions has certainly quelled the fire of the property market which was burning brightly this time last year.


---------------------------------------------------------------------------------------
The above article was written by Alistair Helm, and is republished with his approval. The article was originally published on Properazzi here